'Survivor' Season 41: The Top 5, Ranked From Least Likely to Most Likely to Win
Only five castaways are left standing heading into the 'Survivor' Season 41 finale, and we predicted which ones have the best chance at winning it all.
The Survivor Season 41 finale is almost here, which means another castaway will join the winner's circle. There are only five people left in the game, and all of them are unique in their own way. We examined the gameplay of each of the top five — Xander, Deshawn, Ricard, Erika, and Heather — to determine who is the most likely, and the least likely, to earn the title of Sole Survivor in Survivor Season 41.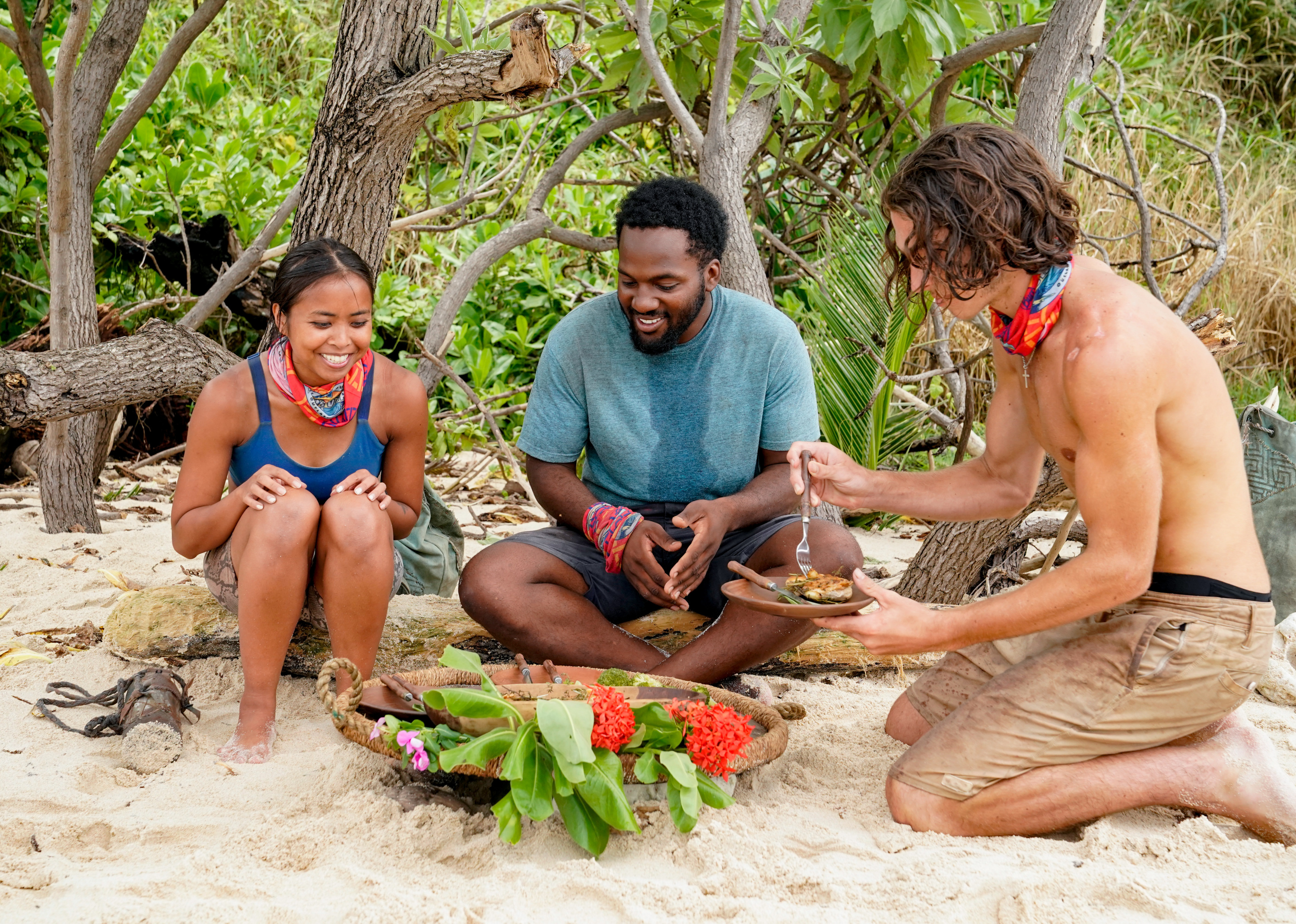 5. Heather Aldret, the least likely to win 'Survivor' Season 41
No offense to Heather, but many fans didn't know she existed in the first half of Survivor Season 41, so it's highly improbable that she wins.
Heather was not a part of any game-changing moves this season, and we hardly ever saw her give any confessionals. The 52-year-old from Charleston didn't have much of a story arc in the game. And we can't imagine that the Survivor producers would edit her out that much in the beginning if she won the game.
There's a good chance that Heather makes it to the Final Tribal Council. But only because the other Survivor Season 41 castaways wanted to bring her to end since they knew they could win against her.
4. Deshawn Radden
Unfortunately for Deshawn, he shot himself in the foot during Tribal Council in Survivor Season 41 Episode 12, greatly diminishing his chances of winning.
Deshawn revealed that Erika is not taking Heather to the end, effectively ending his alliance with Erika. It will be difficult for him to make it to the Final Tribal Council unless he wins multiple Immunity Challenges.
As Jeff Probst told Entertainment Weekly, "I'm not sure you can win the game in the last few days, but I do think you can lose it. Players sometimes get tentative, change what they're doing or overthink things."
We believe that Deshawn lost the game during his "truth bomb" at Tribal Council.
3. Ricard Foyé
One could argue that Ricard played the best game this season so far. And for that reason alone, it's difficult to imagine the other Survivor Season 41 castaways taking him to the end, practically handing him the win.
But, as we all know, Ricard is quite capable of winning Immunity when he needs it the most. It's conceivable that he goes on a winning streak to cement his place in the final three.
If Ricard somehow survives these next two votes, we feel that he could win it all in the Survivor Season 41 finale. But, there's no doubt that the task of getting to the Final Tribal Council will be difficult for Ricard.
2. Xander Hastings
We know that Xander will at least make it to the final four because, somehow, he still has his immunity idol. And for that reason alone, we think his chances of winning Survivor Season 41 are great.
For viewers at home, it's easy to see that Xander is a big threat in the game. But, for some reason, the castaways have barely thought about voting him out post-merge. Xander's ability to be under the radar while still making big moves is a testament to his gameplay.
We will not be shocked if he is crowned the Sole Survivor in the finale.
1. Erika Casupanan, the most likely to win 'Survivor' Season 41
Erika, who has been waiting to shed her lamb costume and show her true colors as a lion all season long, could have the best chance at winning Survivor Season 41. The 32-year-old from Toronto flew under the radar for most of the game. But, unlike Heather, Erika has a story arc.
In early episodes, Deshawn and Danny schemed to throw an Immunity Challenge so they could vote Erika out. However, their plans never panned out, and Erika survived. Later, Jeff sent her to Exile, where she broke the hourglass and forever changed the events of Survivor.
And ever since, Erika has aligned herself with the underdogs and made smart moves for her personal game. She has a resume that she can present to the jury to convince them to vote for her. And it's highly plausible that she takes home the one million dollars.
However, we won't know for sure until the winner of Survivor Season 41 is crowned during the finale on Dec. 15 at 8 p.m. ET on CBS.