'Survivor' Season 42: What Happened to Marya Sherron's Brother?
Marya Sherron connected with others on her tribe after sharing details on what happened to her brother while competing on 'Survivor' Season 42.
CBS's Survivor Season 42 is already bringing on twists and intense gameplay. So far, two Tribal Councils sent two players home. And Marya Sherron shared information regarding her brother in Survivor Season 42 Episode 2. Here's more about the contestant and her family.
[Spoiler alert: Survivor Season 42 Episode 2 spoilers ahead.]
Who was voted off 'Survivor' on March 16, 2022?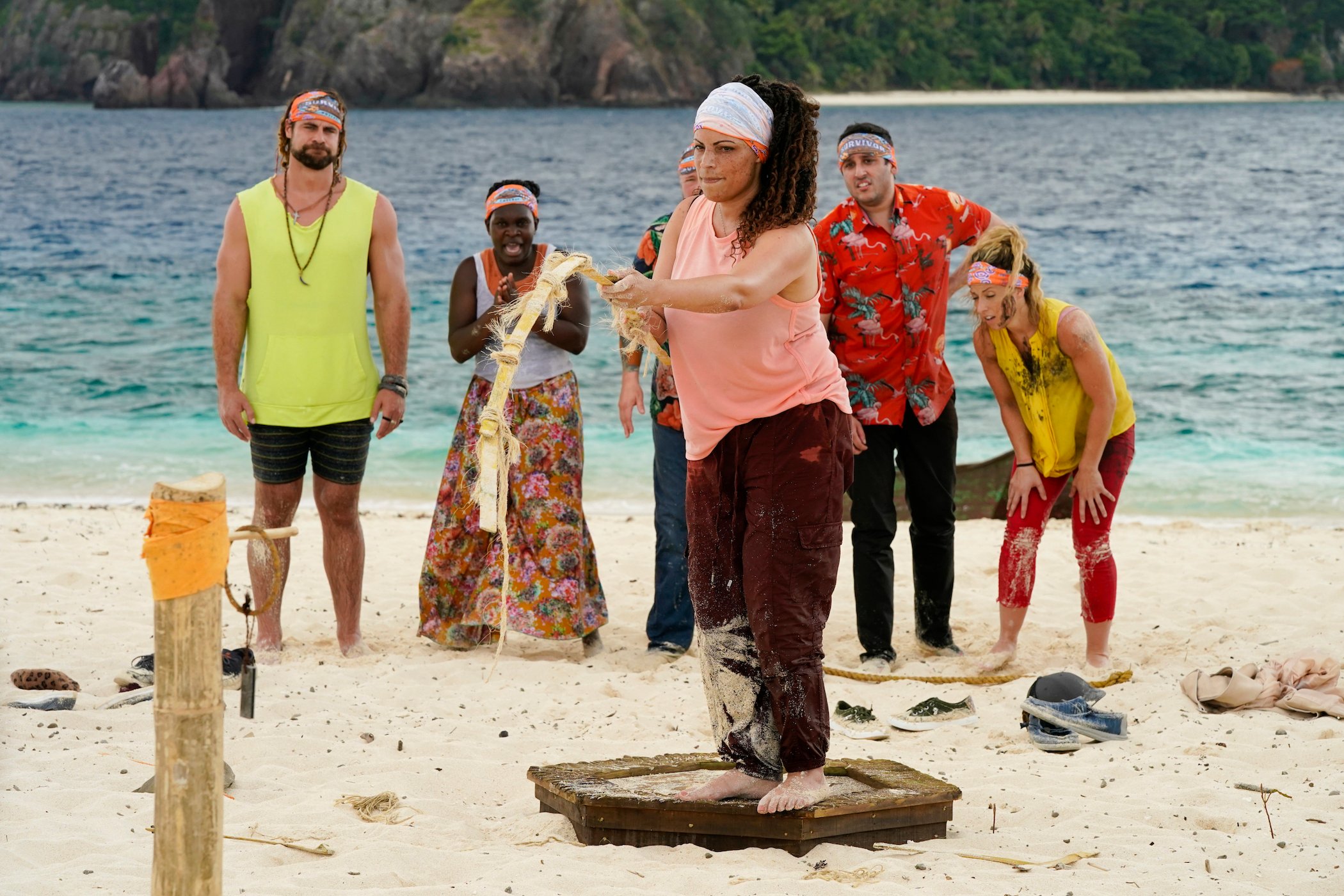 Survivor Season 42 Episode 2 featured more alliances, more twists, and the finding of an idol. So, who was voted off of Survivor on March 16, 2022? The Taku tribe voted out Marya Sherron after an ultra-tough elimination.
The elimination involved one member of each tribe acting as the "caller" while the other members of the tribe navigated an obstacle course blindfolded. The blindfolded players had to obtain bags of puzzle pieces throughout the course. Once the players collected the bags, they had to complete the puzzle blindfolded while the caller gave them directions to do so.
The elimination was ultra-close, but the Vati tribe claimed first place. They received fishing gear for the win. The Ika tribe took second place and received the flint they lost from the first immunity challenge in episode 1. The Taku tribe came in last, causing them to lose their flint and sending them to Tribal Council.
At Tribal, Marya played her Shot in the Dark — but she didn't succeed in attaining immunity. Marya received three votes against her, sending her home.
What happened to Marya Sherron's brother? She talked about him on 'Survivor' Season 42
Prior to Tribal Council in Survivor Season 42 Episode 2, Marya Sherron shared information on her personal life. She told her tribe that her brother, Kious Kelly, was the first New York healthcare worker in the United States to die from coronavirus (COVID-19).
"Kious was the first nurse in New York to die of COVID-19," her CBS bio reads. "He gave his life for others. He was a dearly loved and respected nurse. He passed on March 24, 2020. Kious was my brother."
According to The New York Times, Kelly was an assistant nurse manager at Mount Sinai West in Manhattan. After getting sick with coronavirus, he was placed on a ventilator for about a week before dying at 48 years old. He first moved to New York after attaining a Bachelor's degree in performing arts and dance from Butler University in Indianapolis. He later went to nursing school at New York University.
"It's given me tough skin, but not too tough not to have a social game," Sherron told Parade about her brother's death.
The eliminated player shared a happy memory of her brother
Prior to Survivor Season 42, Marya Sherron spoke to Parade about a happy memory she has of her brother, Kious Kelly.
"My brother and I going grocery shopping every other Saturday," Sherron told Parade about one of her favorite memories. "My mom would take us to Meijer. I don't know why, but it took her eight hours to grocery shop. (Laughs.) So we would be at Meijer for eight hours. And at some point, he would literally start dancing down the aisle. And I'm talking full-blown pirouettes and everything! I was so embarrassed as a kid. … I just didn't want anyone to see me with him. But I bust out laughing every time I think of it."
She then went on to explain how Kelly went on to dance professionally. "And that memory says to me, 'Have your moment. But now you need to dance down the aisle, or down the beach. Do what you got to do. But you're here. So dance,'" she added.
Survivor Season 42 airs Wednesdays at 8 p.m. EST on CBS.
Check out Showbiz Cheat Sheet on Facebook!