T.I. Got His Rap Moniker From His Grandfather
T.I. is a rapper, music producer, and songwriter, who is often in the headlines due to his controversial statements and behavior. T.I., who has been in the music industry since the late '90s, has received major critical acclaim and has worked with many of the top artists in the entertainment business. Through it all, although he has received criticism for his scandals, T.I. has remained focused on his music, almost continuously writing and recording. He has many fans all around the world — but even his most ardent fans probably don't realize the tangled history of his stage name.
How did T.I. get his stage name?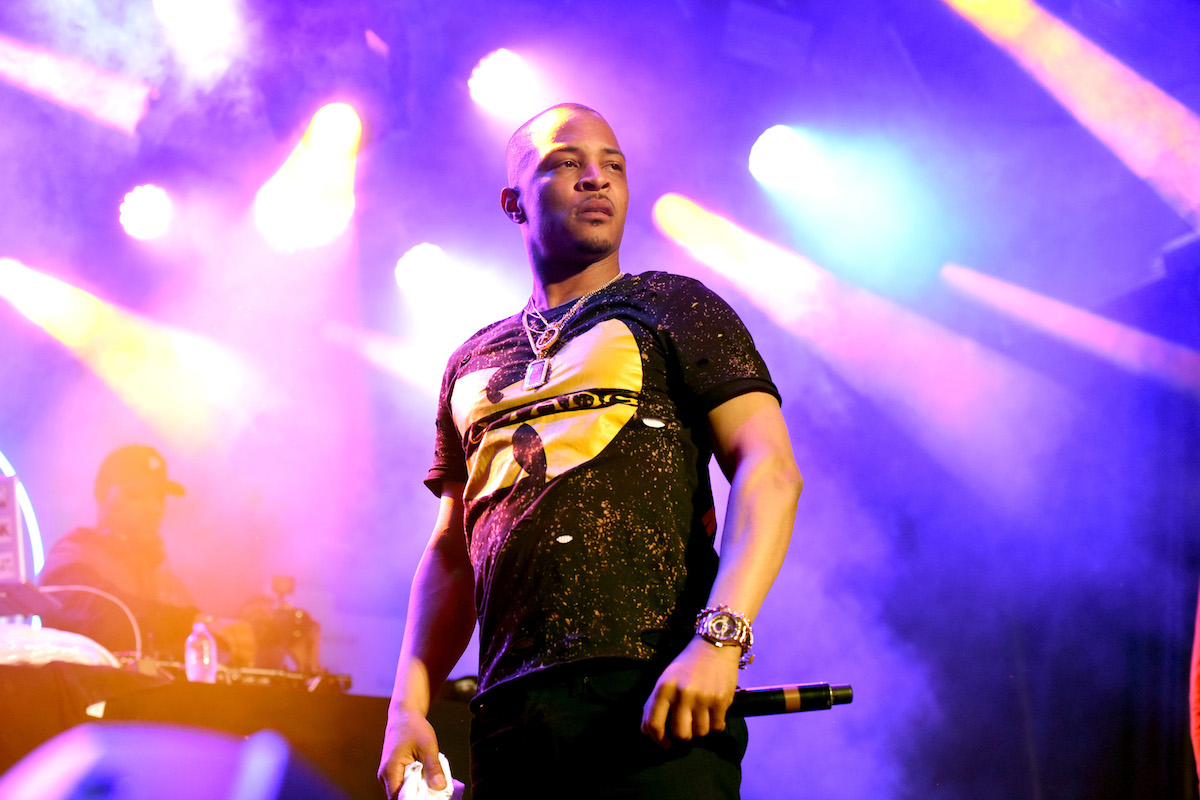 T.I. was born Clifford Joseph Harris Jr. in September 1980. Raised primarily by his grandparents, Harris began rapping when he was only 8 years old. By the time that he was a teenager, he knew that he wanted to pursue a career in the music business — and he adopted the stage name T.I.P. This original stage name came from a nickname that he shared with his grandfather, according to Billboard. At various times in the early days of his career, he also went by the stage name "Rubberband Man," a sly reference to the custom of wearing rubber bands around the wrist to signify wealth.
Eventually, the young rapper decided to shorten his stage name to simply "T.I.," primarily to avoid confusion with A Tribe Called Quest frontman Q-Tip. To this day, T.I. continues to go by that name, and at this point in his successful career, it seems unlikely that he will change it again.
What is T.I. best known for?
By the mid-'90s, T.I. had started writing and recording music, distributing CDs at local events and selling mixtapes out of his car. In 2001, he released his debut album, but it wasn't until around 2008 that he began to experience major commercial and critical success. His album Paper Trail, released that year, received positive reviews, and T.I. earned recognition as a force to be reckoned with.
T.I. has won a total of three Grammy Awards and has released 11 studio albums in total. For many fans, he is also well known as a reality television star, appearing in shows like T.I.'s Road to Redemption, T.I. & Tiny: The Family Hustle, and The Grand Hustle. Widely considered to be one of the greatest American artists of the decade, T.I. has occasionally landed in hot water due to his family troubles and relationship with fellow rapper Tiny, but he remains a force to be reckoned with.
T.I. isn't the only rapper with a particularly memorable stage name
T.I.'s stage name makes him memorable to his fans, but he's far from the only rapper to have chosen a totally original moniker. According to Billboard.com, rapper Yelawolf, who was born Michael Wayne Atha, took inspiration from his Cherokee origins when choosing his stage name: "Yela' represents the sun, which is light, life, and fire," he admitted. "'Wolf' represents my ability to survive and be a pack leader."
Jay-Z is one of the biggest rappers in the world — but there was a time when he was known simply as "Jazzy." Once he had embarked on a successful rap career, the young artist changed his stage name to Jay-Z in order to salute his mentor rapper and producer, Jaz-O. Finally, Eminem himself, born Marshall Mathers, had to go through a trial and error process to arrive at the perfect stage name. Originally, the artist titled himself "M&M," later deciding to change it up to the widely-known "Eminem."
RELATED: T.I. Recalls When Morgan Freeman Scolded Him and Caused Him to Get Fired