Taylor Sheridan Reacts to the Cast of 'Yellowstone' Being Nominated For Their First-Ever SAG Award
'Yellowstone' creator Taylor Sheridan says there is 'no bigger compliment to an actor than being recognized by their peers.'
ARTICLE HIGHLIGHTS
Taylor Sheridan's drama Yellowstone received its first-ever major award nomination.
The cast received a Screen Actors Guild Award nomination for Outstanding Performance by an Ensemble in a Drama Series.
And Sheridan says, "there's no bigger compliment."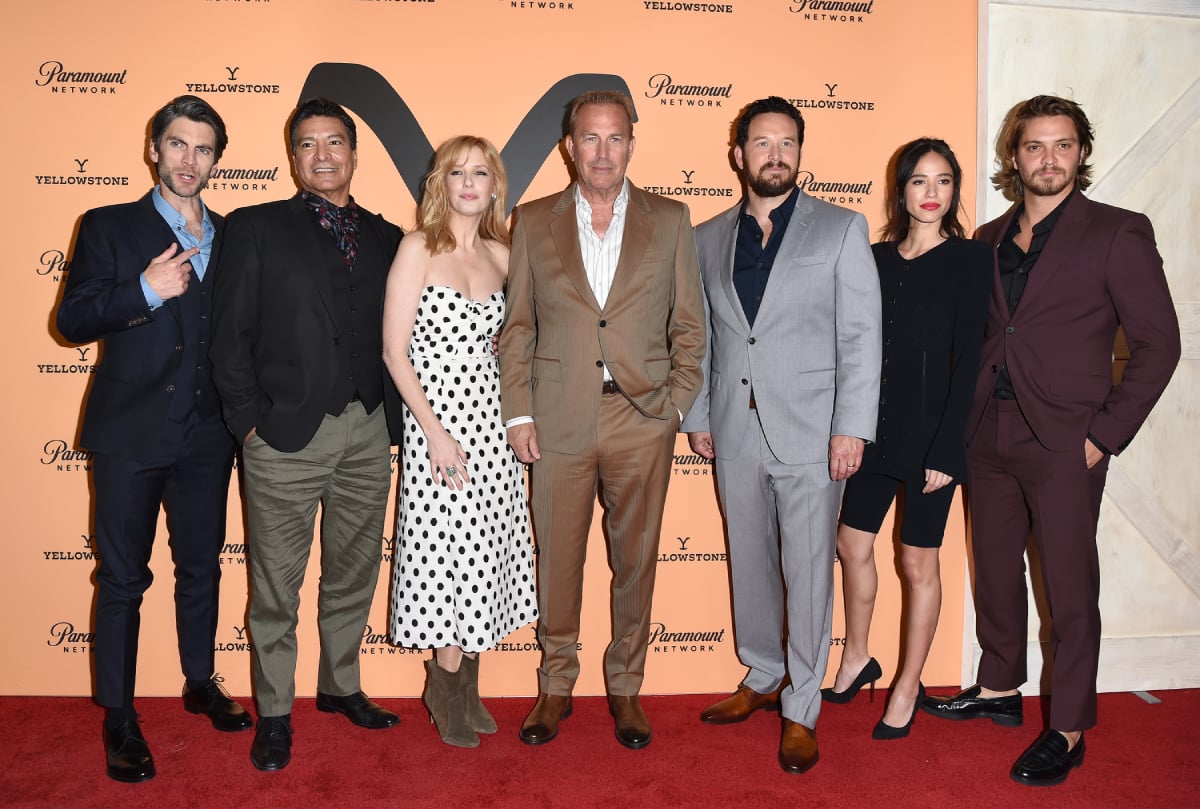 Taylor Sheridan's western Yellowstone has finally received some industry recognition. After four seasons, the top-rated cable drama has snagged its first-ever SAG award nomination. In the past, Sheridan has said he doesn't make Yellowstone to win awards. But the creator says this specific industry nod is well-deserved.
Taylor Sheridan's drama receives its first-ever major award nomination
After years of being snubbed, Yellowstone has finally received its first-ever major award nomination. And it's a big one. The stars of Sheridan's western have received a Screen Actors Guild Award nomination for Outstanding Performance by an Ensemble in a Drama Series.
In this competitive category, Yellowstone will be competing with the ensembles from Succession, Squid Game, The Morning Show, and The Handmaid's Tale.
Before receiving the SAG nomination, the only recognition the series had received was one Creative Arts Emmy nomination in the category of production design for a narrative contemporary program.
Yellowstone also received a nomination in 2019 at the American Society of Cinematography awards for cinematography in a regular series for commercial television.
'Yellowstone' is made for a specific audience
Sheridan has said in the past that he doesn't make Yellowstone for awards or critical recognition. Instead, he makes the show for a specific audience — people who live the cowboy life.
"The people who get it eat it up, and the people that try to look at it with a critical eye see a mess…I think it infuriates and confounds some people who study storytelling. They don't understand why this thing's such a hit," Sheridan told The New York Times.
Taylor Sheridan reacts to the 'Yellowstone' cast's SAG Award nomination
But when it comes to the cast receiving award recognition, Sheridan says that this SAG nomination is well-deserved. The Yellowstone ensemble includes stars Kevin Costner, Kelly Reilly, Luke Grimes, Wes Bentley, Cole Hauser, and Gil Birmingham.
"There's no bigger compliment to an actor than being recognized by their peers. Congratulations to our incredibly talented cast on this wonderful and well-deserved nomination," Sheridan said in a statement.
Yellowstone executive producer and 101 Studios CEO David Glasser agreed with Sheridan, adding that it's a "wonderful close" to season 4
"It is incredibly rewarding to see the Yellowstone recognition amongst our peers continue to expand as we come to the close of our fourth season," Glasser told Entertainment Weekly. "It's a true testament to the original voices and special universe that Taylor created. This nomination is a wonderful close to our recent record-breaking season finale."
'Yellowstone' had big ratings in season 4
Yellowstone debuted in 2018, and it's the last scripted original series on the Paramount Network. It follows the Dutton family — led by patriarch John Dutton (Costner) — as they fight to protect their Montana cattle ranch from land developers and other enemies.
When the series began, it was an immediate hit in the middle of the country — especially in rural areas. But it took time to get the attention of the larger TV markets on the coasts. By season 4, the series was seeing record numbers. The finale drew 10.3 million same-day viewers on Paramount and CMT, which is more than most network dramas.
Taylor Sheridan's series has 'incredible legs,' says executive producer
Glasser says that big season 4 finale ratings and the SAG Award nomination prove that the western is now an "all of U.S. show."
"It definitely hit the middle [of the country] in the beginning and then spread out. And that's great, because I think there's still a lot of audience to grow," Glasser told The Hollywood Reporter.
"SAG voters are everywhere, and that's great representation. We could not be happier for the show to get the recognition that we truly believe it deserves. It's just truly a great ensemble, so I think it's the perfect sort of launching point for the show."
Yellowstone seasons 1 through 3 are available on Peacock. Season 4 is expected to debut on the streamer in March 2022.