Taylor Sheridan Was 'Hungry' to Work With Kevin Costner Before He Even Wrote 'Yellowstone'
Taylor Sheridan is the co-creator of the most popular show on television — Yellowstone. Now in its fifth season, the neo-western is pulling in over 15 million viewers each week who can't get enough of fifth-generation rancher John Dutton — played by Kevin Costner — and his family's fight to keep their land. 
Neither Sheridan nor Costner could have predicted Yellowstone's massive success. But, before he even started writing the series, Sheridan knew for sure that he was "hungry" to work with Costner.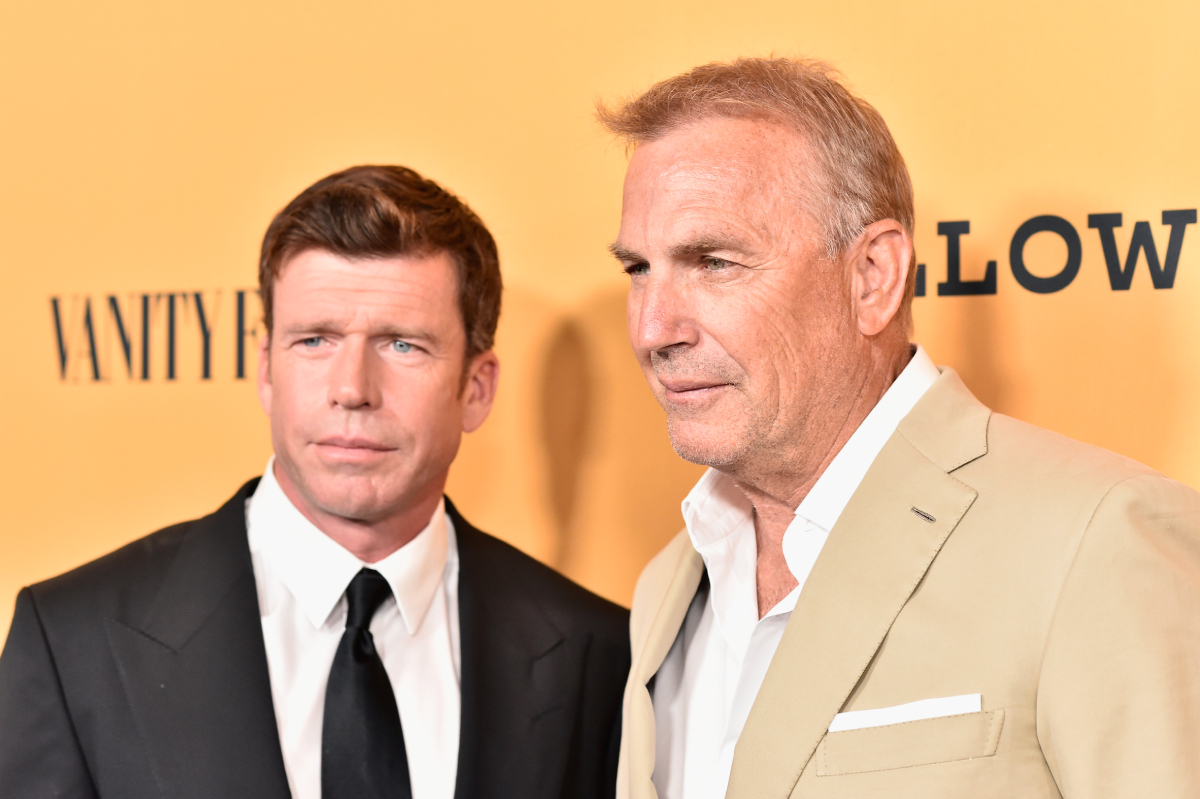 Taylor Sheridan says the story of the Dutton Family chose him
Way back in the summer of 2018 — when the first season of Yellowstone was set to premiere — Sheridan and Costner sat down with Collider for an interview about the then-unknown series. 
The Texas native explained that he didn't consciously choose to sit down and write a western about the disappearance of the American West and a traditional, rural way of life amid modern technology. Instead, he says the story chose him. 
"To me, looking at the modern American West is a really great way to look at ourselves," the writer/director noted.
The 'Yellowstone' creator was 'hungry' to work with Kevin Costner
Sheridan also talked about how he got two-time Oscar winner Costner involved in the series. He said that he's been a fan of Costner's work his whole life, and just getting the chance to meet someone he admired was an honor.
"I'd been a fan of Kevin's work my whole life," Sheridan said. "Just a chance to sit down with someone you've admired was a great honor. I was really hungry to find something to do with him and I had the idea for this show. I wrote the pilot and I sent it to him."
Ultimately, Costner loved the script, and Sheridan got him to sign on to the project before he sold the series to Paramount. And that turned out to be a contributing factor in making the deal.
Taylor Sheridan's warned Paramount that 'Yellowstone' would be expensive
When Sheridan went to Paramount to pitch Yellowstone, he had rescued the project from development hell at HBO where it had sat for years. He wanted the series to be made exactly as he saw it — and he made that clear to executives.
"You're not ready for this," Sheridan told them, per The Atlantic. "It's going to cost $90–$100 million. You're going to be writing a check for horses that's $50–$75,000 a week."
Sheridan also told the network that they would have no part of the project, with the exception of paying the bills. He also made it clear that he would write and direct every episode, there wouldn't be a writers' room, no one would see an outline, and there would be no notes from studio execs. 
Somehow, they accepted Sheridan's terms, and the rest is history. Because of Yellowstone's success, he signed a deal with Paramount in the summer of 2021 that pays him $200 million. And he currently has nine series worth more than $1 billion that are either on the air, streaming, or in various stages of development. Meanwhile, Costner just won a Golden Globe for his performance as John Dutton.
Yellowstone Season 5 will return for the second half this summer on the Paramount Network. Seasons 1 through 4 are now playing on Peacock.