Taylor Swift's Dad Bought a $300,000 Stake in Big Machine Records While She Recorded Her 1st Album
Taylor Swift was tied to to Big Machine Records for much of her career. As it turns out, her dad was also heavily invested in the company.
Taylor Swift has long been a fixture in the music community. Her earliest songs, "Tim McGraw" and "Teardrops on My Guitar," earned her acclaim for her expressive voice and old-soul lyrics. Meanwhile, her latest tunes, like "Cardigan" and "Willow," prove Swift can reach fans of any age and music taste. 
While it seems as though Swift has been around forever, there was a time when she was just a struggling songwriter. Still, while Swift might not have been born famous, she had a leg up. Her father bought a significant stake in the major record label that signed the rising star.
When did Taylor Swift's dad buy into Big Machine Records?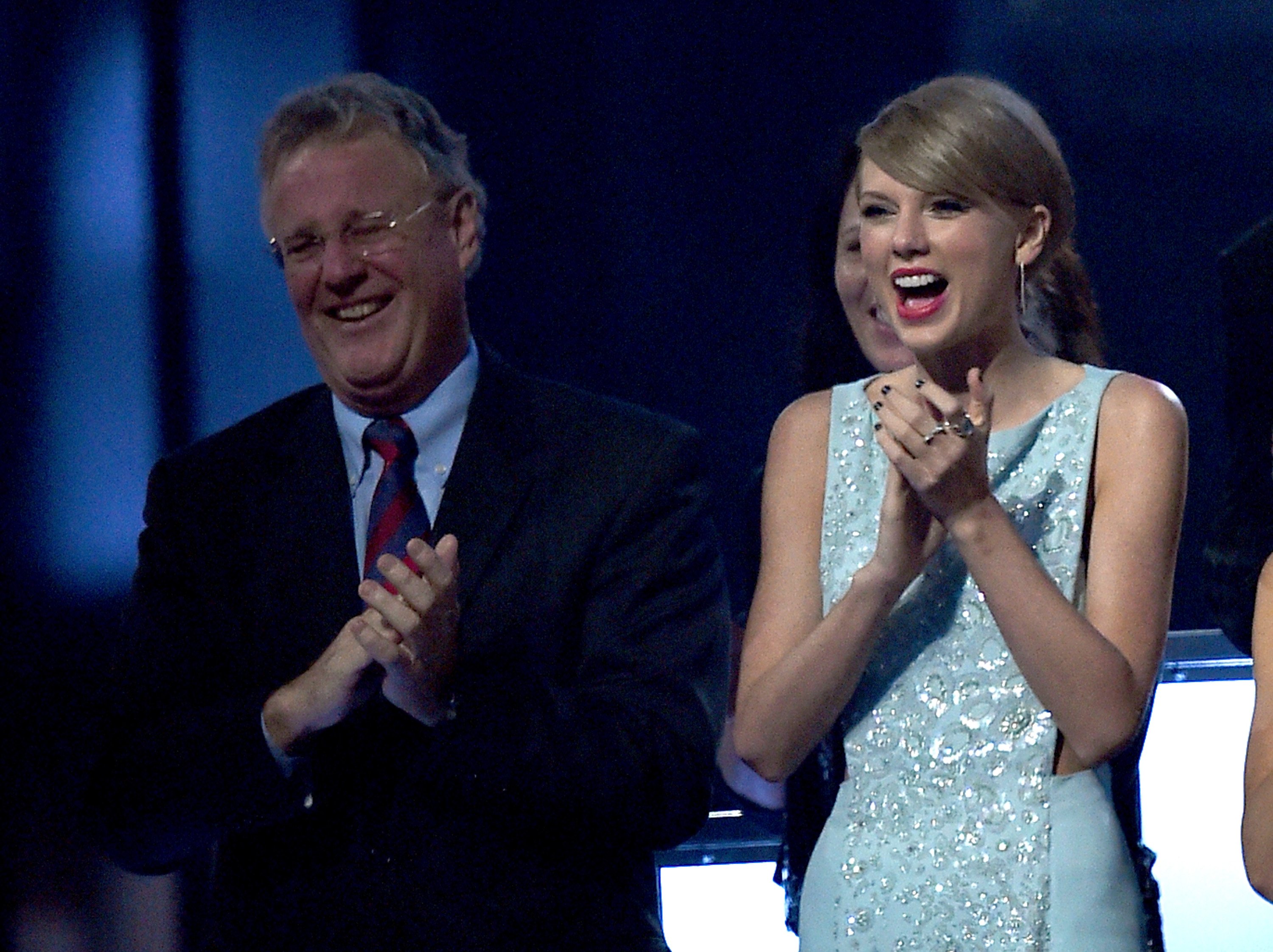 Taylor Swift started pursuing a career in music when she was just a young girl. Inspired by her favorite artists, including Shania Twain and Faith Hill, Swift expressed her desire to move to Nashville and start recording songs. Her parents supported her every step of the way. When Swift was 14 years old, her father, a stockbroker at Merrill Lynch, moved his work to Nashville, Tennessee, to help his daughter get her start.
Not long after moving to Music City, Swift was signed to Big Machine Records. According to BuzzFeed, Swift's father then sprung into action. He bought a 3% stake in the company for a reported $300,000 — all while Swift was hard at work recording her debut album. That album, titled Taylor Swift, debuted in 2006. It earned acclaim from critics and fans, cementing Swift's status as a country-pop singer to watch. 
Big Machine Records was sold in 2019
Over the years, Swift continued writing and releasing hit records, becoming one of the biggest stars in the world. By 2019, Swift was headlining sold-out world tours and navigating the pressures of the spotlight with grace and dignity. However, in the summer of that year, Swift was thrown for a loop when Big Machine Records, which she left in 2018, was sold to Scooter Braun. According to NPR, Braun's company, Ithaca Holdings, purchased Big Machine Records from founder Scott Borchetta.
Swift was vocal in her disapproval of the sale. She took to social media to call the sale of Big Machine Records her "worst-case scenario." She noted she had offered several times to purchase her masters – which Big Machine still owned, and now, Braun, who managed artists Swift publicly feuded with. 
Taylor Swift has been on a journey to re-record all of her albums
Scooter Braun responded to Swift's claims publicly. He wrote a blog post to say that he had made Swift aware of the impending sale before it happened. He also claimed that Swift was given "every chance in the world" to own her masters but decided to leave the label to pursue other endeavors. In November 2020, however, Braun's investment group collected a big payday when, according to Variety, all of Swift's masters were sold to an unknown buyer in a deal worth around $300 million. 
Taylor Swift eventually responded in a move that surprised everyone. In March 2021, Swift announced that she planned to re-record her past albums — those she recorded with Big Machine Records. "Artists should own their own work for so many reasons," she wrote. "But the most screamingly obvious one is that the artist is the only one who really knows that body of work." 
Swift's re-recording project is bound to give her a business boost. But it's also a chance for fans to hear a slightly different take on some songs – those same songs that caused fans to fall in love with Swift in the first place.