Taylor Swift's 'Willow' Video Is First off 'evermore' and Is a 'Cardigan' Callback
Taylor Swift officially dropped two albums with less than 24-hours notice in 2020, and her fans have no words. Before this year, Swift would release albums every two years with a pretty planned out and calculated marketing plan; you know, typical pop star stuff. But with folklore, Swift released the album within a day of announcing it on social media. And the same happened with evermore, on Dec. 10. 
With both drops, Swift also released a leading music video. For folklore, that was "Cardigan." And for evermore, that's "Willow." It just debuted, and the two are not only part of "sister albums," but are literal sequels to each other. 
Taylor Swift dropped the first video off 'evermore'
On the morning of Dec. 10, Swift revealed that she would be dropping her ninth studio album that evening at midnight. 
"To put it plainly, we just couldn't stop writing songs," Swift wrote on Twitter. "To try and put it more poetically, it feels like we were standing on the edge of the folklorian woods and had a choice: to turn and go back or to travel further into the forest of this music. We chose to wander deeper in."
And part of her album drop included her first video, "Willow," which came out at the same time as the rest of her album. It started off right where "Cardigan" left off, in that cabin in front of the piano she just came out of with the now-famous cardigan on. 
Instead of being just focused on Swift this time around, it features a bigger cast of characters, with an actual love interest this time. There are moments of Swift's persona as a child with this love interest, and then it shows her sort of fall into similar a "magical" journey like in "Cardigan," this time featuring a willow tree. 
'Willow' is about 'intrigue' and 'desire' 
But instead of just going to a few places that get a little murky and dark, Swift goes to perform in an old-timey village. Then there's a very magical, sorcery winter moment with capes. All the while, she's trying to find that illuminated golden string and make her way back to her love and her home.
In a YouTube chat before the premiere, Swift wrote, "'Willow' is about intrigue, desire and the complexity that goes into wanting someone." 
She also wrote that it kind of "sounds like casting a spell to make someone fall in love with you" which is "an oddly specific visual" and that's very easy to see in this video. She chose to use that golden, shining string.
It's shown throughout the video and it's an object that Swift follows, and searches through the video as well. So whether that's her casting the "bait and switch" as she says or that's a spell her lover cast for her, that's most likely the visual she's speaking of. 
Swift created this album with a lot of the same people she made 'folklore' with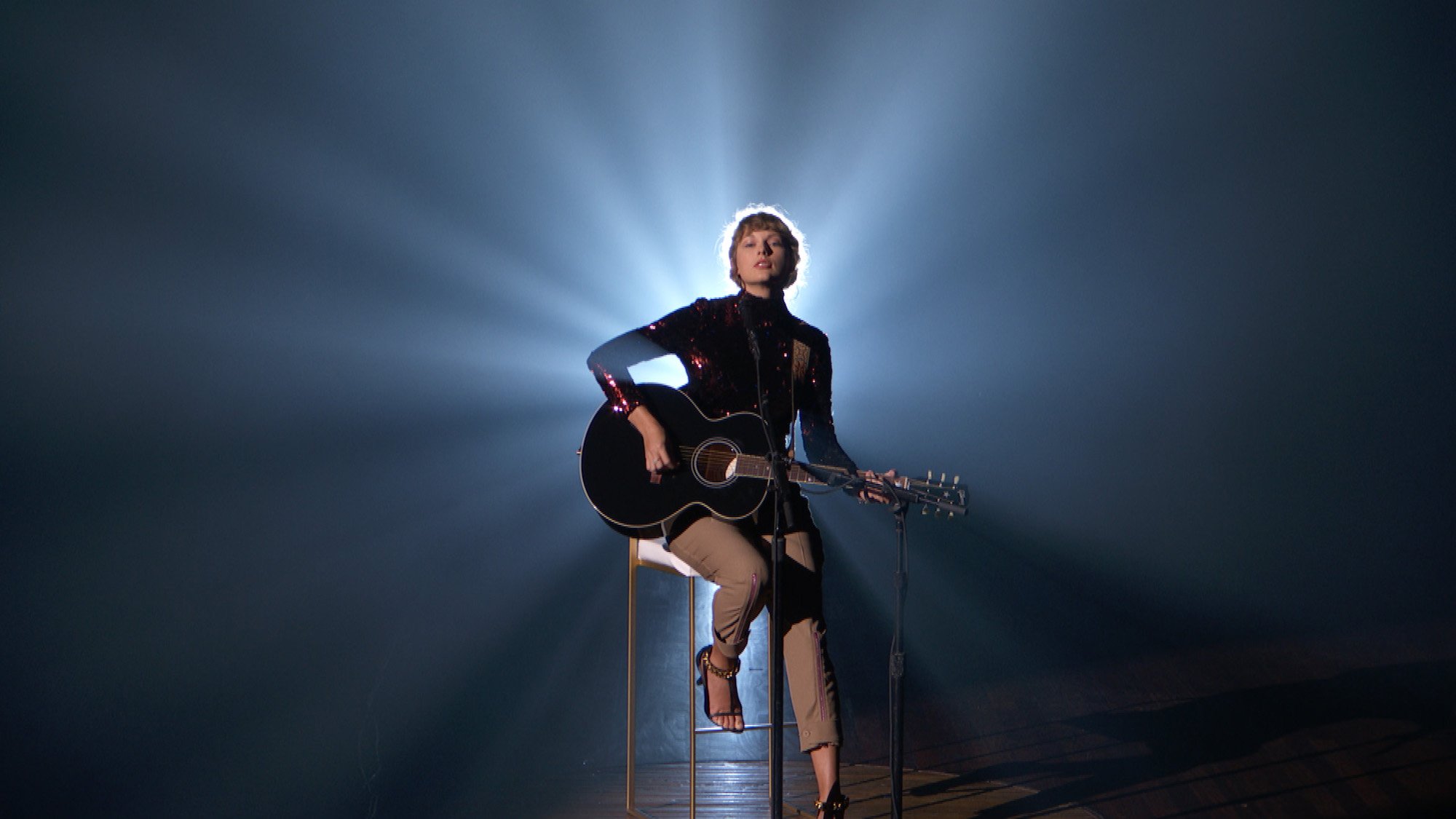 In her initial announcement, Swift went on to list and thank some people she worked on the album with, which include The National's Aaron Dessner and The Bleacher's Jack Antonoff, who both collaborated with her on folklore. And The National was featured on evermore, on track "Coney Island." Plus, Antonoff is a consistent co-writer with Swift as well. 
She also calls out Justin Vernon, who is the lead singer of Bon Iver, who duetted on "Exile" last time and is on the title track this time. And "WB" who is "William Bowery," aka Joe Alwyn, Swift's boyfriend. Haim also has a feature on this album on the song "No Body, No Crime."
With such similar collaborators, the sound of evermore takes on a similar quality as well, however, it's still very distinct and stands on its own. It fits the wintry time, with songs like "Tis the Season," and reflects more heavily on the pandemic and how negatively it's impacted us like on "Evermore." But it also has so much storytelling songs, just like on folklore. And Swift did not throw away her folk, alternative influences from the last album; she just added to them with a bit of her old, country twang.