The Cast of 'That '70s Show': Where Are They Now?
Here's what the 'That '70s Show' cast has been doing since the sitcom ended.
The list of guest stars who appeared on That '70s Show is impressive, but the main cast made the beloved TV series what it was. So, what are Topher Grace, Mila Kunis, Ashton Kutcher, Laura Prepon, Wilmer Valderrama, and the rest up to these days? Here are the details.
What was 'That '70s Show' about?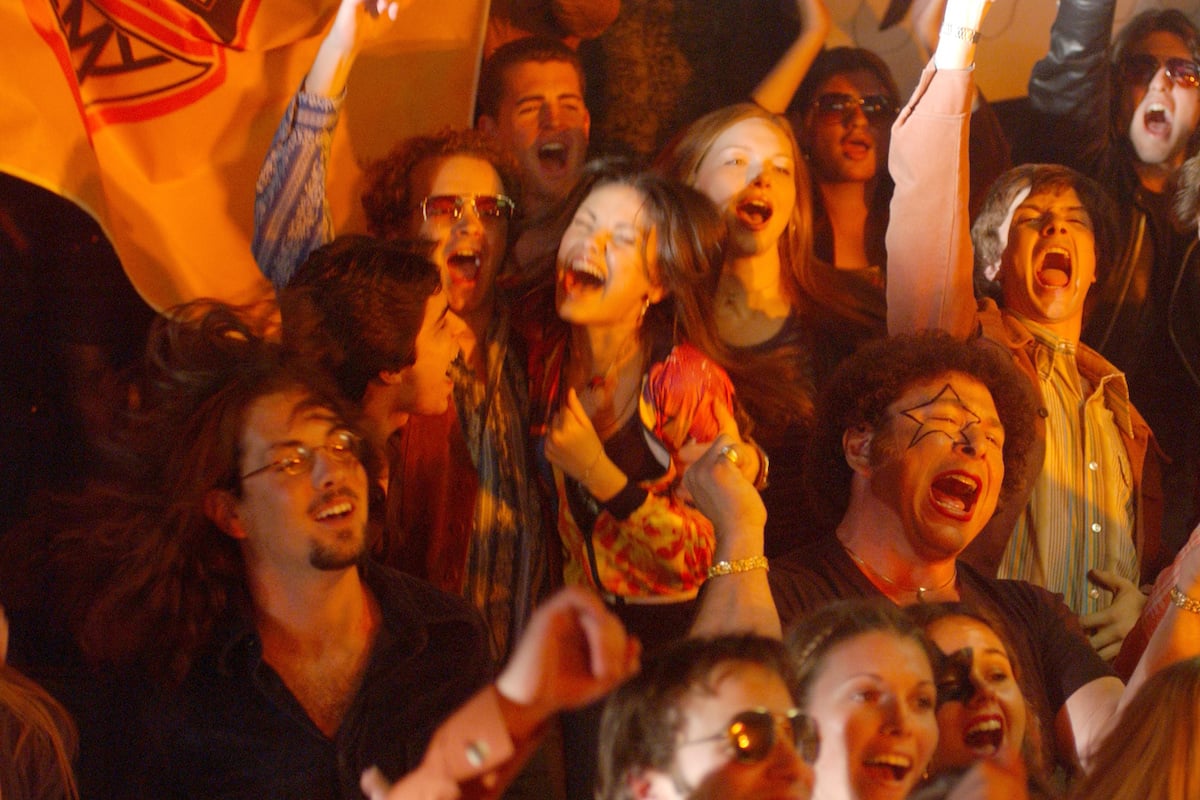 Written by Mark Brazil, Bonnie Turner, and dozens of others, That '70s Show revolved around a group of teenage friends in the fictional Wisconsin town of Point Place.
From 1998 to 2006, the lighthearted comedy entertained viewers through its amusing dialogue and antics. One recurring scene involved "the circle." The teens sat around a table and got high on marijuana while doing their best to solve life's challenges.
'That '70s Show' cast then and now
Topher Grace
Topher Grace, who portrayed the teenage Star Wars fanatic Eric Foreman to perfection, was born Christoper John Grace in New York City on July 12, 1978. He changed his first name because he disliked the nickname "Chris," his IMDb bio notes.
Aside from starring in a few school plays, Grace had little acting experience when he landed the part of Foreman. He appeared in every episode of the first seven seasons of That '70s Show but left to focus on film during the last season. However, he returned for the 2006 series finale, Us Weekly explains.
After That '70s Show ended, Grace appeared in several notable movies and TV series, including BlacKkKlansman, The Big Wedding, and Black Mirror.
Today, Grace and his wife, actor Ashley Hinshaw, stay busy raising two kids in a 4,000-square-foot 1940s home in La Cañada, California. When not making movies, the 43-year-old actor hosts the Minor Adventures podcast.
Mila Kunis
Mila Kunis, who appeared as Jackie Burkhart in every episode of That '70s Show, was born Milena Markovna Kunis in the former Soviet Union in 1983 and immigrated to LA with her family when she was 8 years old. Her first acting gig was in the 1995 independent short Make a Wish Molly.
While playing Burkhart, Kunis was also the voice of Meg Griffin in the animated series Family Guy. After That '70s Show wrapped, she starred in several successful movies, including Black Swan and Forgetting Sarah Marshall.
Today, Kunis is married to her That '70s Show co-star Ashton Kutcher. They have two kids and live in a French Neoclassical mansion on a six-acre spread perched above Beverly Hills, Architectural Digest reports.
Ashton Kutcher
Born Christopher Ashton Kutcher in Cedar Rapids, Iowa, on February 7, 1978, the 6-foot-2 actor played the handsome goofball Michael Kelso throughout the series. At one point, Kutcher planned to be a biochemical engineer, but winning the Fresh Faces of Iowa in 1997 set him on a different path.
On September 24, 2005, one year before That '70s Show ended, Kutcher married G.I. Jane actor Demi Moore. The couple separated in 2011 and divorced in 2013. Some months before the dissolution was final, Kutcher became romantically involved with his That '70s Show co-star Mila Kunis.
Today, Kunis and Kutcher have been married for a decade and are raising their children, Wyatt and Dimitri, in an exclusive section of LA.
Laura Prepon
Laura Prepon portrayed Donna Pinciotti in all 200 episodes of That '70s Show. Born March 7, 1980, the New Jersey native began acting as a teen and worked as a fashion model in Europe before landing the part of Pinciotti.
Today, Prepon and her husband, Six Feet Under actor Ben Foster, live in New York with their two kids — Ella and Foster.
Danny Masterson
Born on March 13, 1976, in Long Island, New York, Danny Masterson played the bushy-haired teen Steven Hyde on That '70s Show. After the series, Masterson acted in numerous TV series and music videos. Notably, he played the 1960s Yippie activist Jerry Rubin in the 2011 film The Chicago Eight.
Masterson married entertainer Bijou Phillips on October 18, 2011. They have a daughter, Fianna Francis.
Sadly, Masterson ran afoul of the law and was charged with numerous counts of sexual assault in June 2020. The 5-foot-10 actor is scheduled to stand trial in August 2022, Rolling Stone reports.
Wilmer Valderrama
Miami native Wilmer Valderrama portrayed foreign exchange student Fez in all 200 episodes of That '70s Show. Since the series ended, Valderrama has appeared in various movies and TV series, including The Ranch, where he appeared with That '70s Show castmates Ashton Kutcher and Danny Masterson.
'That '70s Show' revival will include nearly all of the original main cast
Today, most of the That '70s Show cast members, including Kurtwood Smith and Debra Jo Rupp, who played Red and Kitty Foreman, are rehearsing for a Netflix spinoff series.
Reportedly titled That '90s Show, the new series will feature all former characters except for Hyde. Danny Masterson will not be a part of the revamped show.