The 7 Best Musicals If You Love History or Period Pieces
Broadway musicals are there to bring fans joy and maybe teach them a thing or two. With these musicals, you'll get a glimmer at different points in global history.
Broadway musicals bring joy to so many people, for so many reasons. There's really a musical for almost anyone. Whether you like modern musical takes, jukebox musicals, or dramatic ones that have you on the edge of your seat, Broadway has them. And for those who love some history or real-life aspects to their musicals, we have the list for you.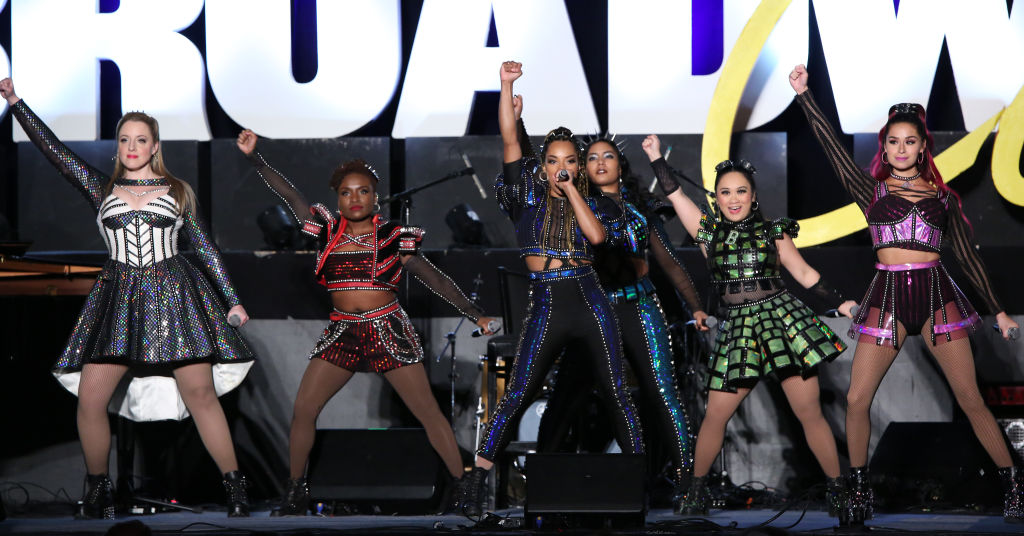 If you like to learn something while watching a play or transported back to a time and place unlike right now, these musicals will do the trick. But as with anything that's "based on a true story," things are often exaggerated in showbusiness.
1. 'Six'
Taking it all the way back to King Henry VIII's reign over England in the 16th century, this modern spin on his six wives shows just how much they had to put up with.
Imagine: his wives come back — two were divorced, two beheaded, one died, and one out-lived him — formed a pop group and belted numbers about their time as his wife. That's Six. Each wife has their own song and is for anyone obsessed with the Tudor period in England. 
2. 'Hamilton'
Hamilton doesn't need much of an introduction or explanation as to why you should see it. It tells the story of Alexander Hamilton's rise through American politics and military through the Revolutionary War and his fight for a national bank afterward. It also touches on the scandal that rocked his marriage and more. Set to the stylings of hip hop and other more classical broadway tunes, Hamilton will delight any history-loving Broadway fan.
3. 'Spring Awakening'
Spring Awakening tells the story of teens in 19th century Germany that live in the rigid society of the time. It's based on the play Frühlings Erwachen by Frank Wedekind. The musical covers topics of queerness, abortion, rape, death, and much more, but if you think it's a heavy musical by today's standards, just know the original play premiered in 1906.
It was heavily banned in Germany and beyond because of the topics that impacted these kids and also because it was a satire about religion and the "sexually-oppressive" culture of Germany at the time. The musical mixes it's tough topics with 1990s-esque punk rock, so you know it's a good time. When you're not left crying, that is. 
4. 'Beautiful: The Carol King Musical'
Based on the life of Carol King, Beautiful shows just how much she helped shape the music of the 1950s and 1960s. During the Brill Building stage of pop music, a lot of hits we know and love were created by King, including "Will You Still Love Me Tomorrow" and "One Fine Day." It also shows how King grew into the powerhouse solo artist she's known as today, something she didn't always think she could be.
5. 'Evita'
One of the most-famous musicals on Broadway, ever, Evita tells the story of real-life Argentine political leader Eva Perón, First Lady of Argentina to Juan Perón in the late 1940s. It focuses heavily on Eva, following her throughout her poverty-stricken life into her dreams to become an actress in Buenos Aires.
She was a powerful speaker and fought for labor rights as well as women's suffrage in the country. The musical was made into a movie in 1996 starring Madonna and Antonio Banderas. It went on to win Best Original Song that year at the Oscars along with Best Actress in a Musical or Comedy and Best Motion Picture Musical or Comedy at the Golden Globes. 
6. 'The Sound of Music'
Made immensely popular by The Sound of Music starring Julie Andrews, the musical is a classic. It's set in pre-World War II Austria and focuses on a military captain and his several children. Maria is the nun-in-training that comes to watch over the naughty little ones and ends up changing all of their lives for the better. It's based on the true story of the von Trapp family and how they then fled Austria to escape the Nazis who wanted Captain von Trapp to join them. But don't worry: The real-life von Trapps took a train out of the country, not on foot. 
7. 'Les Misérables'
Les Misérables is probably one of the most heartwrenching yet beautiful musicals to exist on Broadway. It takes place during a revolution and protest in France (although it's not historically accurate to say it is the French Revolution) and shows several different sides to the conflict and how they are all equally affected.
The lead character that connects them all is Jean Valjean, a peasant who served nearly 20 years in jail for a loaf of bread. This musical went on to also become a feature film, has toured several times, and made countless people cry.