'The Andy Griffith Show': The Sad Story of the Actor Who Replaced Don Knotts in Season 5 of the Series
When actor Don Knotts, who was a fan favorite for his portrayal of bungling Deputy Barney Fife on The Andy Griffith Show, departed the series in its 5th season, the show's producers weren't sure how to proceed.
Knotts had been bringing in viewers through his unique and carefully developed comic character.
The Griffith show brought on a new character to fill the gap Knotts was leaving. Not to replace him because, really, Knotts could not be replaced. It turned out to be a failed experiment according to Griffith himself.
Don Knotts left 'The Andy Griffith Show' after its 5th season
In 1965, Knotts announced he would be leaving the comedy. The decision stunned viewers, who were told his decision was in order to pursue a movie career. Knotts was growing more and more popular and that rationale made sense. However, the actor in a conversation with The Andy Griffith Show author Richard Kelly, explained his real reason for leaving the show.
According to Knotts, Griffith had told him on multiple occasions that he would be ending the series in its fifth season. As Knotts told Kelly, he began the work of "self-protecting" his career. He signed a five-year film deal with Universal…and then Griffith announced he had changed his mind and would be continuing the show.
The Barney Fife actor was shocked but it was too late to back out of his movie deal.
Jack Burns was brought in to 'replace' Knotts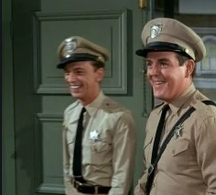 RELATED: 'The Andy Griffith Show': The Show's 1 and Only Christmas Episode Was Loaded With Behind-the-Scenes Friction
As Knotts' final episode approached, the reality of the show moving on without him settled on Griffith and the show's producers. They had to consider how to replace the popular actor.
At a nightclub in San Francisco, Griffith enjoyed the comic performance of Jack Burns. Burns was well-known as partner to comedian George Carlin and was clearly comically gifted, so much that, according to Griffith, "we decided to make him Floyd's nephew on the show. So we put him on – and we said we are not replacing Don. But we were replacing Don and we were giving him Don Knotts material," Griffith told book author Kelly.
The character of Warren was not popular. Not with fans and even more importantly, not with Griffith. Knotts was even brought back on for the episode titled "The Legend of Barney Fife" to lend his support to his flagging replacement. It didn't help and Burns was out after 11 episodes.
Griffith called Burns' hiring 'a mistake'
While Burns did his very best, at some point he was told it wasn't working. To be fair, it might not have worked for anyone to try to stand in Don Knotts' long shadow.
Griffith himself agreed and was quoted by Daniel de Visé, the author of 2015's Andy and Don as saying, "I can't begin to explain how uncomfortable we were. I get strung out easily, and if I'm uncomfortable I'm hell to be around, and I was very uncomfortable."
Burns was let go before Christmas of 1965. "I saw Jack some years later," Griffith continued, "and he said he was bitter for a while, but he got over it. It wasn't Jack's fault, it was our fault."
Eventually, Burns found his niche behind the cameras in the 1970s, performing voice-over work. He also became head writer and producer on The Muppets' first season, co-wrote 1979's The Muppet Movie, and contributed as a writer on Hee Haw.