'The Bachelorette': Katie Thurston Responds to Rumors That She Split From Blake Moynes
Is recently engaged The Bachelorette couple Katie Thurston and Blake Moynes already headed to splitsville? A few fans on social media seem to think so. It's been a little under three months since the couple got engaged in the finale of The Bachelorette Season 17. But there have been couples from The Bachelor franchise who have broken up in a shorter amount of time. So are Katie and Blake still together?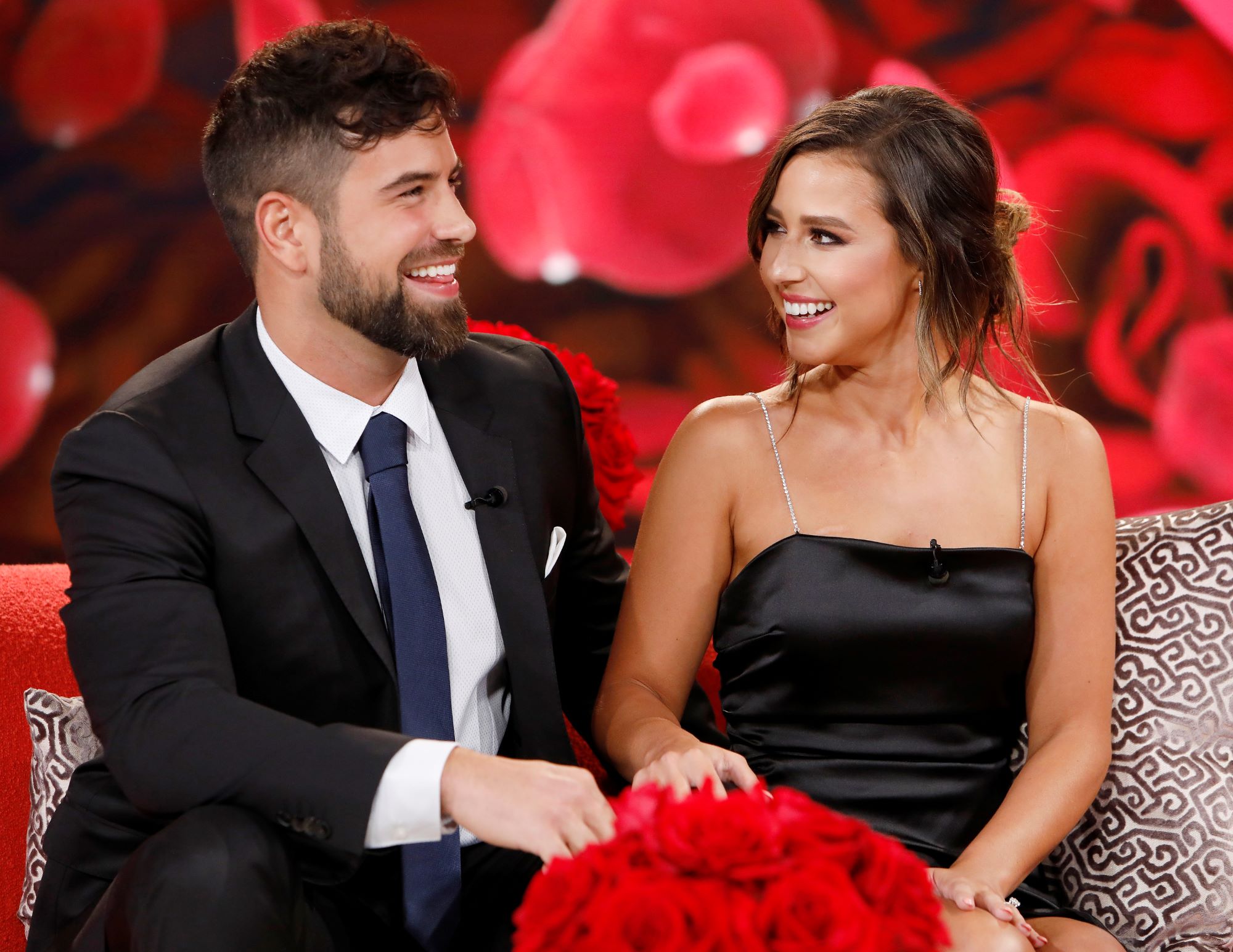 Blake proposed to Katie in 'The Bachelorette'
In season 17 of The Bachelorette, Katie Thurston gave her first impression rose to Greg Grippo. Greg continued to be the frontrunner of the season for weeks to come. But in week 3, Blake Moynes, a contestant on Clare Crawley and Tayshia Adams' season of The Bachelorette, joined the cast.
Katie and Blake's connection was instant. It was clear that they were falling in love with one another, but Katie's relationship with Greg was strong, as well. It wasn't until Greg broke up with Katie and quit the show that viewers realized that Katie would pick Blake in the end.
During the finale, Katie sent Justin Glaze home and gave Blake her final rose. The couple exchanged "I love you's," and Blake proposed. It was a happy ending for Katie and Blake in The Bachelorette. But, of course, people on the internet will always spread rumors of the couple's demise.
Katie addresses rumors that she and Blake broke up
Per Us Weekly, former The Bachelorette star Katie responded to a few comments on both Instagram and Twitter that alluded to a breakup between her and fiancé Blake.
One comment from an Instagram user read, "You and Blake are not liking each other's posts. Is all ok?" Katie responded, "lol yes." She then took a screenshot of the conversation and posted it on Twitter. Katie's caption of the photo read, "Imagine your fiancé has been on his stories for weeks in Kenya working his ass off and yet this is what some people notice."
Katie also responded to a Twitter user who said, "But 'liking' posts = love I thought," by sarcastically writing, "I guess that's love in 2021."
When will 'The Bachelorette' couple tie the knot?
It sounds like Katie and Blake are taking things slow after getting engaged in The Bachelorette finale. Katie and Blake told Us Weekly that their work is forcing them into being a long-distance couple. As Katie mentioned on Twitter, Blake works a lot in Africa. Plus, he is from Canada, and Katie is currently living in California.
After getting engaged, Blake told Us Weekly, "We need to see each other's lifestyles and our passions, our interests, and then try to see where our anchor spot will be, where all those things can kind of align and make sense for both of us. We're going to jump around for a bit and experience what works best for us."
Katie added, "It's hard to say if we would have survived just as a dating couple. But the fact that we're both committed to each other as future husband and wife, it just says a lot about our confidence in our relationship."
UPDATE: Katie Thurston announced on her Instagram on Oct. 25 that she and Blake Moynes have parted ways.