'The Bachelorette' Trivia: 9 Things You Didn't Know
Learn more about 'The Bachelorette' trivia you didn't know.
The Bachelorette seasons are some of America's most popular reality television content. A spinoff of The Bachelor, The Bachelorette debuted on television in 2003 and has been in continuous syndication ever since. The show has spawned a lot of controversy over the years and introduced many headline-making personalities into pop culture. It also created The Bachelorette trivia which fans love.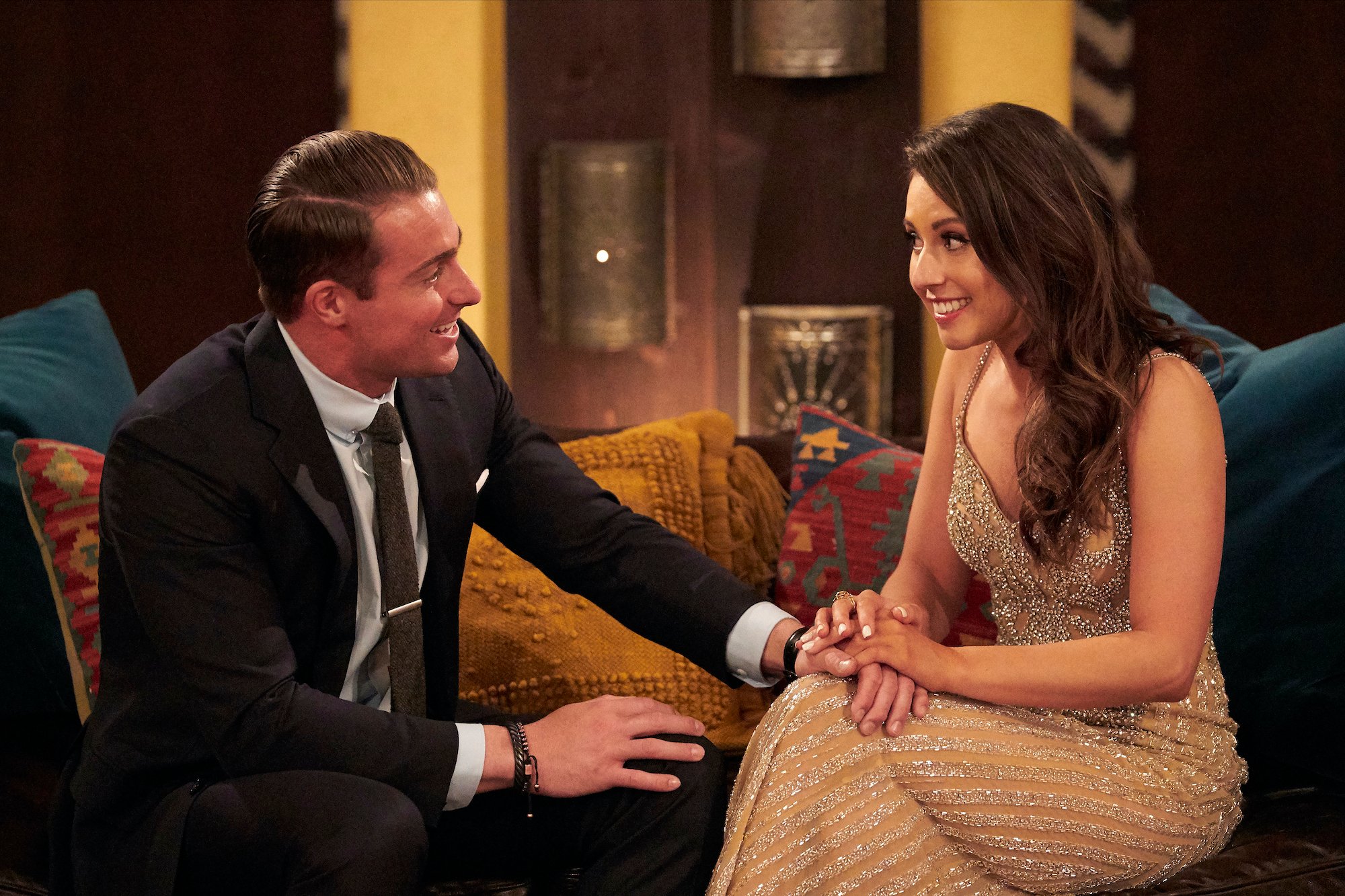 Despite the critics who slam the show for being vapid and silly, fans still flock to the show in droves. Ultimately, there's a lot more to The Bachelorette than what meets the eye, and contestants on the show are required to follow some pretty strict rules in order to participate.
1. Contestants aren't allowed to tell anyone that they've been cast on their 'The Bachelorette' seasons
Although the contestants who appear on The Bachelorette are in for a truly wild ride and get to enjoy some unforgettable experiences, in the weeks and months leading up to filming, they are sworn to secrecy. According to Bibiana Julian via Refinery29, who has appeared on several shows in The Bachelor franchise, contestants aren't supposed to tell talk about being cast on the show prior to the season premiere. 
"They had to sign a confidentiality agreement, basically that you're not going to run off and say all this stuff," Bibiana admitted, revealing that she was able to tell some family members about her casting, but that those family members had to sign NDAs.
"I'm such a rule-follower. I didn't really tell a lot of people. My boss had to know, obviously, HR had to know. I was a little bit hesitant with HR knowing only because in my job, once you tell HR it's like gossip. Exactly the opposite of what you want. They were really understanding."
2. 'The Bachelorette' drama can't be posted on social media
The Bachelorette is a show that relies heavily on big surprises, and therefore, it's no real shock that showrunners don't want contestants accidentally leaking any big reveals on social media. Contestants on The Bachelorette are obligated to go private on social media before filming has started, in order to keep eagle-eyed fans from digging through public profiles looking for clues. Contestants can still have their social accounts, and once filming has wrapped, they can change the settings back to public. 
3. Contestants aren't allowed to reveal until after the seasons' 'The Bachelorette' episodes have aired
Fans wait all season long for The Bachelorette finale, and many of the most devoted fans make wagers about what the ultimate outcome will be. Showrunners know that their fans take the show seriously, and do what they can to protect the show's secrets — reinforcing the show's policies with all the contestants on a regular basis.
Reportedly, producers for The Bachelorette take the issue of spilling secrets so seriously that they have a fine in place. It is possible that the fine is more of a scare tactic than anything else, but it is also likely that no contestant wants to actually find that out in real-time. In general, contestants seem to play by the rules, even if they aren't too happy with the way things are going on The Bachelorette.
The Bachelorette is one of the world's most popular reality competition shows. A spinoff of The Bachelor, The Bachelorette has been on television since 2003, earning new fans with each passing season. The show is known for its surprise twists and turns, and the way that it manages to find interesting, dramatic personalities to be featured on the series.
Showrunners take new The Bachelorette seasons seriously, and thoroughly vet out contestants before they are officially cast on the series. Additionally, contestants are put through the wringer and must follow some seriously strict rules, both prior to filming and during the creation of the season. 
4. Contestants on 'The Bachelorette' must do their own makeup
Even though viewers often tune into The Bachelorette to ogle contestants' fabulous hair and makeup, as it turns out, there isn't a big team of hair and makeup artists working behind the scenes to help the contestants look their best. Contestants on The Bachelorette are responsible for doing their own beauty looks on the show, since the only person who has access to a glam squad is the season's lead. 
With so much pressure on contestants to look good, it's no wonder that they often end up dropping some serious coin on beauty prep and products.
"I got highlights, lash extensions, a gel manicure, and a supply of high-definition makeup… But I had the most anxiety about how I was going to go without my weekly spray tans. After my farewell spray tan, I bought about four bottles of St. Tropez," former Bachelorette contestant Whitney Bischoff once revealed, according to Refinery29.
5. Contestants must cook their own meals on 'The Bachelorette'
Not only are contestants on The Bachelorette responsible for making their own faces, but reportedly, they have to prepare their own meals as well. Former contestants have revealed that the show is not glamorous at all behind the scenes and that showrunners monitor things very closely. The contestants on the show have to prepare their own meals, using ingredients that are provided for them. They also have to do their own laundry — and aren't allowed to overindulge when it comes to alcohol. 
6. 'The Bachelorette' contestants have to pack their own bags prior to filming
Contestants on The Bachelorette get to experience a lot of exciting moments in front of the camera, but behind the scenes, the rules are quite strict — even when it comes to packing in preparation for the show. All contestants have to pack their own bags before they leave to filming.
Former Bachelorette Andi Dorfman revealed in her book, It's Not Okay: Turning Heartbreak into Happily Never After, that all contestants are given a list of specifically what to bring to the set, including clothing "for both cold and warm weather; athletic wear; bathing suits; heels; tennis shoes; sandals; cocktail, long, and casual dresses; and heavy coats."
Also, contestants are encouraged to bring everything that they need when they are packing their bags since for things like beauty products, they can't fly in extras. According to Glamour, Bekah Martinez revealed that:
"I bought extras of everything I use. My hair doesn't require much. I actually don't wash my hair, like, at all. I haven't washed my hair for eight or nine months; I just rinse it. So I didn't really need any hair products. For makeup, I bought extra samples of foundation, sponges, mascara, and eyelashes—I like Ardell, which are about five bucks—just in case."
There is one exception, however, in the case of basic toiletry items — showrunners will step in and offer contestants extras of products like toothpaste, deodorant, and body wash.
The Bachelorette premiered on television in 2003, changing the face of reality TV in America. For viewers both young and old, the show is the perfect escape from the stresses of everyday life, a frothy, fun romp through the love lives of strangers.
Still, as fun and lighthearted as the show is to fans, The Bachelorette is serious business — especially to showrunners, who work hard to maintain the integrity of the long-running series. Over the years, these showrunners have implemented some strict rules that all contestants are required to follow if they want to be featured on The Bachelorette. 
7. 'The Bachelorette' contestants technically have to be single
There is a lengthy list of requirements and rules that contestants on The Bachelorette have to follow — but the most important one is rule number five on the show's official website: all contestants on the show technically have to be single in order to be considered for participation. However, some contestants haven't always been fully honest about this.
8. Contestants have to go on all the dates in the show
Another official requirement straight from showrunners is the rule that all contestants on the show have to go on all the dates — even ones that might make them uncomfortable. While The Bachelorette's official website doesn't go into detail about the specific dates, it makes sense why contestants would need to participate in every activity, and the site does acknowledge that participants need to be comfortable doing "extreme" dates such as ones that involve skydiving, mountain climbing, or even up close and personal dates like tantric yoga. 
This includes times when contestants might be feeling sick or simply not up to it. At the end of the day, producers and other showrunners want to give viewers at home a good television experience — regardless of the way contestants might feel about the proceedings. 
9. Contestants on 'The Bachelorette' can't do interviews unless approved by ABC
Secrecy is of the utmost importance on The Bachelorette, and producers absolutely do not want any leaks getting out to the press before the plot twists reveal themselves as the season progresses. Therefore, it is a rule that contestants are not allowed to do any interviews until ABC gives the go-ahead.
There has been at least one notable example of a contestant who broke this rule — Luke Parker, who appeared in Hannah Brown's season of The Bachelorette, was fined $100,000 by the network for making several "unauthorized media appearances" while he was still under contract with The Bachelorette.
Reportedly, Parker's contract stipulated that he refrain from "any unauthorized use or disclosure of any information or events he witnessed or learned as a contestant … or make any negative or disparaging remarks about the series" until his contract ended at the end of July 2020.
However, due to the fact that Parker made "at least four" separate media appearances in late 2019, the network stepped forward and demanded that he pay up. Clearly, showrunners not only take great care to guard the privacy of their show but work hard to maintain the integrity of the show's storylines as well.
RELATED: 'The Bachelorette': The 1 Piece of Advice Several Alums Have Given Katie Thurston That She Hasn't Listened To
Related post url: