The Best Season of 'Glee,' Based on Its Rotten Tomatoes,' Score Is a Classic
'Glee' isn't a very old series, but it is still full of nostalgia. It also hasn't aged all that well. But what's the best-rated season?
There are several things that aged not-so-well even within the last few years. And Glee is one of those things. 
Between just poorly worded jokes and weird dance numbers, the lens through which the show is viewed now is a bit tainted. However, it can still make for a good time if you overlook some of the cast member's sordid, real-life scandals and tales. Or if you can get past some of the sad deaths like Cory Monteith and Naya Rivera's. 
But, it still is a binge-able show and has great performances other than the handful of problematic or iffy ones. So, which season has the best rating on Rotten Tomatoes? Nothing beats the original, of course. 
'Glee' started in 2009 with its best-rated season on Rotten Tomatoes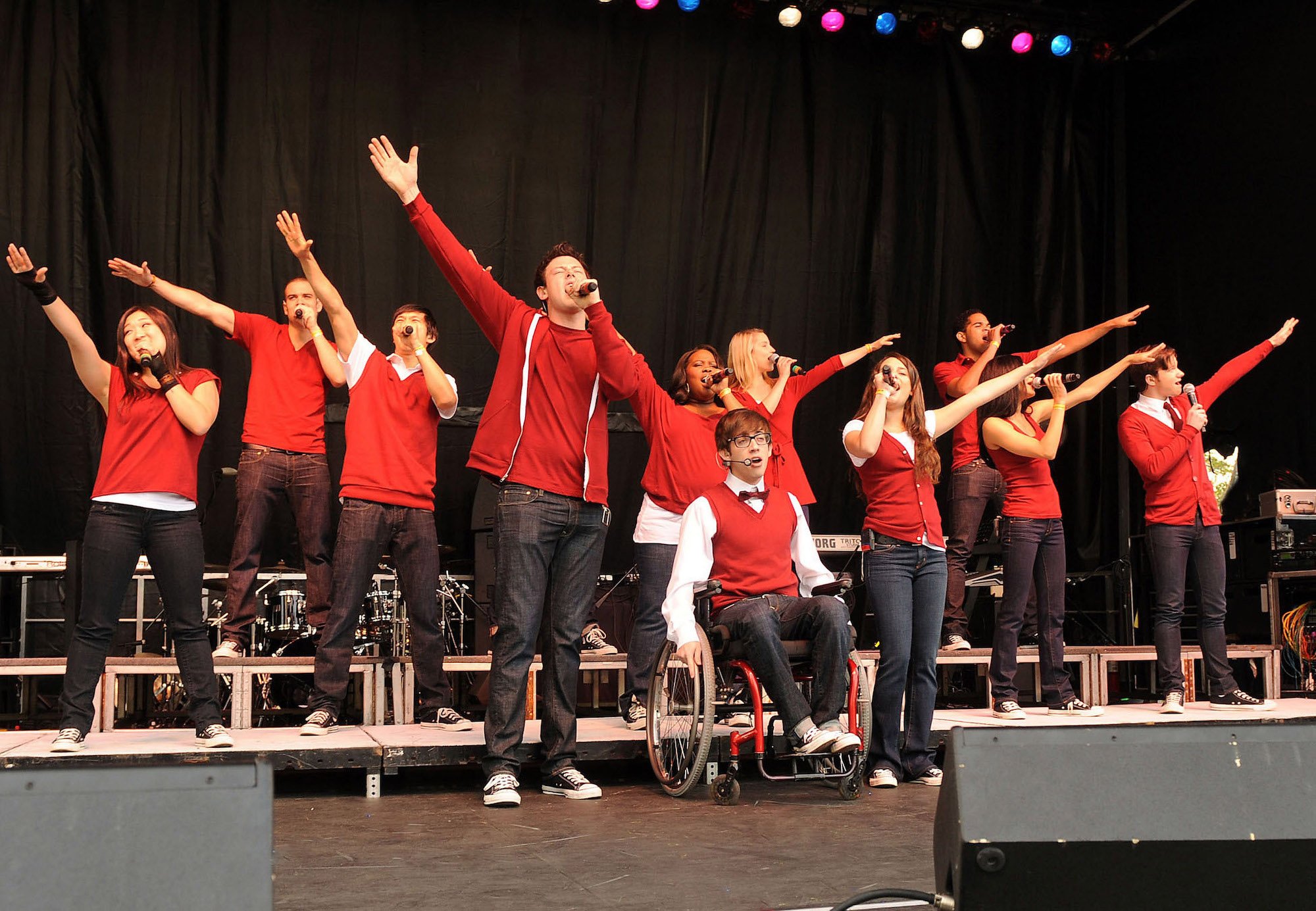 Pitching a series that revolved mostly around outcast teenagers singing in a Glee club, with musical episodes every episode was unheard of at the time Glee came out. Original musicals aren't all that popular, and series aren't often based around musicals either. So Ryan Murphy was really doing something out of the ordinary with Glee. 
But, boy did it work. The show ran for six seasons and was immensely popular for most of its run. And not only was it popular, but it also went on to be nominated for (and sometimes win) Emmys, Golden Globes, and Grammys. The music on Glee started its own revolution on the charts, appearing on Billboard and still comes on people's top Spotify Wrapped playlists. 
The show made household names of the characters and the actors, and they even went on packed tours. If you were a teen and a fan of Glee during the years 2009 through 2012, then you know how wild it was. They even had a 3D movie. 
And it all started with Season 1, its best-rated season by critics on Rotten Tomatoes. It's currently certified fresh with an 86 percent rating. The consensus reads, "Entertaining, snarky, and full of heart, Glee is an addictive, toe-tapping musical dramedy that hits all the right notes."
Season 1 is great for many reasons 
And the consensus is correct. The first season has a lot of great moments, even taking away the lens of nostalgia. For one, viewers get to meet the characters for the first time. And to say they're eccentric is an understatement. From slushies in the losers' faces to dumpster throws and porta potty lock-ins, McKinley High School really was lawless. 
Then there's Sue Sylvester who could hold the show all on her own if she had to (and she does often). Will Schuester is the Spanish teacher turned Glee director that everyone now loves to hate. And then there are the kids: Rachel Berry, the slushie-able Broadway wannabe, Finn Hudson the dorky, lovable jock, Quinn Fabray the cool-yet-hypocritical cheerleader, and more.   
And the performances! Season 1 gave fans Mercedes' "Bust Your Windows" performance before everyone knew Kurt was gay (although it was kind of obvious). It gave fans "Somebody to Love" and "Jump," which were two great group performances. It featured the Madonna episode, the Sectionals episode, and the "Bad Reputation" episode which had "Run Joey Run" which is definitely one of the worst-best Glee performances ever. 
Plus, Glee isn't Glee without its renditions of "Don't Stop Believin'" which they do in the pilot and then again at Sectionals and Regionals. It's the Regionals version, though, with Mercedes' (Amber Riley) runs and vocals that really make their version iconic. 
The series went on for six seasons, but there really isn't anything like its first. Seasons 1 through 3 were great too, though, but once half of the core cast graduated, things changed and the show didn't really recover from it. And, of course, Monteith died before Season 5, and so the vibe changed again. 
The success of 'Glee' and its first season was a shock and came with a lot of tension too
Looking back on the series in 2016, Murphy really couldn't believe how blindsided he was by the success of it all. He told Entertainment Weekly that he came back from filming Eat, Pray, Love in 2009, which he directed and co-wrote, and being in shock. 
"I returned from India and Bali with Julia [Roberts], and I was like The Beatles," Murphy said. "It was so crazy, like you could not go out with those kids."
He did go into how the experience of Glee was exciting for him as a creator and for the actors. But that there was a severe learning curve. One that he, unfortunately, had to make a few mistakes on as he was going. 
"It was the best time in my life and the worst time in my life," Murphy said. "There was a lot of infighting. There was a lot of people sleeping together and breaking up."
He said it was "good training for being a parent," but he made the mistake of being too close and personal with the cast, and allowing them to be too close with each other too. 
"We were always together, so there was no delineation between who was the boss and who was the employee," he said. "And we were all so close that finally when something would happen, it would be so personal to me that I would literally hit the roof."
Well, he seemed to figure it out with his other shows and later on with Glee, although he does seem to have a set list of actors he likes to work with for projects. Whether it be American Horror Story or musicals.