'The Boys': Ron Howard and Brother Clint Gear Up for Their 'Book Tour This October'
Part of one of America's most renowned and beloved families of actors, Ron Howard and Clint Howard now pull the curtain back on their experience growing up in the business in their soon-to-be-published joint memoir, The Boys. The former child actors from The Andy Griffith Show and Gentle Ben answer the question, "What was it like to grow up in show business?" And they're going on the road to talk about navigating the Hollywood life as boys and beyond.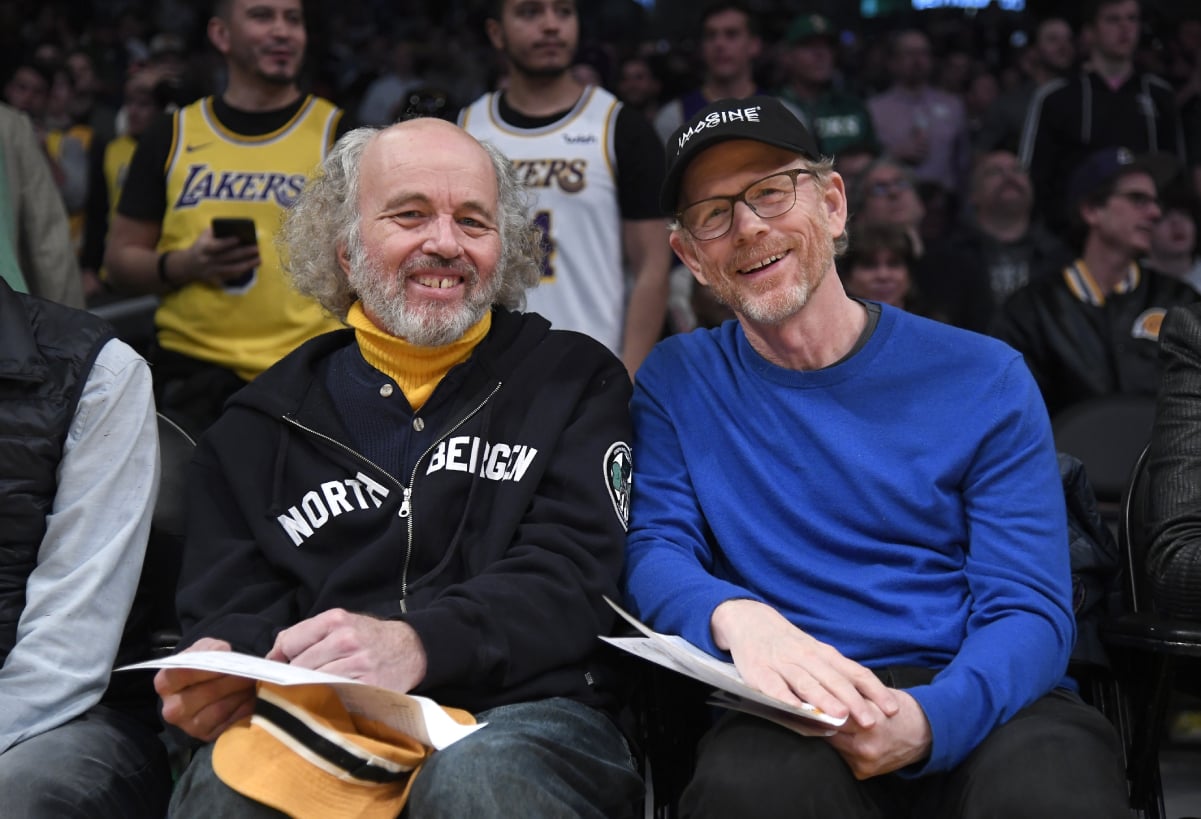 Ron Howard announced he's hitting the road with brother Clint
On Twitter this week, Ron let it be known that he and his brother Clint, who have been part of American film and television for decades, will be opening up in person about growing up in the spotlight. 
One of their stops is New York City's The Town Hall, where the pair will "reflect on the importance of family and share memories of their extraordinary childhood spent on sound stages, hanging out with Hollywood legends like Andy Griffith, and working with trained bears. They'll also dig deeper, examining the industry with the perspective of life experience behind them."
'The Boys' publishes in October
With a foreword by Ron's daughter, Jurassic World star Bryce Dallas Howard, The Boys will be published by William Morrow, an imprint of HarperCollins Publishers. In it, the celebrity brothers finally let their fans in on what their lives were really like growing up as young actors.
"By turns confessional, nostalgic, heartwarming, and harrowing, The Boys is a dual narrative that lifts the lid on the Howard brothers' closely-held lives," the publisher stated. "It's the journey of a tight four-person family unit that held fast in an unforgiving business and of two brothers who survived 'child-actor syndrome' to become fulfilled adults."
"Mom and dad's teachings are treasures to this day but I've realized that I took their presence for granted. Writing The Boys with my brother has been the topper of a wonderful lifetime," said Clint.
On Twitter back in May, Ron debuted the book's cover. He wrote, "Here's the cover of THE BOYS, the memoir that Clint and I wrote together. That's our dad with us, outside of Desilu Studios. The book is out Oct 12 but you can pre-order it now!"
Signed copies of 'The Boys' are available for pre-order now
The Cinderella Man director recently tweeted a video message addressing requests he's received for signed versions of the memoir. Howard in the tweet promised to "add a link to this video because you can pre-order, I'm told."
"I wanted to address something," the Oscar winner began. "My brother Clint and I wrote a memoir. It's coming out October 12, called The Boys. A lot of people have been asking us if there are going to be signed copies of this."
"Yes, there will be," he said in a video message filming boxes and boxes of copies of the upcoming memoir. "Now there, Clint has signed that first, I haven't signed that yet. Oh look there, I've signed those."
The camera moved on to a shelf filled with the books which, he said, "were on their way." And then to several opened boxes. "Oh look, these are done, baby. Finished those." Howard promised that "more boxes were on the way."
With the camera back on himself again, the former Happy Days star concluded: "Here's evidence. My hand hurts, but that's ok. We're very proud of this book and hope you find it interesting."
'The Boys' by Ron and Clint Howard releases on October 12.
RELATED: Ron Howard's Dad Revealed What Kept Him and Andy Griffith From Becoming Close Friends: 'We Weren't Buddy Buddies'