'The Boys': What Showrunner Eric Kripke Must Reportedly 'Figure Out' in Season 3
Season 2 of The Boys, now available in its entirety on Amazon, brings viewers back to the gory and gray morality of its predecessor, skating as close as it can to the comics' mature-themed grotesqueness. The Boys takes the superhero genre and flips it on its head — presenting self-serving heroes owned by a corporation vying for unparalleled and unbridled governmental influence.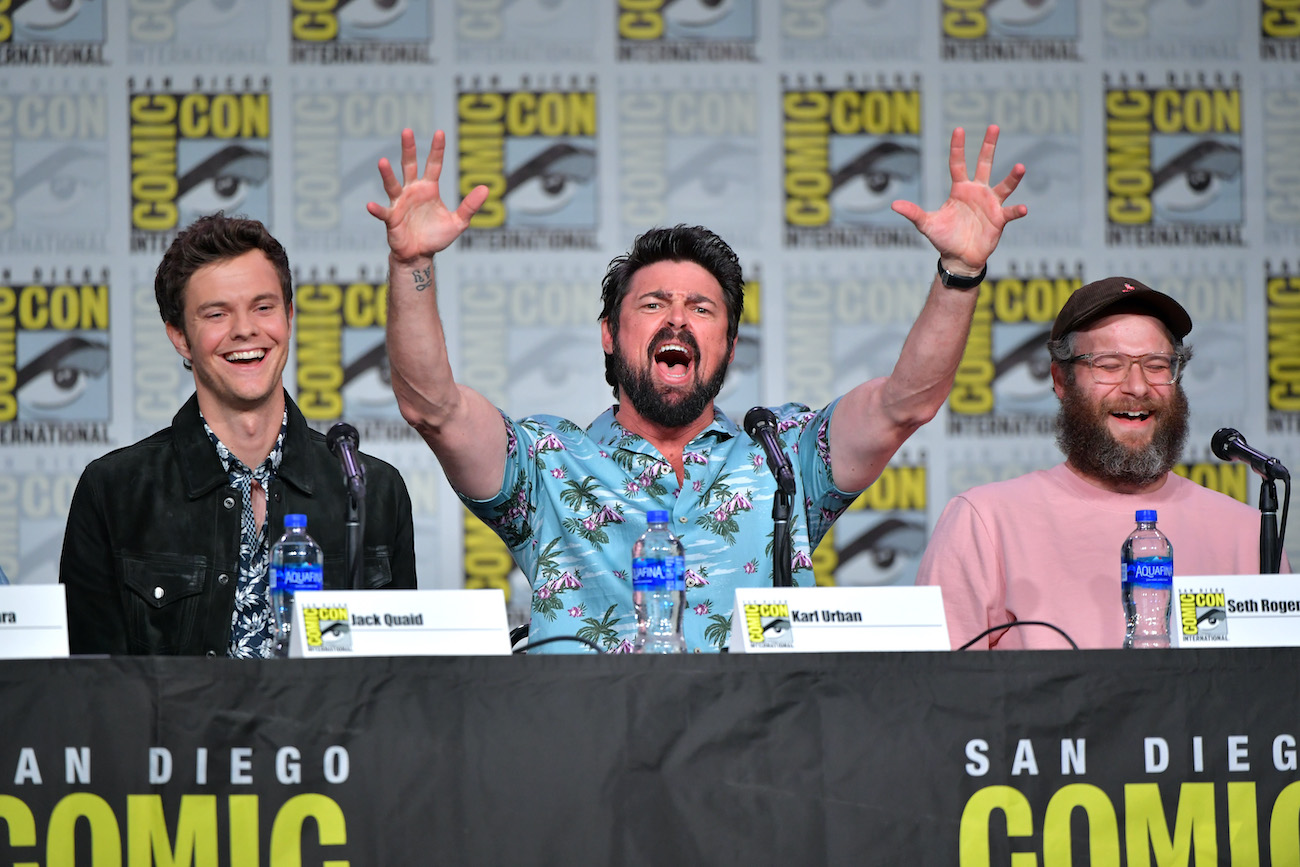 In season 2, the powerless "boys" face off once more against the heroes. Using knowledge (and a lot of weaponry) they aim to expose the supes for who they truly are (with help from a few good superheroes). 
[The Boys season 2 spoilers ahead] 
RELATED: 'The Boys' Season 3: This Absurd S2 Superhero Is Likely Coming Back
What happens at the end of 'The Boys,' season 2? 
At the end of the second season of The Boys, the show's mere humans are in a pretty solid space. Homelander — threatened by Queen Maeve — is on a leash of sorts (preventing him from deep-diving into his heinous tendencies).
Though Butcher has lost the love of his life, he seems committed to fulfilling her last wish (protect her son). As for Mother's Milk, he has been reunited with his family, which is all he has ever wanted since the beginning of the series. 
RELATED: 'The Boys': What Stormfront Said In German During the Season 2 Finale
Then there's Hughie. Though Hughie believes he's doing the right thing by joining congresswoman Victoria Neuman in her fight against the corrupt Vought, she's the super who's been exploding heads at random. Her mission remains a bit unclear, but it's definitely not an innocent one. At the end of the second season, the boys are scattered – taking on individual challenges and following personal life paths. So, what does that mean for season 3? 
'The last' thing Showrunner Eric Kripke told 'The Boys' stars 
During an interview with Entertainment Weekly, the stars of The Boys sat down to discuss the show — analyzing what has occurred thus far and revealing their hopes for season 3. While Jack Quaid hopes Hughie gets to keep his head, the showrunner has a lot to figure out — independent from the characters' individual journeys. He must determine how to reassemble his motley crew of supe-fighters. Laz Alonso (Mother's Milk) explained:
The last Eric Kripke told us was, "You kind of all just disband, and I'm gonna have to figure out how to get you guys back together again. That's all he said. 

Laz Alonso / EW
While Eric Kripke is busy figuring out how to get the band back together, Hughie will try to keep his head. Butcher will evidently aim to live up to Becca's wishes. Mother's Milk will spend time with his family. And, Frenchie and Female will be off on their own.