'The Challenge: CBS' Cast Reportedly Includes 'Big Brother', 'Survivor', and 'Amazing Race' Champs
CBS' 'The Challenge' is reportedly about to begin filming. Here is the rumored cast.
According to a popular spoiler account for The Challenge PinkRose, known for its accuracy, the reported cast for CBS' The Challenge is on their way to filming in Argentina. The reality stars competing on the new series apparently include several Big Brother, Survivor, Amazing Race, and Love Island fan-favorites.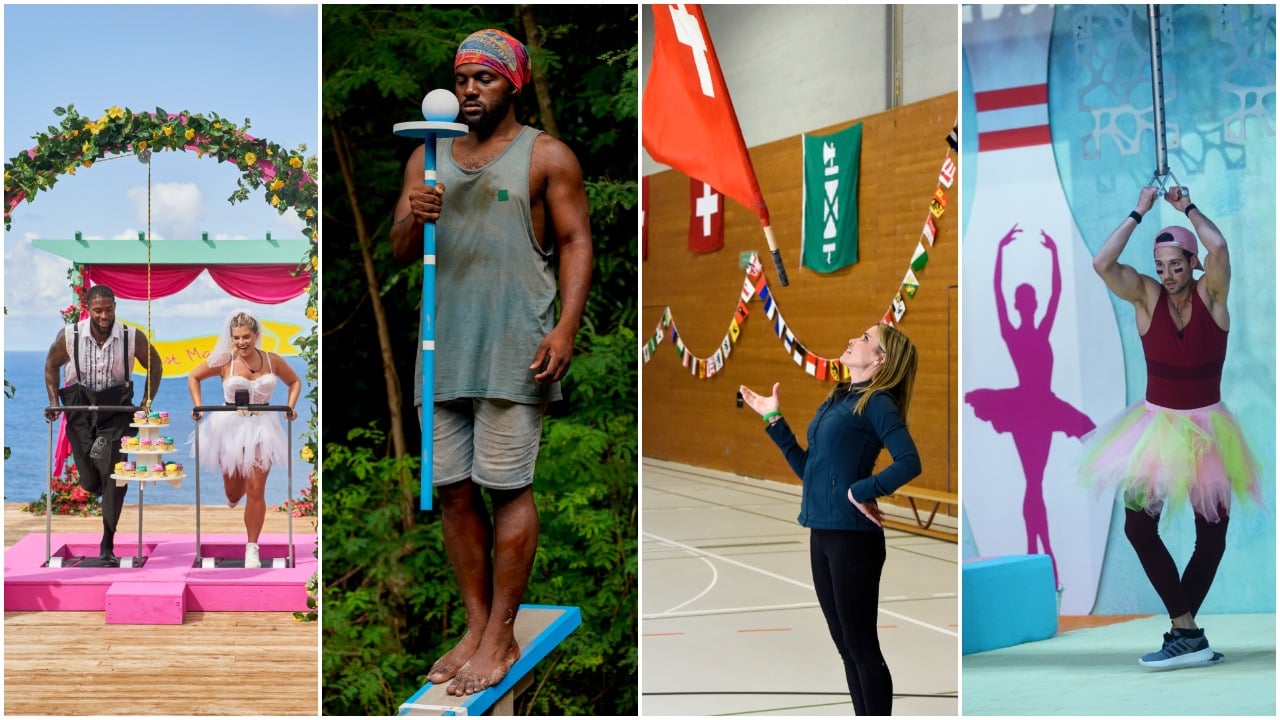 'The Challenge: CBS' cast reportedly includes 'Big Brother 23' winner
Enzo Palumbo (Big Brother 12)
In Big Brother 12, Enzo "the Meow Meow" Palumbo (44) founded a successful all-male alliance that helped him get to the end, placing third. He returned 10 years later for the second All-Stars season, BB22 (2020), where he finished runner-up.
Christmas Abbott (Big Brother 19)
The first female pit crew member in NASCAR Sprint Cup, Christmas Abbott (40), planned to dominate the physical competitions during Big Brother 19 (2017), but an early injury thwarted her plans. After finishing third, the fitness entrepreneur returned for BB22, where she placed fourth. 
Angela Rummans (Big Brother 20)
An essential member of the dominant Level Six alliance winning five competitions, Angela Rummans (29) eventually placed fourth after losing a crucial Power of Veto.
Alyssa Lopez (Big Brother 23)
After her allies and showmance Christian Birkenberger were eliminated, Big Brother 23 (2021) houseguest Alyssa Lopez (25) survived by creating relationships with other players. However, she was eventually evicted during the Double Eviction. 
Azah Awasum (Big Brother 23)
Remembered for her crush on Xavier Prather and a member of the historic Cookout Azah Awasum (31), she nearly had a spot in the final two. However, she got evicted when she lost the final Head of Household competition. 
Derek Xiao (Big Brother 23) 
After initially becoming a house target, Derek Xiao (24) began winning competitions and formed strong relationships with other players. However, his physical prowess painted a target on his back, leading to his backdoor.
Kyland Young (Big Brother 23)
Many thought a prominent figure in The Cookout, Kyland Young (30), would win the competition. However, a series of questionable decisions and choice to align with the biggest threat Xavier resulted in his controversial exit, placing fourth.
Tiffany Mitchell (Big Brother 23)
America's Favorite Houseguest, 41-year-old Michigan native Tiffany Mitchell, was considered a "mastermind" behind The Cookout. However, when the alliance had to turn on each other, they targeted her first due to her commanding gameplay.
Xavier Prather (Big Brother 23)
An authoritative figure in The Cookout and well-positioned in the house due to his dominant team and other relationships, Xavier (27) eventually won the competition, becoming the first Black champ of the flagship series.
'Love Island 3' winners also reported as part of 'The Challenge: CBS' cast
Kyra Green (Love Island 1)
The 25-year-old lead singer of 212 Green, Kyra Green, was dumped from Love Island USA (2019) during the finale after entering the villa on Day 1, leaving single.
Cely Vazquez (La Banda Univision & Love Island 2)
After getting stolen on Day 2 of Love Island USA 2 (2020), Cely Vazquez (25) remained partnered with Johnny Middlebrooks until the finale, when the couple placed runner-up. The two later split in January 2021 following a fight in Hawaii.
Justine Ndiba (Love Island 2)
After a couple of short-living pairings, Justine Ndiba (28) partnered with Caleb Corprew, and they went on to win the competition, becoming the first Black pair to do so. However, they called it quits four months after winning the title.
Cashay Proudfoot (Love Island 3)
Fan-favorite Cashay Proudfoot (26) had the strongest bond with Cinco Holland Jr., but he decided to pursue things with another single. She attempted to move on with Charlie Lynch, but it didn't work out, and she was dumped from the villa.
Cinco Holland Jr. (Love Island 3)
26-year-old Virginia native Cinco connected with Cashay but wanted to get to know Trina Njoroge. However, he changed his mind, noting he still had feelings for Cashay, but she chose to move on, ultimately resulting in the other Islanders voting to dump him from the villa.
Korey Gandy (Love Island 3)
Even though he partnered with several singles, Korey Gandy (29) had difficulty finding love until Olivia Kaiser professed her feelings for him. The two went on to win the competition but split up shortly later.
Olivia Kaiser (Love Island 3)
Initially coupled with Javonny Vega for most of the time, Olivia (29) eventually decided she didn't view him in a romantic light, resulting in his dumping. After separating from the guys during Casa Amor, Olivia realized she had feelings for Korey, and they coupled up before winning the competition.
Shannon St. Claire (Love Island 3)
On Day 1, Shannon St. Clair (25) paired up with Josh Goldstein, and the two remained inseparable. However, his family emergency resulted in the couple voluntarily leaving the villa together early.
Javonny Vega (Love Island 3)
Partnered with Olivia from Day 1, Javonny (27) wanted to make things work with Olivia, but it didn't, resulting in his dumping on Day 17.
Josh Goldstein (Love Island 3)
After pairing up with Shannon on the first day, the two established a strong connection with Josh (25), asking her to be his girlfriend. Even though they seemed poised to win, the pair went home voluntarily due to his family emergency.
3 'Survivor' champs and an 'Amazing Race' winner allegedly competing
Tyson Apostol (Survivor 18)
42-year-old Utah native Tyson Apostol was blindsided at the final eight during Survivor: Tocantins and infamously caused his own eviction during Heroes vs. Villains. However, Tyson played his best game in Blood vs. Water, eventually winning in a 7-1 vote. He returned for Winners at War, where his previous accolades presented a target on his back, resulting in an early elimination.
Sarah Lacina (Survivor 28)
During Cagayan, Sarah Lacina (37) found herself in a powerful position, but others noticed and decided to blindside her. She returned for Game Changers and played a more aggressive game, ultimately earning her the win in a 7-3 vote. Sarah competed for a third time for Winners at War, where she lost a fire-making challenge, placing fourth.
Tasha Fox (Survivor 28)
When Tasha Fox (45) found herself on the bottom in Cagayan, she remained in the game by winning three individual immunity challenges in a row until her castmates voted her out, placing sixth. She came back for Cambodia and controlled her tribe early on, eventually making it to the Final Tribal Council. However, the jury considered recent gameplay as lacking, casting no votes for her to win.
Ben Driebergen (Survivor 35)
Primarily due to his idol play that helped him remain in the game and underdog status throughout the game, Ben Driebergen (39) won Heroes vs. Healers vs. Hustlers in a close 5-2-1 vote. He returned for Winners at War, where he gave up his spot for another player, resulting in fifth place.
Desi Williams (Survivor 35)
32-year-old Virginia native Desi Wiliams won the first individual immunity challenge of Heroes vs. Healers vs. Hustlers, but it painted a target on her back, leading to her elimination.
Domenick Abbate (Survivor 36)
Close allies with eventual winner Wendell Holland, the pair made it to the Final Tribal Council. However, the vote ended in a tie. Third-place finisher Laurel Johnson cast her winning vote for Wendell, resulting in Domenick Abbate (43) placing second.
Danny McCray (Survivor 41)
Despite a strong physical threat, former NFL player Danny McCray (34) was able to lay under the radar with an all-Black alliance. After they chose to eliminate one of their own, the group found themselves on the bottom, and Danny finished sixth.
Shantel Smith (Survivor 41)
Canadian-based pastor Shan Smith (35) manipulated her tribemates into giving them their advantages before she voted them out and developed strong relationships, putting her in a power position after the merge. Others saw and decided to flip on her, resulting in Shan placing eighth.
Leo Temory (Amazing Race 23) 
One-half of the "Afghanimals," Leo Temory (35) initially competed on The Amazing Race 23 alongside his cousin, Jamal Zadran, where they placed fourth. The fan-favorites returned for All-Stars in which navigational issues resulted in another fourth-place finish. They finally made it to the final three in season 31, but a crucial error relegated them to third place.
James Wallington (Amazing Race 32)
Self-proclaimed superfans James Wallington (32) competed with his boyfriend Will Jardell, where they used their knowledge of the game to make it to the final three and eventually win. 
Cayla Lee (Amazing Race 33)
As part of a team of flight attendants, Cayla Lee (30) ran The Amazing Race 33 with her friend, determined to be the fourth all-female team to win. However, they struggled at the final memory challenge, placing second.
CBS has not confirmed the reported cast list yet, and the names are subject to change.