'The Challenge': Host T.J. Lavin's Horrific Accident May Be Why He's So Hard on the Show's Competitors
MTV's The Challenge is back with Total Madness, and fans are excited to see how far their favorite players will make it this season. We know favorites like Wes Bergmann, Johnny "Bananas" Devenanzio, and Tori Deal are back in an attempt to win the big money. And aside from repeat competitors, we also have T.J. Lavin hosting the show yet again.
Lavin notoriously hates quitters, and he's certainly not an impartial host. Those who've watched The Challenge over the years know Lavin appreciates when a player puts their heart and soul into the game. And it seems a previous accident that nearly took his life might be why he has high expectations for Challenge players.
T.J. Lavin crashed his bike performing a BMX trick in 2010
Before Lavin was known for hosting The Challenge, he was an accomplished BMX rider. But an accident back in 2010 nearly took his life. According to UrbanDaddy, Lavin crashed his bike during the Dew Tour Championship in Las Vegas. The run he crashed during was supposed to be his last — and he was performing a trick that wasn't particularly difficult to pro-riders. Nonetheless, he crashed hard. He broke his arm, ribs, and his orbital bone, and he had to enter a medically-induced coma.
The crash was only the beginning of Lavin's issues, too. According to Bleacher Report, he then developed pneumonia, which was likely from the breathing tube the medical professionals administered. While he eventually got through pneumonia, the illness delayed his wrist surgery. Thankfully, he was able to have his breathing and feeding tubes about a week after the initial crash.
He had to deal with memory loss after the accident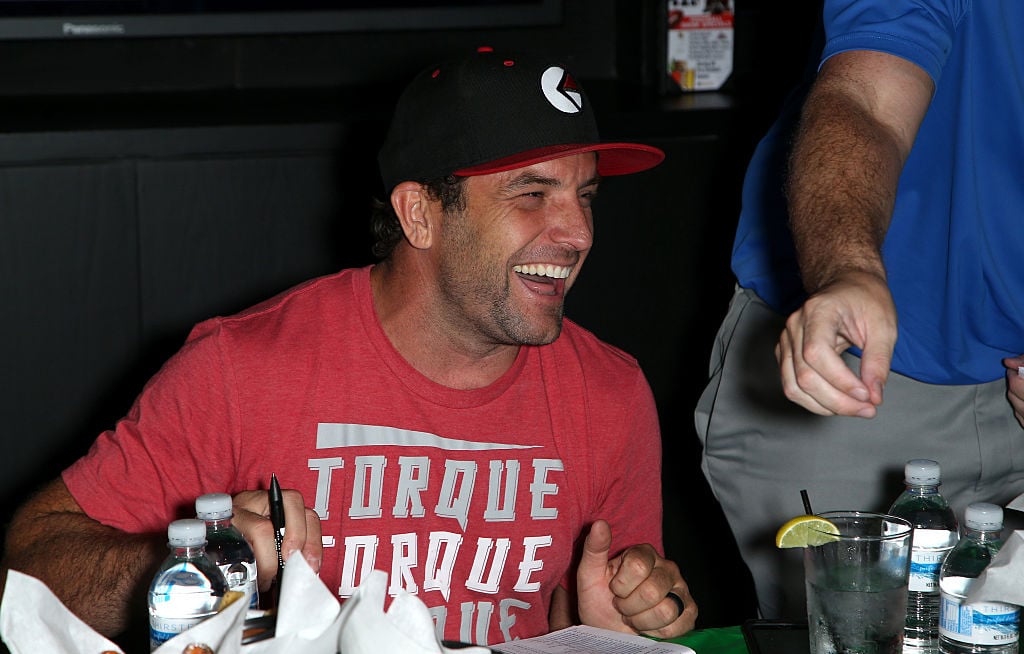 Lavin was recovering from his injuries — but it seems he still had to deal with memory-related issues. Lavin's friend and business partner, Chas Aday, told Us Weekly back in 2010 that Lavin was breathing on his own and speaking once the tubing was removed. But he didn't think Lavin understood the extent of the accident.
"It's tough, but he'll get there. He recognizes friends and family. He's just putting the pieces of the puzzle together," Aday said. "He knows he's in the hospital because so many people have told him, but I'm not sure if he's really connected the pieces yet."
Aday noted that Lavin was going to go through rehab to help with his memory, too. "The doctors are expecting him to have a full recovery, we just don't know how long it'll take," he added.
This may have been Lavin's worst crash, but it certainly isn't the only time he's alarmed his fans with a BMX incident. Back in 2018, People reports he endured another injury from riding, though it was much less serious.
Lavin absolutely hates quitters
Lavin's been through incredibly hard times, but he never gave up. Despite the hard times, he pushed through to get his life back on track — and that's likely why he pushes all of the Challenge competitors to never give up.
"I really don't like cheaters and quitters," Lavin told UrbanDaddy. "But the quitting thing is probably worse." And he made note of one contestant who was particularly offensive in his choice to quit.
"I don't even remember this dude's name. But he quit when we were in Mexico, because he missed his girlfriend. It seemed so funny," Lavin said. "It's kind of a thing where you're, like, 'Dude, are you serious? You're really going to blow your shot at this? You're really going to quit something that everyone and their mother would die to do?'"
Lavin sees how many people would love to try their hand at winning the show, so those who quit are just taking a spot they don't deserve to have. Will Total Madness see any quitters? We're not sure — but we're betting someone will crack along the way.
Check out Showbiz Cheat Sheet on Facebook!