'The Challenge': Johnny 'Bananas' Devenanzio Said 'Total Madness' Is the Most Depressed He's Ever Been in His Life
Johnny 'Bananas' Devenanzio, infamous veteran player from 'The Challenge,' said 'Total Madness' left him incredibly depressed.
Reality TV looks like all fun and games, but it can be very hard on contestants both physically and mentally. And MTV's The Challenge is no cakewalk. While competitors fight season after season for the big prize money, many others end the show with bigger rivalries with other contestants than they started with. And Johnny "Bananas" Devenanzio has become iconic for his cutthroat-style of gameplay.
Devenanzio is typically cool, calm, and collected when on The Challenge. But he told the Challenge Mania podcast that Total Madness got to him like no other season has. Here's what he said about feeling majorly depressed.
'Challenge' castmembers face a number of personal difficulties from the show
There are plenty of rookies with each season of The Challenge. But there are also a number of veteran players we all know and love. While the vets clearly want to continue a career in reality TV, they still face plenty of difficulties both on and off the show. And some have talked about the extreme loneliness they face once finished with their season.
"It's weird because when you come home you feel lonely, like nobody gets you because you were immersed in this crazy life for so long," Paula Meronek admitted to Buzzfeed. "It's nice to be around people you don't necessarily have to explain The Challenge to. You're just around all these people that get the same weird world that you do."
As for Devenanzio, he's admitted to taking on an entirely different persona when on TV, as this protects who he truly is. "I always say, what people envision me to be like, in reality, is not who I really am," he told the New York Post.
The cast of 'The Challenge: Total Madness' lived in an underground bunker
There are plenty of challenging seasons of the show thus far. But contestants typically live in a cozy house decked out with all the best amenities. Total Madness was totally different, though. This season, competitors were forced to live in an underground bunker.
"For the first time ever, we are living in a nuclear bomb shelter," Devenanzio told the cameras in a clip before the season began. "This place is terrifying." And others in the bunker noted the lack of windows and fresh air. It seems the only times competitors are let out of the bunker is for challenges, eliminations, and for the occasional night at the bar.
The bunker still had plenty of great features, though. The gym and kitchen area was huge, and there was a small indoor pool the Challenge contestants were free to use. But the tight living space certainly got into everyone's heads and likely affected their mood and gameplay.
Johnny 'Bananas' Devenanzio said he was very depressed on 'Total Madness'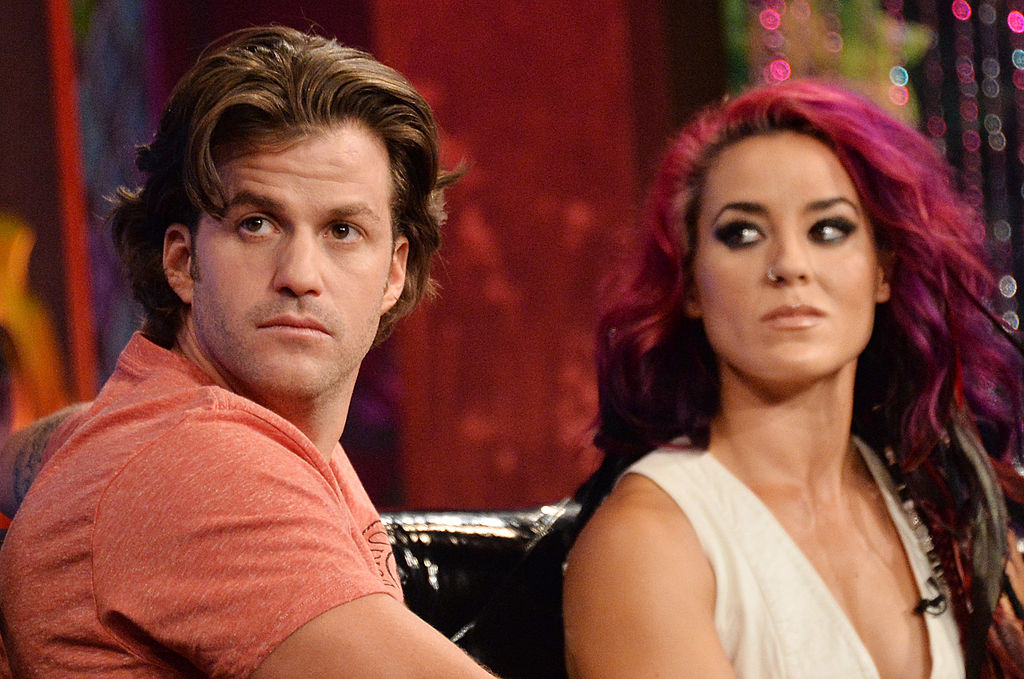 RELATED: Johnny 'Bananas' Devenanzio Said 'The Challenge' Used to Be Like 'A Party,' But Now It's 'Purgatory'
Related post url: 
Devenanzio has been on a number of Challenges, but he told the Challenge Mania podcast that it was seriously depressing living in the bunker.
"I have never known in my life what true depression feels like until I lived in this bunker for eight weeks," Devenanzio noted. "And I've seen it all. … The Island pales in comparison to the misery that was felt in this bunker."
Devenanzio then explained how awful the living situation was. "Living underground, breathing artificial air, no natural light. Seasonal affect disorder, you not being able to see actual light, really does a number on the human body and on the mind. And I got to a point on this show where … I felt like I was depressed, dude. I have nothing to look forward to. It was miserable, dude."
"Even when you would go outside, we'd go and do challenges — it was still rainy, overcast, gloomy," he added. "The entire eight weeks we were there, I think the sunlight touched my skin three times."
We're sure Devenanzio's glad to be out of the bunker — and we're sure we'll see him on future Challenge seasons.
Check out Showbiz Cheat Sheet on Facebook!