'The Challenge' Season 37: Ashley Mitchell Tweets She's 'On the Edge': 'I'm Not Sure Any of This Is Worth It'
Ashley Mitchell from MTV's 'The Challenge' Season 37 was disqualified for 'breaking the rules' -- and she recently tweeted at a rookie player from the season that she's not sure 'any of this is worth it' anymore.
Ashley Mitchell is one of the most well-known cast members to join MTV's The Challenge Season 37. Unfortunately, host T.J. Lavin announced she broke the rules during Spies, Lies, and Allies, resulting in her disqualification from the show. Recently, she and the rest of The Challenge Season 37 cast tweeted about what happened. And Ashley told a fellow cast member she's "on the edge."
[Spoiler alert: MTV's The Challenge Season 37 spoilers ahead for episode 14.]
Why did Ashley Mitchell get deactivated on 'The Challenge' Season 37?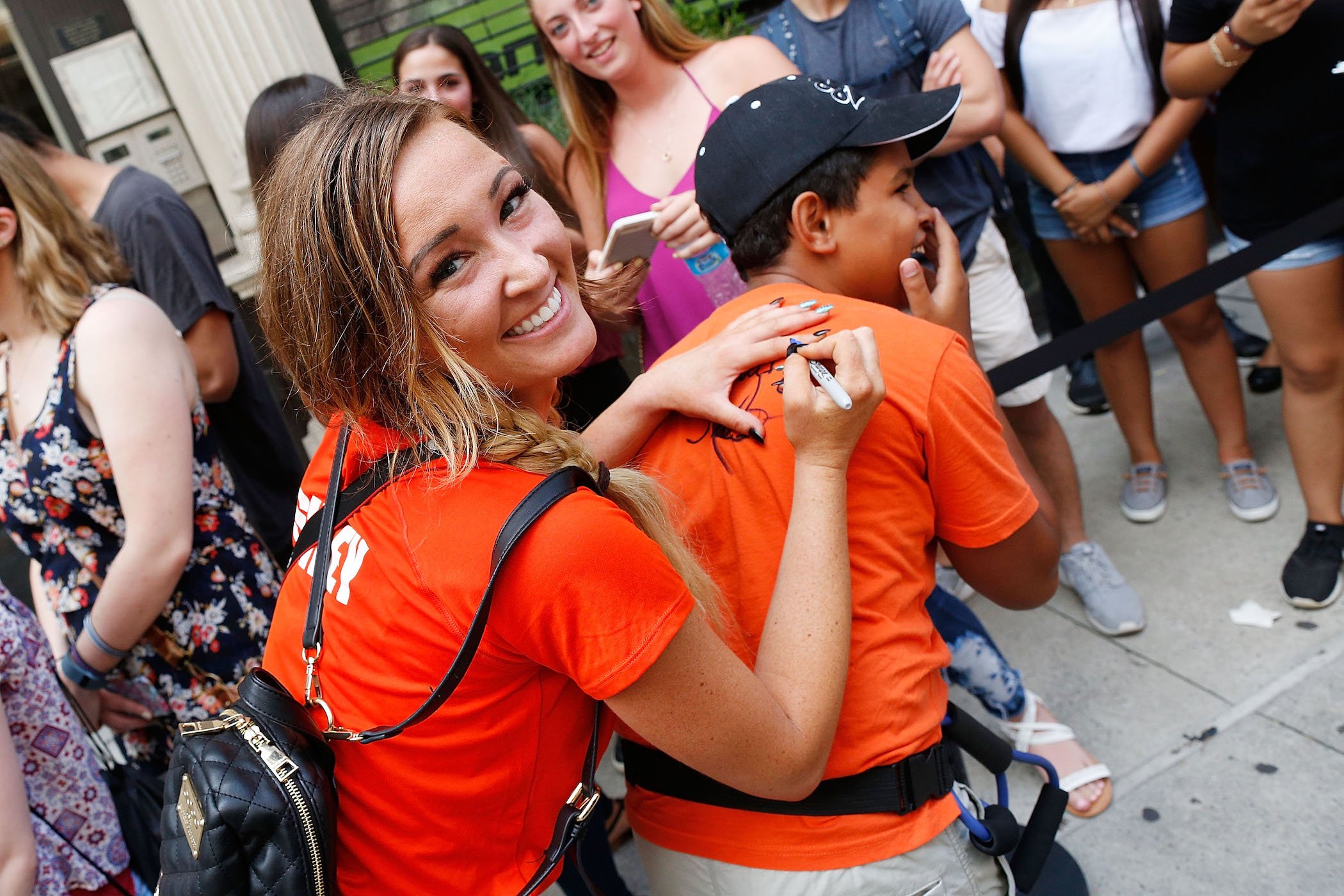 After MTV's The Challenge Season 37 Episode 14, fans want to know why Ashley Mitchell got deactivated from the game. During the episode, T.J. Lavin told the rest of the cast Ashley would not return to the game after she "broke the rules," but he didn't go into detail regarding what occurred.

"Agents, as you've seen, Ashley is no longer at headquarters," the host told the remaining players prior to elimination. "Ashley has broken one of our rules, and because of that, Ashley is no longer able to stay in the game. She has been deactivated. She is no longer able to continue in this game for the rest of the season."
Spoilers on Reddit suggested a verbal altercation between Ashley and fellow veteran player Josh Martinez is what resulted in the disqualification. Additionally, rookie player Emanuel Neagu posted to his social media explaining a lot went down with Ashley aside from Josh, according to Reddit. Ashley also went live on social media to explain more about the situation, and she confirmed it had to do with Josh. Though she added she didn't believe production should've removed her from the game.
Ashley Mitchell told fellow cast member Hughie Maughan she feels 'on the edge' after disqualification
Ashley Mitchell released several statements to Twitter following her disqualification from MTV's The Challenge Season 37. And it seems she also received some support from fellow players. Hughie Maughan, a rookie known for his explosive behavior on Spies, Lies, and Allies, stood up for her via Twitter, as captured via a Reddit screenshot.
"Ashley, the girl I met, is lovely, caring, and so funny," Hughie posted to Twitter. "[W]e had amazing times together and I know all your stories and all your friends from all walks of life. I know where you've been and what you intend to be going forward. [F]or me, you're amazing, and my time with you was [heart emoji]."
"I needed this so much," Ashley responded to Hughie. "I'm on the edge, hunny. I'm not sure any of this is worth it anymore."
Will she return to the show?
With everything that happened with Ashley Mitchell on The Challenge Season 37, will she come back to the show? MTV hasn't made any official announcements just yet about Ashley's future. While some players, like Dee Nguyen, were removed permanently from MTV shows for making racially-charged comments in the past, it's still unclear exactly what went down with Ashley. But she noted in her live explanation that she didn't say anything directly derogatory or racist.
"I pretty much flipped out and said some things I shouldn't have," Ashley said. "Nothing derogatory, no slurs, nothing racial. I just kind of went in on him."
It doesn't sound like Josh agrees with Ashley, though. "Waiting on MTV to give me the green light to say my piece because this is bulls***," Josh wrote in a now-deleted comment in response to Ashley.
Check out Showbiz Cheat Sheet on Facebook!