'The Challenge': Wes Bergmann Said Tori Deal Privately Scolded Jordan Wiseley on 'Total Madness'
Neither Wes Bergmann or Jordan Wiseley won The Challenge: Total Madness. But the two had some seriously tense moments on the show. Bergmann has since talked about what it's like with Wiseley as a fellow competitor — and it's clear the two will never get along. Not only that, but Bergmann shared that Wiseley's fiancée who's incredibly well-liked, Tori Deal, had to scold Wiseley privately off-camera.
Wes Bergmann had personal beef with Jordan Wiseley on 'The Challenge: Total Madness'
Bergmann and Wiseley have two ultra-strong personalities, so it's no wonder they don't get along on The Challenge. The two competitors got in a verbal spat on Total Madness over the turf in the Challenge house gym. According to Bergmann, this resulted in Wiseley throwing a glass of orange juice at him.
"I walked towards him and he threw a glass of orange juice in my face. But they missed it. That's what he was cleaning up when I left," Bergmann originally tweeted. He followed that up with, "I guess I forgot to mention that he TRIED to throw a glass of OJ in my face but I was too fast for him and punched it out of his hand."
Bergmann also spoke to the Bachelor Party podcast about Wiseley's behavior. "Annoying's not the right word because he's not 'annoying,' let me rephrase," Bergmann explained in reference to Wiseley. "He's an a**hole. To everyone. Like, everyone. Everyone on both sides of the camera. Everyone. And that's annoying."
Bergmann said Tori Deal had to scold Wiseley privately
It looks like Deal had to do some damage control on her partner's behalf. While Wiseley is certainly a tough physical competitor, he rubbed a lot of people the wrong way in the Challenge house. While Deal is relatively well-liked, her game was also negatively affected by Wiseley because of her close association. And Bergmann told the Challenge Mania podcast that Deal actually had to pull Wiseley privately aside and away from the cameras to scold him.
"Tori stood up for him, and she should. But then, in private, once everyone kind of left and the cameras left, she sits him down and she's like, 'God d*mnit, Jordan, you did it again. You were very wrong. You need to stop doing this, you're hurting both of our games,'" Bergmann explained. And he said Wiseley's attitude majorly took a turn for the better after that. "So, he picked his sh*t up and he was respectful to everyone, including me, from then on out."
Wiseley might not be back on 'The Challenge' in the future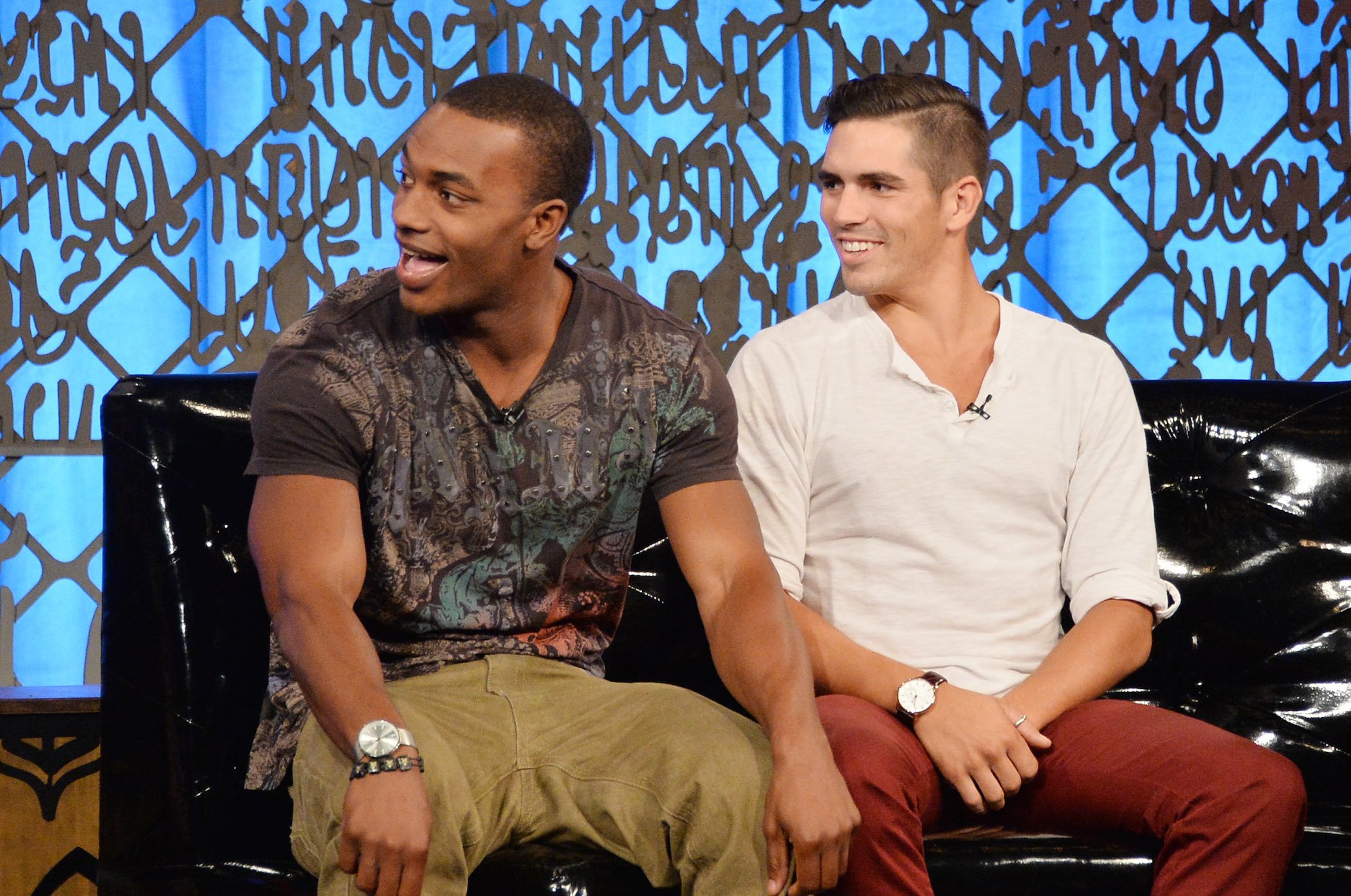 RELATED: 'The Challenge': Tori Deal Addresses Racism Allegations Surrounding Fiancé Jordan Wiseley
While Bergmann and Wiseley will likely never have an alliance going forward, there's also a chance that Wiseley won't be on future seasons of the show. He didn't make an appearance on the virtual Total Madness reunion. While Deal didn't give a reason for his absence, it's rumored that his past racist remarks on The Real World are coming back to bite him.
"There are rumors going around, allegedly, that MTV execs had a meeting about Jordan, and they decided that they were just going to give him a warning, which means that they are going to suspend him from The Challenge for one to three or four seasons," the host of Afterbuzz TV said, according to Distractify.
Wiseley has talked about what happened on The Real World before, and it seems he learned from his past. But we'll have to wait and see if he's allowed back on the show. And, of course, we're wondering how Bergmann feels about all of this, too.
Check out Showbiz Cheat Sheet on Facebook!