'The Challenge': What Happened to the Romance Between Cory Wharton and Kailah Casillas?
The Challenge: Total Madness is full of drama, romance, and competition just like every season of the show before it. So far, we've seen Kailah Casillas cheat on her boyfriend back home with Stephen Bear. And Cory Wharton appeared to put his head down to steer clear from any relationship drama, as he's hoping to win the $1 million prize and take it home for his family.
Wharton wasn't always staying out of trouble, though. Back in 2017, he had a fling with Casillas, though it ended with Wharton laughing and Casillas in tears. Here's what happened between them and what fans think of the whole situation now.
Kailah Casillas and Cory Wharton seem to barely speak to each other on 'Total Madness'
Casillas and Wharton are both competitive, athletic players — and it once brought them together. Such is not the case during Total Madness, though. Casillas was seduced by Bear's advances, which is causing her quite a lot of drama around the house. And at the time of filming the show, Wharton had a baby on the way with his girlfriend, Taylor Selfridge. And since he also has a daughter with Cheyenne Floyd, Wharton's feeling the pressure to bring home the big bucks.
Since Wharton's hooked up with a number of Challenge competitors in the past, it seems he did some damage control prior to Total Madness, too.
"I had a couple of people on the show that I had a showmance with, and I told myself I am going to win this money to bring home to the people that are depending on me," he told Entertainment Weekly. "I talked to these people at the airport and I was like, 'Listen, no hard feelings,' and they were like, 'No, we're good.' And from there on we didn't have any trouble."
"I wanted to come back and show people that I'm not perfect, but at the same time, like you can learn from your previous mistakes and come back a little bit more mature," he added.
Wharton and Casillas were romantically linked on 'Invasion of the Champions'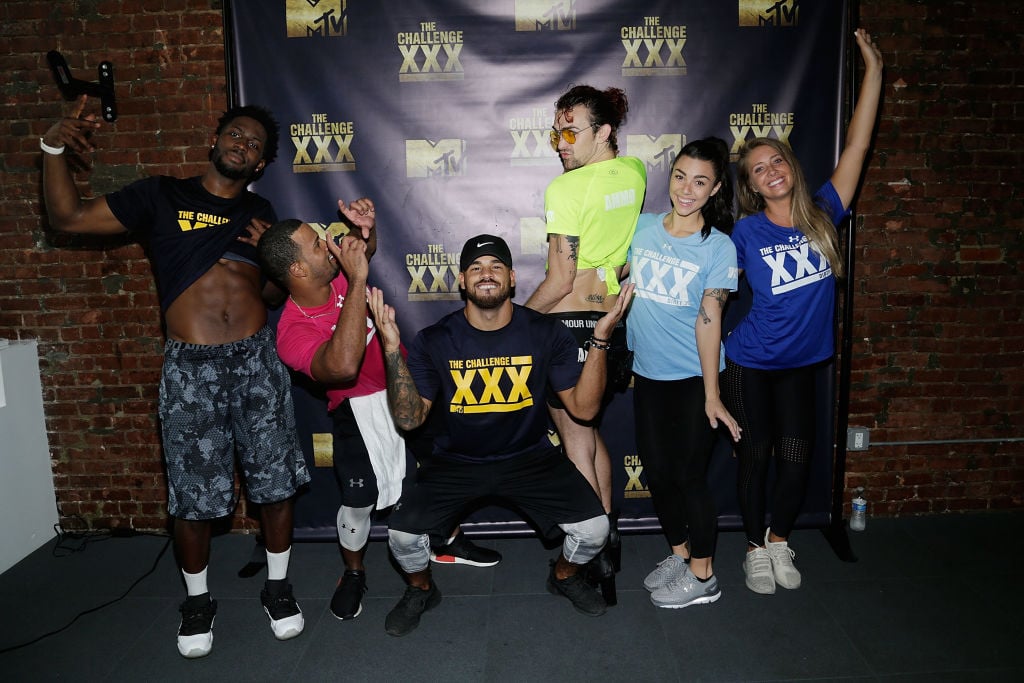 Wharton and Casillas are no longer getting romantic, but we can't forget that they were inseparable at the beginning of Invasion of the Champions in 2017. Unfortunately, it seemed Casillas was more interested in pursuing Wharton than Wharton was in her. And it all came to a screeching halt after one drunken night.
A clip from MTV shows Casillas drinking too much vodka — and this leads her to fall asleep in Wharton's bed. Wharton seems unamused, as Casillas can't be stirred. And Casillas ends up infamously urinating in the bed, causing Wharton to announce he's completely done with her.
Casillas was clearly humiliated by the whole ordeal, and Wharton told her he didn't want to get serious with someone who consistently was getting as drunk as she was. But the truth later came out when Wharton spoke with other players in his room. When asked if he ever really liked her, Wharton said, "No, not at all. So it's not like, a big deal. But you know how it is — you want somebody in this environment."
Fans think Casillas dodged a bullet when Wharton dumped her
While many believe Casillas should've watched her alcohol consumption, it's Wharton who looks the worst in the scene. Not only did he deny ever having feelings for her, but he further embarrassed her by laughing at her with others in the house. And fans think it's Casillas who dodged a major bullet.
"We're all saying Cory dodged a bullet but if we're being honest kailah dodged the biggest bullet lmao!!!!" one fan commented on the video.
Another wrote, "imagine how embarrassed shes already feeling and then for him to drag it out and talk to other people about it and embarrass her further? not a cute look."
It seems Wharton and Casillas are completely done with each other now, as they've both moved on with new relationships.
Check out Showbiz Cheat Sheet on Facebook!