'The Handmaid's Tale': Ann Dowd Confirms She'll Play Aunt Lydia in 'The Testaments'
The Handmaid's Tale's Aunt Lydia is a main character in The Testaments. And praise be, Ann Dowd will play her. The Emmy winner confirmed in a recent interview she will be part of The Testaments spin-off series coming to Hulu. And while the show isn't in development just yet, The Handmaid's Tale started building up to it in season 4.
[Spoiler alert: This article contains spoilers for The Handmaid's Tale Season 4 and The Testaments.]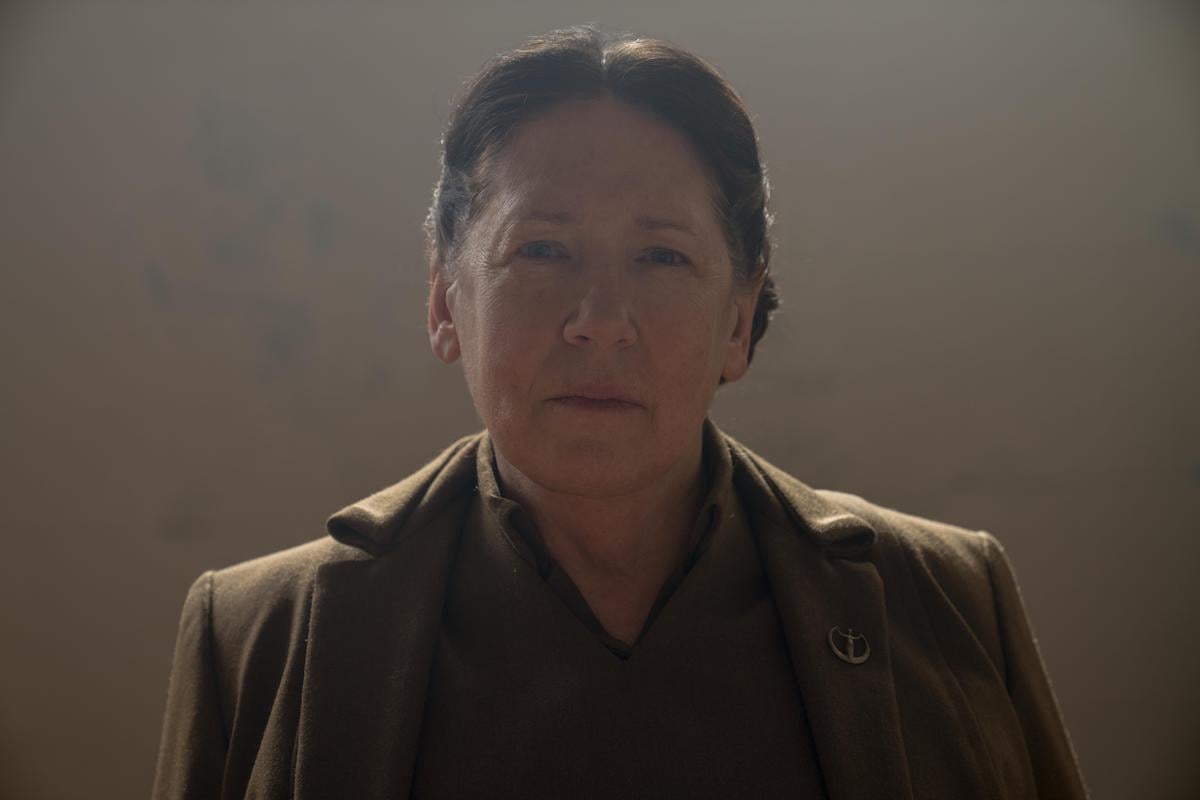 Ann Dowd will be in 'The Testaments'
The Handmaid's Tale showrunner Bruce Miller is adapting Margaret Atwood's sequel into a series for Hulu. It's possible Elisabeth Moss will be in the series as June Osborne. But she isn't a main character in the book. The novel's narrators are Aunt Lydia and two girls named Agnes and Daisy. But you already know them as June's daughters, Hannah and Nichole. Yup, the main characters are Lydia, Hannah, and Nichole.
The Testaments takes place years after The Handmaid's Tale novel ends. Dowd narrated Aunt Lydia's character in the audiobook. And she confirmed to The Hollywood Reporter she will reprise her role in the spin-off series. Dowd said:
"Yes, that's the plan. It's a fantastic novel, it's brilliant. I've listened to the audiobook, which I loved, and I'm very much looking forward to it. It takes place 15 years later, after the end of Handmaids. For anyone who hasn't yet read it, I'll remain cryptic."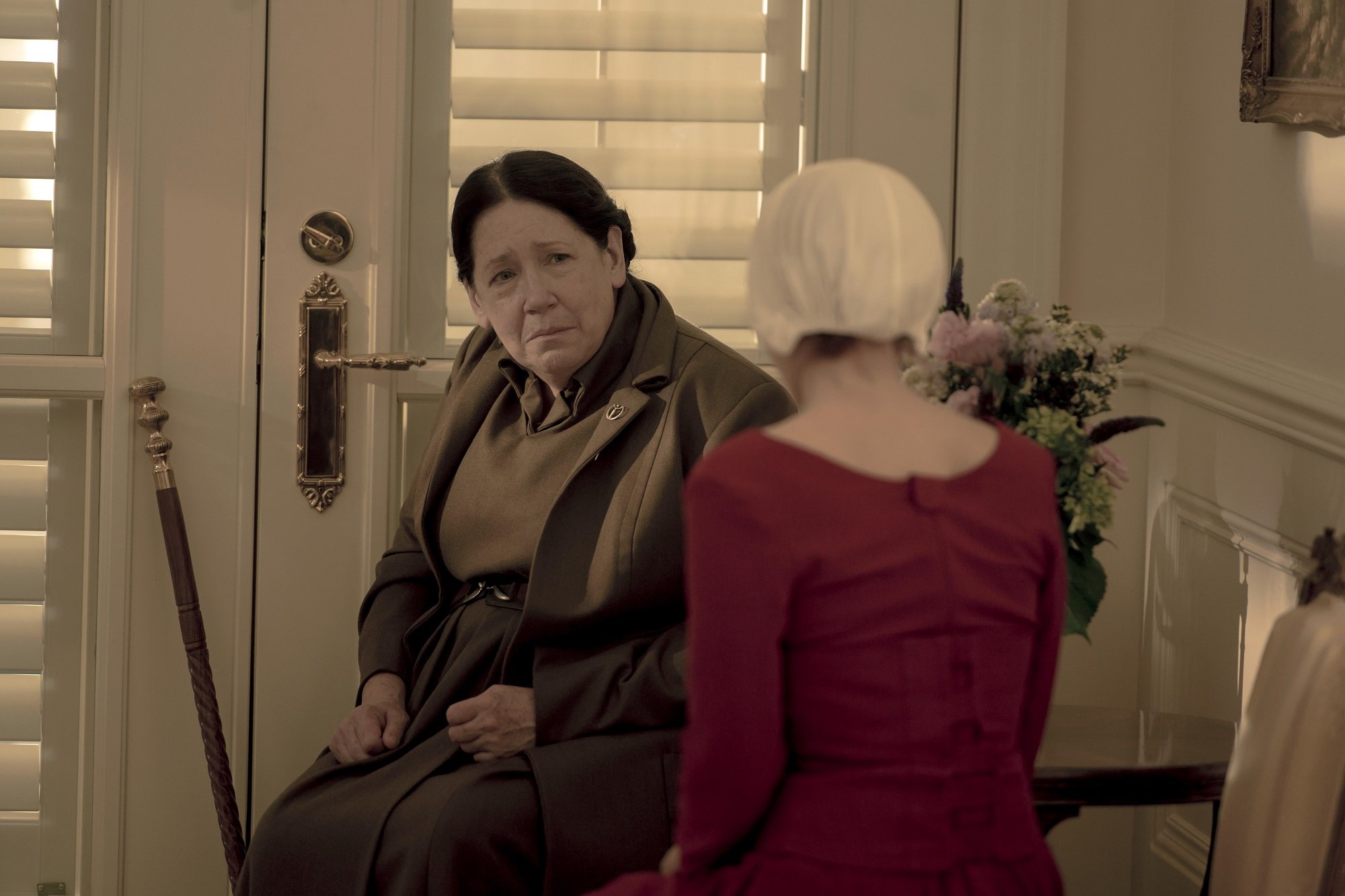 RELATED: 'The Handmaid's Tale': June's Daughters Could Have Huge Roles in 'The Testaments' Spinoff Series
How 'The Handmaid's Tale' Season 4 set up Aunt Lydia's 'Testaments' plot
In The Testaments, Lydia is working to bring Gilead down. This isn't because of a crisis of faith. Rather, it's a critique of Gilead's religious corruption and abuses of power. Lydia is still staunchly religious and believes in living a pious, sacred life. But witnessing commanders abuse Handmaids and frequent Jezebels brothels throughout The Handmaid's Tale angers her. And in The Handmaid's Tale Season 4, viewers saw Lydia use the information she gathers against Gilead's elite to her advantage for the first time.
In The Handmaid's Tale Season 4 Episode 5, Lydia blackmails Commander Joseph Lawrence into reinstating her position at the Red Center. Miller told The Hollywood Reporter in a separate interview this was Lydia's first foray into gaining more power in Gilead. And Dowd agrees. She said:
"When she almost lost her position, she took the step of facing off with a Commander [Lawrence] who can't even stand her, who has always disrespected her, and she has to go threaten him to get her place back. There's a lot of ways that she's shifting and they're powerful."
RELATED: 'The Handmaid's Tale': Elisabeth Moss on Whether She'll Appear in 'The Testaments'
Is Aunt Lydia part of Mayday?
Lydia will continue to shift in powerful ways throughout the rest of The Handmaid's Tale. This will all lead up to her plot in The Testaments, in which she works with Mayday to bring Gilead down. The corruption of Gilead's leaders enrages Lydia, as viewers have seen hints of in previous seasons. Because when she made the choice to join Gilead when it rose to power, she thought she was aligning herself with a righteous cause. But Gilead lost its righteousness, so she takes matters into her own hands.
Lydia's plot in The Testaments is considered a big character change. But in truth, it's right on par with her trajectory from life before Gilead. Lydia's mindset about taking Gilead down can best be explained through Dowd's comments about Fred Waterford's death. As she explained:
"Those Commanders? Enough is enough. When they put Gilead together, it wasn't about them having sex with these Handmaids unless it was in the monthly protocol that was established for the purpose of conceiving a child. And it wasn't about the Jezebel's club; Lydia knows all of it. And she's experienced the disrespect. And then the ridiculous way the wives live, the money spent on parties for the kids' birthdays. 'That wasn't the original plan. Stop this nonsense,' is what she's thinking. I think Lydia has a lot of opinions. So, that man deserved to die and, June, she won't say it to your face but, well done. And, of course she'd also be enraged, because June never listens!"
Dowd's portrayal of Lydia is one of the best performances TV has seen in years. So count us excited for her starring role in The Testaments.