'The Handmaid's Tale' EP Reveals His Hopes for June's Revenge Against Serena Joy and Fred
'The Handmaid's Tale' Season 4 has June closer to freedom than ever before. But what happens when you can finally turn off survival mode? EP Bruce Miller shared his thoughts on how June will cope with freedom and the revenge she'll seek against Serena Joy and Fred Waterford.
June Osborne has lived through unimaginable abuse at the hands of Serena Joy and Fred Waterford in The Handmaid's Tale. The couple has been her main adversaries as she has tried to survive Gilead. But what happens when you can finally turn off survival mode?
The Hulu drama has explored life after longterm trauma for some of its characters, but season 4 might finally give June that opportunity. And given what they've put her through, it's clear she'll want the Waterfords to face consequences. Executive producer Bruce Miller shared his hopes for what June will do once she can exact her revenge.
[Spoilers for The Handmaid's Tale Season 4 Episode 6 ahead.]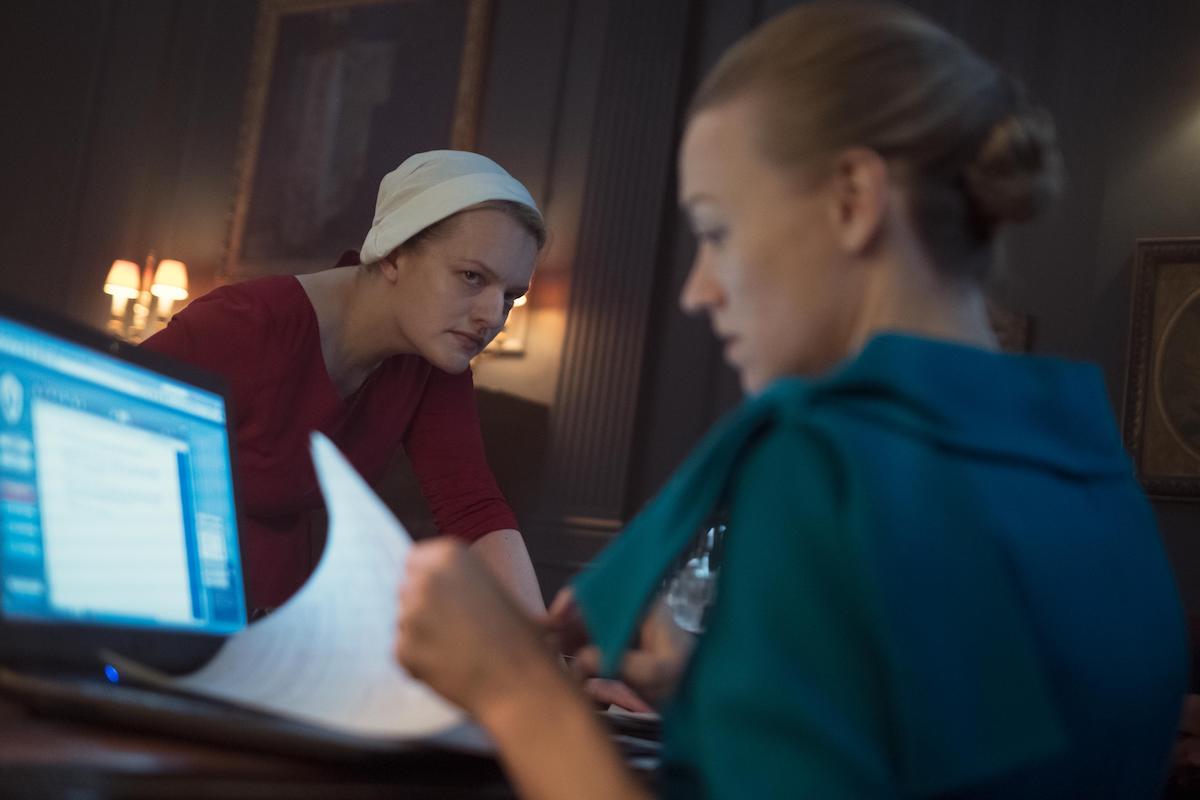 Does June make it to Canada?
June has been trying to escape Gilead since season 1 episode 1 of The Handmaid's Tale. At this point, the years of sexual abuse and other traumas have fully radicalized her and made her more ruthless than ever before. But amid all of her plans to hurt Gilead, save herself, and save her daughters, June has been operating in survival mode.
In season 4 episode 6 of The Handmaid's Tale, June makes it to Canada. Moira was in Chicago on an aid mission run by her girlfriend when she found June in the wreckage of Gilead's attack on the city. She snuck June onto the boat, directly violating the humanitarian group's deal with Gilead, which nearly resulted in June being sent back to being a Handmaid. Instead, the group took the risk and had June give a fake name at a checkpoint.
The episode delivered what has seemed impossible for the entire series: June and Luke's reunion. But June was too traumatized to be happy when she saw her husband again. All she could do was apologize that she didn't have Hannah with her. Of course, Luke didn't blame her for that.
'The Handmaid's Tale' EP wants June's healing process will be 'long and bumpy'
The episode ends with June about to step off the boat's ramp and onto Canadian shores, where she could seek asylum. With the protection Canada could grant her, June will finally be able to turn off survival mode and begin processing what it means to be free. But Miller says that process will traumatize her even further. He told Variety:
"June dealing with what's happened to her does not end with her standing on the shore of Canada. Unfortunately that is the refugee story that the world is dealing with and has been dealing with forever — and also the sexual assault and trauma story. It's a long and bumpy a** road from gut-wrenching trauma to any kind of normalcy. And when it comes to that, she's still in Gilead. Her heart, her brain, so much of who she is is tied to Gilead. There's push and pull."
In a separate interview with Variety, Miller said June will learn the consequences of the choices she made while trying to keep herself and so many others alive. He said:
"I want her to feel responsible. Whether she feels guilty is a slippery thing because who's guilty, who's responsible? It's really Gilead. But yes, she is weighted down, hugely, by what she has done, thought, wanted to do, how her desires have changed, how ruthless she's become, and how she finds satisfaction in violence sometimes. The entire show is, 'Look what I've done. How can I resolve myself?'"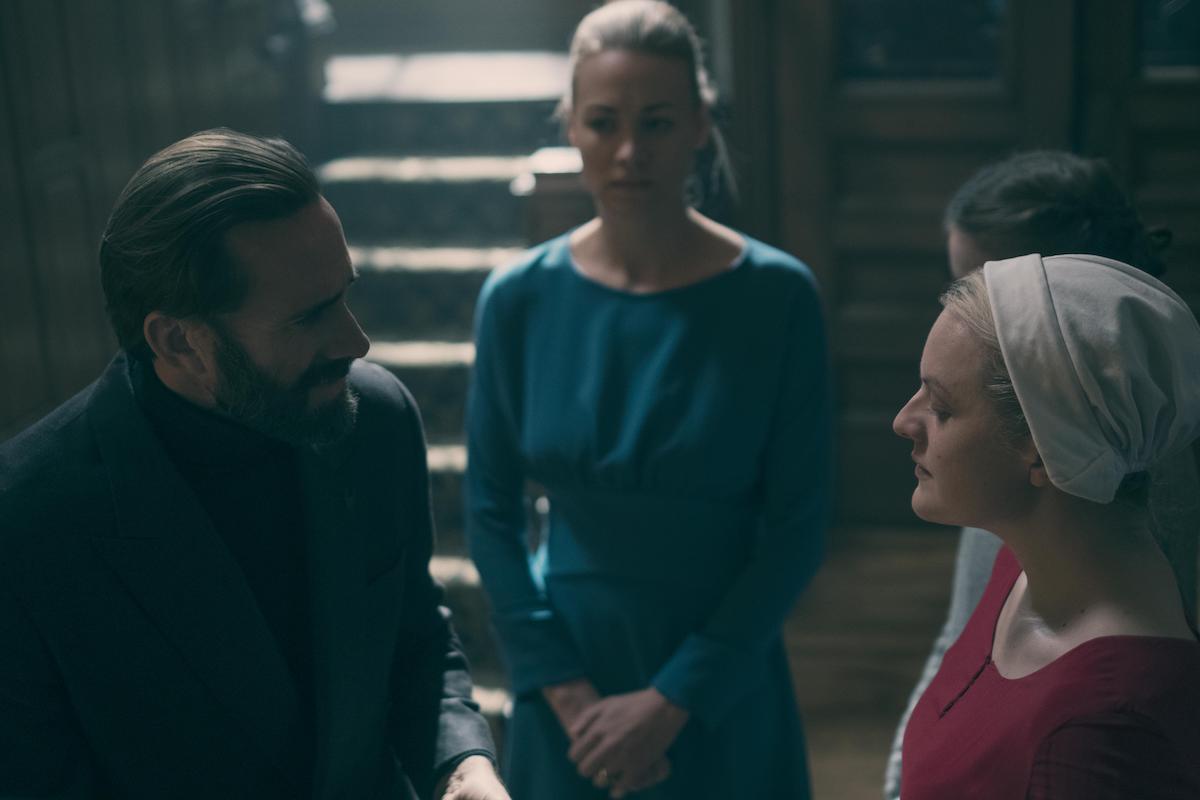 'The Handmaid's Tale' EP wants June to 'nail' Fred and Serena
Miller, who is also the showrunner and a writer for the Emmy-winning drama, said June won't be about forgiveness for Gilead loyalists, especially not Serena Joy and Fred (who, through some kind of miracle, conceived a child naturally).
"I want June to nail Serena and Fred and all of those people and get them in jail," he said. "I also want June to forget about those people and move on with her life. And June wants both of those things."
"It turns the story dynamic from 'Schindler's List' to 'Sophie's Choice,'" he continued. "You see these horrible things that happened but then the aftermath is just as traumatizing because all of a sudden you're able to take a breath and step off the gangplank onto Canada."
With June's mental state where it is, it's possible she won't be satisfied with an outcome for Fred and Serena that's not violent. The couple is already imprisoned in Canada and preparing for a legal battle. And the possibility of June testifying against them does not bode well for their chances at freedom.
Trailers for Season 4 show June standing in normal clothes and asking for "justice." It seems all but certain that whatever fate has in store for the Waterfords, June will be involved.