'The Handmaid's Tale' Season 4: 1 Aunt Lydia Scene Set up Her 'Testaments' Plot, EP Says
Aunt Lydia is one of the main characters in Margaret Atwood's The Testaments. The story is narrated by three characters: Aunt Lydia, and June's two daughters, Hannah and Nichole (although the sisters go by different names). The novel is being developed into a spin-off series for Hulu, helmed by The Handmaid's Tale showrunner Bruce Miller. And according to Miller, The Handmaid's Tale Season 4 planted the seeds for Aunt Lydia's Testaments plot.
[Spoiler alert: This article contains spoilers for The Handmaid's Tale Season 4 and Margaret Atwood's The Testaments.]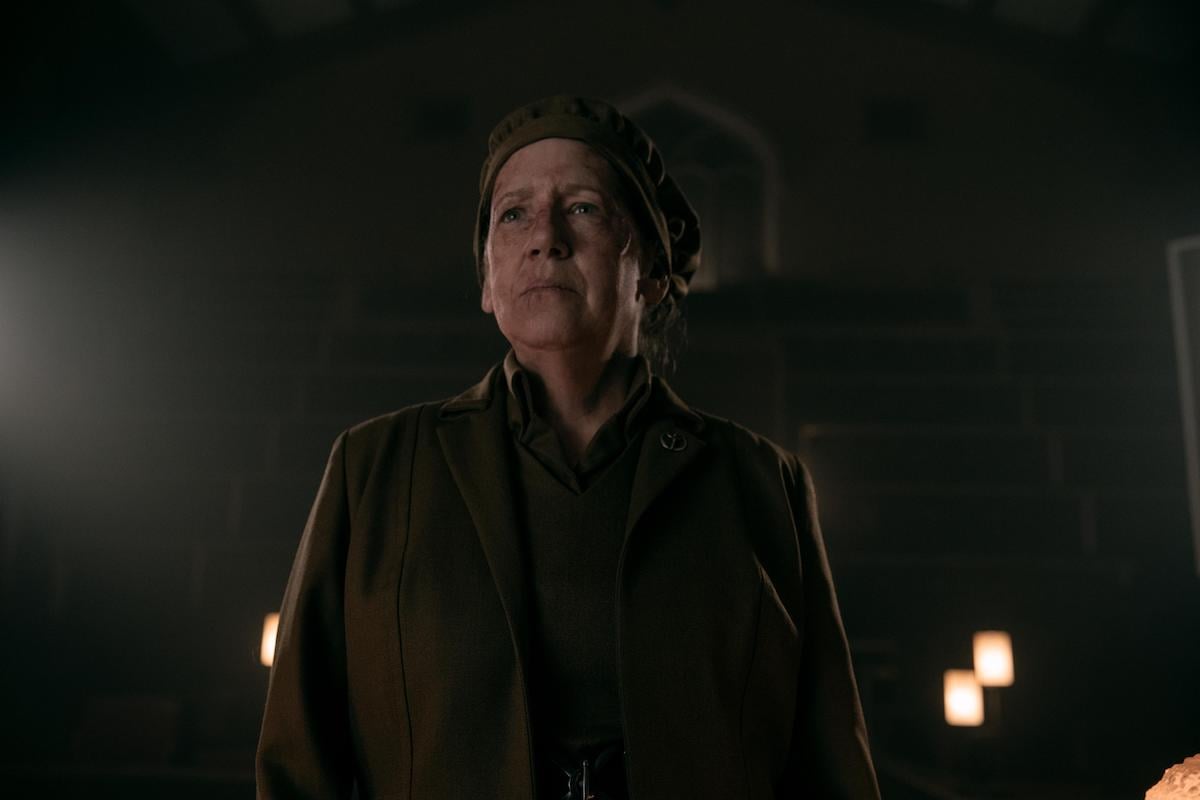 Does 'The Handmaid's Tale' Season 4 connect to 'The Testaments'?
The Testaments is Atwood's sequel to her Handmaid's Tale novel. Originally, she didn't plan on writing a sequel to the story, published in 1985. But Donald Trump getting elected inspired her to continue the tale.
"It put wind in my sails, let's put it that way," Atwood told Seth Meyers in 2019. "It encouraged me."
Atwood has been working with Miller to help develop The Handmaid's Tale story since season 1. The show ran out of material from the novel after the first season, so everything in season 2 and beyond has been created with Atwood's approval. When writing The Testaments, she intentionally didn't let the Hulu series inform her writing. But Miller and his team are definitely following Atwood's lead with The Handmaid's Tale Seasons 4 and 5 and The Testaments series.
Following the explosive Handmaid's Tale Season 4 finale, Miller told The Hollywood Reporter they started incorporating elements of The Testaments into the season. He said:
"I'm definitely thinking about it. I think of it all as one big continuum. That's part of the Handmaid's story and I have to be thinking about that as part of the universe because it shares characters. We've certainly already tried to lay it in this season."
RELATED: 'The Handmaid's Tale' Season 4: Does Aunt Lydia Love the Handmaids?
Aunt Lydia started vying for power in 'The Handmaid's Tale' Season 4
According to Miller, The Handmaid's Tale Season 4 Episode 5, "Chicago," foreshadowed Aunt Lydia's Testaments character development — her scene with Commander Joseph Lawrence, in particular. It was the first moment Aunt Lydia used the information she gathered about Gilead's men against them, i.e. her first foray into challenging Gilead's power structures. As Aunt Lydia says to Joseph:
"I have sources. Witnesses to your involvement in Commander Winslow's disappearance. In addition, I have testaments to your many abuses of power. Black market activity. Not to mention your collaboration with your Handmaid, Ofjoseph … Unless you arrange for my immediate reinstatement."
Aunt Lydia and Joseph have another scene in The Handmaid's Tale Season 4 Episode 8, "Testimony." In it, Joseph reprimands her for using physical force on another Aunt.
"I know you enjoy inflicting pain," he says.
"That isn't true," she says through tears, adding, "That's not true. I object to this."
Miller said these scenes were integral in setting up her plot for The Handmaid's Tale Season 5 and the spin-off series. He said:
"The Lawrence-Lydia relationship is about how Lydia starts to access the corridors of power. Before, she was kind of gathering wool in case she might need it, saying all of these people are doing bad things. But now she's starting to use it and see what can happen, and that's part of the future of that character. In the book, the colonies are just mentioned and none of it takes place in Toronto. You want to explore that world and The Testaments is such a huge part of that. It's a fascinating universe. Even now, it's added depth and color to the stuff that we're doing, regardless of whether it's specifically leading to Testaments stories or not."
RELATED:'The Handmaid's Tale': June's Daughters Could Have Huge Roles in 'The Testaments' Spinoff Series
Aunt Lydia's scenes with Commander Lawrence reveal a lot about the character
Aunt Lydia is one of the show's biggest abusers. She fully believes in physically abusing the Handmaids in order to make them fall in line. It's her twisted way of showing them love, because as she sees it, submission and obedience will allow these "ruined" women a sacred existence.
Although she hurts them herself, Aunt Lydia is vehemently against men abusing Handmaids. It angers her that Gilead created a so-called "perfect" society, and yet men continue to abuse their power and mistreat women. That's why she blackmailed Lawrence. And it's eventually what pushes her to want to take Gilead down and replace it with something more pure. And in The Testaments, that's Aunt Lydia's main goal. She works with Mayday to reach this end. Yes, Aunt Lydia joins the resistance. And she plays a large role in the fall of Gilead.
Miller noted in his interview that Aunt Lydia's character arc is so fascinating, he "would do shows about Aunt Lydia."
With The Testaments, he'll have that chance.