'The Handmaid's Tale' Season 4: Elisabeth Moss' Hardest Scene to Film Didn't Involve Acting
June's plot in The Handmaid's Tale Season 4 required a lot of Elisabeth Moss. Throughout the season, June was tortured, survived an explosion in Chicago, made a narrow escape to Canada, confronted her abusers, and exacted her revenge. Those scenes would be exhausting enough to act in, let alone direct. And Moss directed three episodes of The Handmaid's Tale Season 4. In a recent interview, Moss said directing the show was harder than acting. And one scene in particular posed special challenges.
[Spoiler alert: This article contains spoilers for The Handmaid's Tale Season 4.]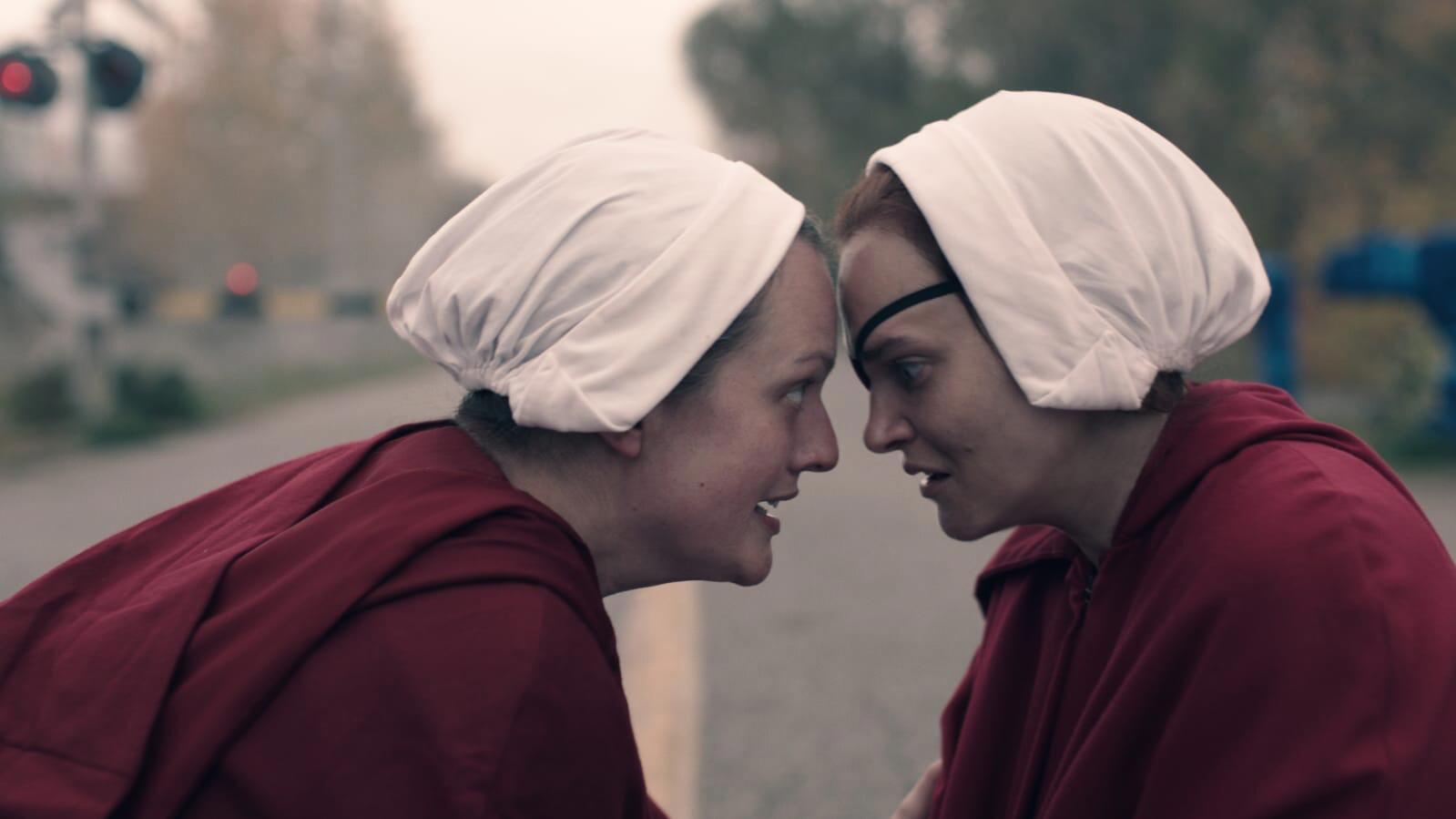 What episodes did Elizabeth Moss direct in 'The Handmaids Tale' Season 4?
Moss made her directorial debut with The Handmaid's Tale Season 4 Episode 3, "The Crossing." She also directed episode 8, "Testimony," and episode 9, "Progress." Moss had her work cut out for her with these episodes.
"The Crossing" featured the tragic train scene that killed Alma and Brianna. "Testimony" was all about June's testimony against the Waterfords in Canada. And in "Progress," June learned her testimony meant nothing — Fred and Serena were getting out of prison.
Elisabeth Moss' hardest scene was in 'The Handmaid's Tale' Season 4 Episode 3, 'The Crossing'
Out of these three episodes, "The Crossing" contained Moss' favorite and most difficult scenes to direct. She told Variety the scene where Luke doubts June's love for him was her favorite O-T Fagbenle scene.
"He's beautiful in that scene and I don't know if we would have gotten that if we were somewhere else and that that baby wasn't in it," she said.
But it was the train crossing scene that posed the most difficulty. Moss told the Los Angeles Times that weather and scheduling made the biggest obstacles. She said:
"We shot it over two days and had completely different weather on both days. One day it was raining, which was great for the end of the scene when they are running. And the second day was beautiful without a cloud in the sky, which is when we shot the interior of the van. Thank God for my DP Stuart [Biddlecombe] who was able to make it match and look gorgeous."
Acting in these scenes was easy, Moss admitted to Vulture. She's played June for so long and has been acting for decades. It was directing her co-stars that was the most intimidating. Moss she chose "The Crossing" as her directorial debut because it was so June-heavy. That meant she already knew how to handle a huge chunk of the episode. And she could spend more energy working with her co-stars.
What Elisabeth Moss learned from her directorial debut
Another thing Moss learned while directing was how to decide what scenes to cut or change. The scenes in the Gilead prison, for example, were going to have a lot more gore at first. She said:
"Originally in the script, it was three women that got thrown off of that roof. We downsized it to two. There were things like that, that you're going, What do I want to see? It was very clear to us that we were not going to actually show the full waterboarding. We were not actually going to do the fingernail [removal], obviously. But I do think that it was maybe our last hurrah, in a way, of that element of the show. Not to say — I don't write the show — that we won't ever do anything so terrible again. But I do think it was like, Let's go to the very bottom."
Episode 3 was the biggest challenge. But episodes 8 and 9 taught Moss that the simple scenes can be just as hard as action sequences to direct. She said:
"I felt like I had learned a lot on episode three, and I felt like eight and nine were very different scripts and would challenge me in a different way, where I was not able to rely on gigantic set pieces and effects. How do I make two people in a kitchen washing dishes interesting? How do I make all these conversations between Fred and Serena interesting? That definitely was a challenge I wanted to give myself."
The Handmaid's Tale Season 4 is nominated for 21 Emmys, including an Outstanding Lead Actress in a Drama Series nomination for Moss. Who knows, perhaps a directing nomination is in her future.