'The Handmaid's Tale' Season 4: Moira and Emily Had 'Longer, More Complicated Stories' That Were Scrapped
'The Handmaid's Tale' Season 4 had "longer, more complicated" stories about Emily and Moira to tell, but the coronavirus pandemic made them change all of their plans. Find out why tough cuts were made to the show's newest season here.
The Handmaid's Tale Season 4 was filmed during the coronavirus (COVID-19) pandemic. The show had already started filming when the pandemic shut down production. And during the time off, the crew hustled to rewrite a story that could be produced under the strict COVID-19 safety protocols. Showrunner Bruce Miller said they were able to do just that, but some of the supporting characters' stories became collateral damage in the process, like Emily and Moira.
[The Handmaid's Tale Season 4 spoilers ahead.]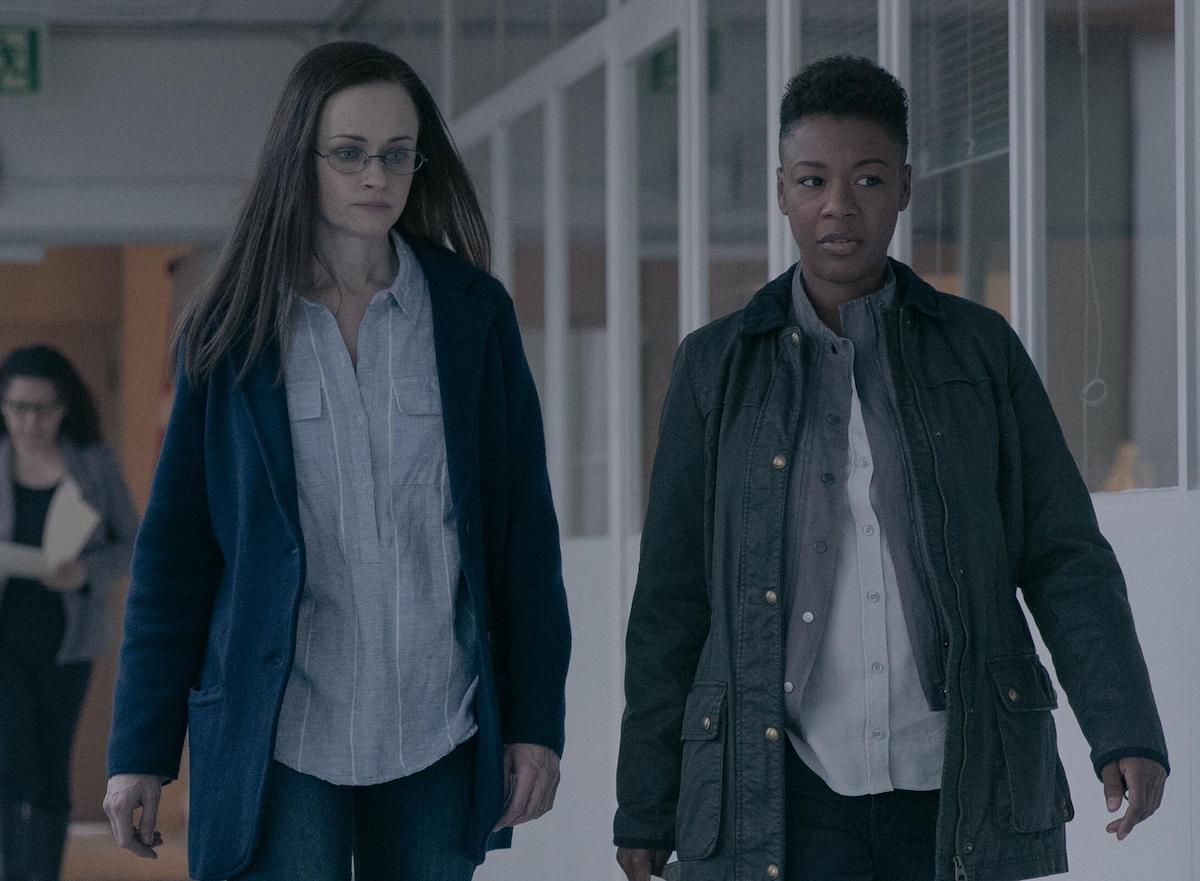 What happened to Emily in 'Handmaid's Tale' Season 3?
Samira Wiley's Moira is one of the first Handmaids to get out of Gilead in the show, making an escape in season 1. Alexis Bledel's Emily finally escaped Gilead at the end of season 2. With the help of June and Commander Lawrence, Emily and Nichole escape to Canada. But the journey was treacherous—she had to carry the baby across a river that she wasn't even sure crossed the Canadian border. It did, and she was granted asylum.
Emily began to cope with the trauma she endured in Gilead in Canada and was reunited with her wife and son. At the end of the season, June and the Mayday network successfully smuggled 86 children and some Marthas out of Gilead. In season 4, Emily and Moira work together trying to reunite the children with their biological families.
What happens to Moira in 'The Handmaid's Tale' Season 4?
The two quickly learn it's no easy feat trying to help these children get acclimated. Many of them are so young, all they remember is Gilead. Being reunited with biological family is a difficult adjustment for them because they don't recognize these people. Of course, that's exactly what June fears will happen with Hannah.
Unfortunately, Moira, Emily, Luke, and Rita's stories don't get as much attention in season 4 as they could have. Still, the scenes they do have are memorable and poignant. Rita, for example, is learning how to be free and grappling with what parts of her life as a Martha in Gilead she actually wants to keep in Canada. Luke has a heartbreaking moment where he fears June won't want to be with him anymore, even if she does escape Gilead. Still, he works with Moira to raise baby Nichole.
Moira and Luke also start fundraising together to help the children who escaped Gilead. To that end, they share June's story, and Rita shares hers as well. Moira's new relationship goes through an impossible test later in the season. And Emily ends up facing her traumas head-on, although she's reluctant at first.
Moira and Emily were meant to have bigger roles in season 4
Season 4 is cathartic in a lot of ways, and that includes the supporting casts' plots. But Miller told The Hollywood Reporter had it not been for COVID-19 restrictions, Emily and Moira's stories would have been a lot more in-depth. And it wasn't that the scenes were cut in the editing room—they were never filmed.
"It's always heartbreaking not to be able to focus on other peoples' stories," he said. "That is my difficulty. I have such respect for all of those actors. I love them and like watching them work. But, the show is called The Handmaid's Tale and we do focus on June."
As he continued:
"This season, because of travel and COVID, it affected our ability to be able to bring people in to do little bits. We had planned longer, more complicated stories that we actually just couldn't do. For Moira (Samira Wiley) and for Emily (Alexis Bledel), for example, it just came down to a function of math."
Season 4 is three episodes shorter than the last two seasons of The Handmaid's Tale. Seasons 1 and 4 have just 10 episodes, and seasons 2 and 3 have 13. It seems the pandemic is to blame for the shorter season this year. Miller also said the COVID-19 restrictions made producing this season even more expensive, despite having fewer episodes. Still, the cast and crew delivered the most action-packed season yet.
New episodes of The Handmaid's Tale debut on Wednesdays on Hulu.