'The Hateful Eight': Why Kurt Russell Was So Angry, He Cleared His Mustache
'The Hateful Eight' includes a cast full of legendary actors, including Samuel L. Jackson. Walton Goggins detailed a hilarious story involving Kurt Russell, his anger, and his mustache.
2015's The Hateful Eight marks another western picture for legendary filmmaker Quentin Tarantino. Critics and audiences often credit the movie as one of the filmmaker's most uncompromising and violent projects so far. The Hateful Eight actor Walton Goggins once explained why Kurt Russell was so angry, he hilariously cleared his mustache in an impromptu fashion.
Kurt Russell plays John 'The Hangman' Ruth in 'The Hateful Eight'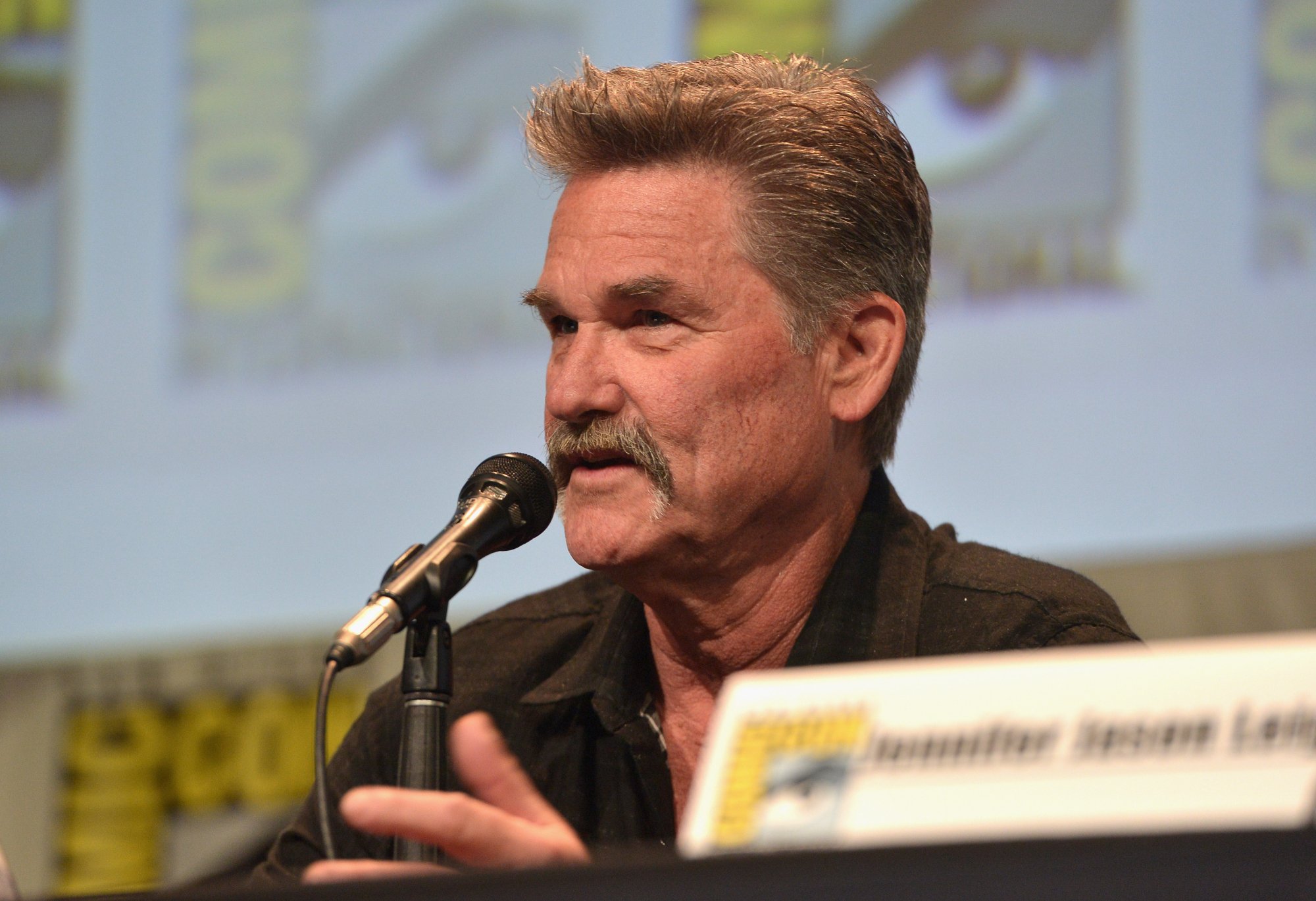 The Hateful Eight picks up in Wyoming in the year 1877. John Ruth (Russell) and his prisoner, Daisy Domergue (Jennifer Jason Leigh) discover a small cabin during a blizzard. They decide to reside there until the weather clears up. However, they soon find themselves at odds with a collection of nefarious characters who are also staying there.
Russell plays John Ruth, also known as "The Hangman." He's a bounty hunter who handcuffs himself to Daisy to not allow her to get away. John intends to take her to Red Rock to be hanged for her crimes. He has a strict code to always bring his victims in alive. However, things don't exactly turn out in John's favor, resulting in his death.
Walton Goggins explains why Kurt Russell was so angry, he cleared his mustache
Den of Geek interviewed Goggins regarding his character, Chris Mannix, in The Hateful Eight. He identifies himself as Red Rock's new sheriff, although many of the other characters doubt his story. Goggins talked about his experience filming The Hateful Eight with Russell, detailing a hilarious story of the legendary actor clearing his mustache.
"But Kurt and his mustache, there was a scene in particular," Goggins said. "We were in the stagecoach, and there is a conversation that happens where tempers flare, where opinions are made clear, and at one point, Kurt was so f***ing angry, he was so angry in this stagecoach at Chris Mannix and his world view."
Goggins continued: "In that fit of anger, he didn't know what to do with his hands. He couldn't grab a gun, he knows the legalities. He couldn't do anything, but one time he just grabbed his mustache and he just cleared his mustache out (mimes grabbing the top of a mustache and jetting his hands down along it), and it was the funniest thing that I have ever seen."
"I couldn't hold it together," Goggins said. "I think he'd f***ed up one take, because he did it spontaneously and realized what he did, what that is and what that represented, and he lost it I think at the same time I lost it. So that's the only thing that saved me from ruining his take."
'The Hateful Eight' brings a group of other film icons together, including Samuel L. Jackson and Bruce Dern
Tarantino's The Hateful Eight brings together an impressive group of actors, including Russell, Goggins, and Leigh. He also recruited Samuel L. Jackson, Demián Bichir, Tim Roth, Michael Madsen, and Bruce Dern. The Hateful Eight includes Zoë Bell and Channing Tatum in smaller roles, further amplifying this incredible cast.
Tarantino is a longtime lover of the western film genre. He initially envisioned The Hateful Eight as a novel and sequel to his 2012 film Django Unchained. However, Tarantino ultimately created a standalone film out of the story sometime after the script inadvertently leaked to the public.