'The Incredible Dr. Pol': The Real Reason Dr. Emily Left
Dr. Emily, one of the veterinarians on staff with Dr. Pol at Pol Veterinary Services, just started her own blog! And she's sharing her stories, among them how she met Dr. Pol and came to work with him, and her surprising reason for leaving.
The sixteenth season starts Jan. 11 and it'll be sad not to see her in the season premiere of the beloved NatGeo WILD program.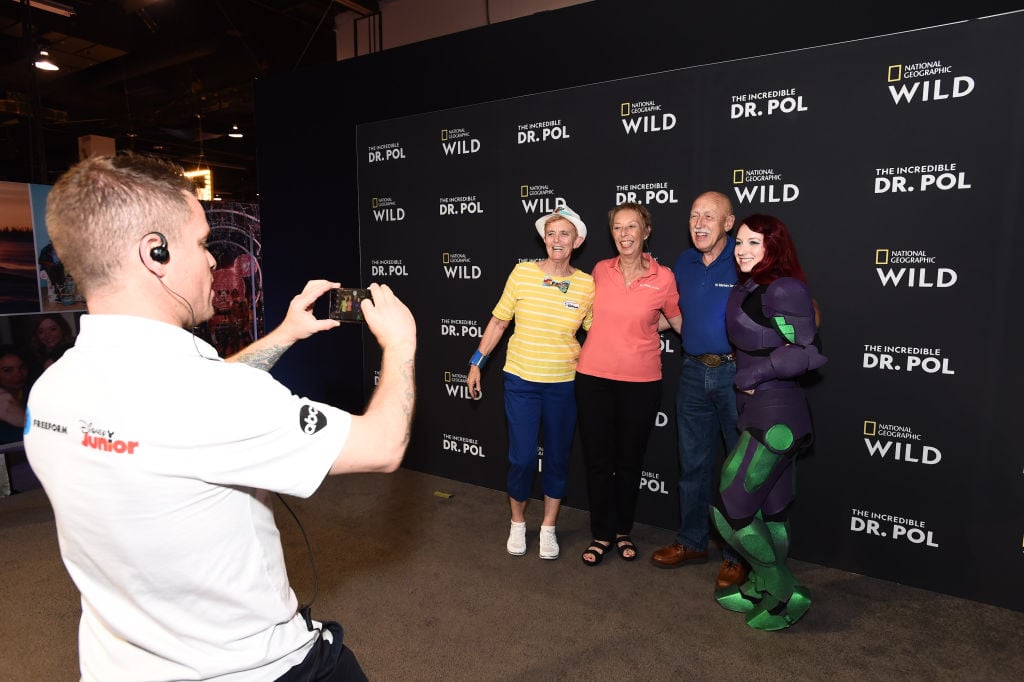 Beginning its run on National Geographic's WILD channel in 2011, The Incredible Dr. Pol has treated over 22,000 animals over its fifteen-season run. The Dutch-American doctor's old-school practice has connected with viewers and become the top-rated show on the network.
Find out how Dr. Emily met Dr. Pol, plus more about the reason behind her leaving.
Here's what is known so far.
When Dr. Emily started on 'The Incredible Dr. Pol
Dr. Emily has been with Pol Veterinary Services since 2015. If you know her from the NatGeo WILD reality show, you know she is not prickly or easily disgusted or spooked by anything, really. She was treating large farm animals while pregnant with her second child, into her sixth month.
Dr. Emily is a favorite of fans of the show for her grace under pressure on the program. Seriously, this amazing woman once said she has no problem palpating cows. The amazing part is she claims she could even do it while eating a burger! That's pretty impressive.
Dr. Emily's 'How I met Dr. Pol' story
Dr. Emily Thomas is a pretty good storyteller. Her account of getting hired at Pol Veterinary Services shows this fact off pretty well.
"So, since most of you know me from The Incredible Dr. Pol show, I figured I would give you some back story into how that came to be," Dr. Emily began her story on her blog. "Anyway, I was sick of working [at her previous veterinary position] and we were in our second rental house . . . My friend, a tech at that clinic I worked pushed me to apply to Dr. Pol when she saw [the] ad [Dr. Pol had placed]."
"When I first arrived and followed Dr. Pol around, I was absolutely impressed with the sheer speed in which he saw patients. He would walk in a room and basically have a diagnosis before examining the animal. I figured that this was just from his years and years of experience and I had mountains to climb to catch up to his efficiency."
Dr. Emily is no longer with Dr. Pol
Perhaps you're already aware that Dr. Emily will not be back to Pol Veterinary Services, so you will probably not see her on the sixteenth season of the reality show (unless it was taped before her departure).
She went into more detail about her difficult decision to leave on her blog.
"Eventually, the stress of working there with three small children, being on-call all the time, new vets coming and leaving just as fast, leaving the on-call duties spread between mostly two to three of us. . . with no extra compensation."
"I was having more health problems, physically and mentally than I've ever had. Suicidal thoughts, even, despite medication. Finally, my therapist and [friends] pushed me to reach out and find a better job. I would take a huge hit with the salary, having Nat Geo paying me twice as much as my vet salary, but I had to escape the darkness."
"So, I found this job that I have now, small animal only. No on-call. . . I. AM. LOVING. IT." 
It must've been tough deciding to leave for Dr. Emily. It sounds like her issue wasn't with Dr. Pol, but with the rate at which the practice is growing and the lack of more vets on staff. So for every vet on staff at Dr. Pol's, it appears to be all hands on deck.
We'll miss Dr. Emily and wish her and her family all the best!
Read more: 'The Incredible Dr. Pol': What Is His Net Worth and What Is the Veterinarian's Ethnicity?