'The Prom' Review: A Party That Packs a Punch
Ryan Murphy's 'The Prom' review. The Netflix original is a feel-good movie with a strong message about acceptance at the center.
Ryan Murphy's The Prom — based on the short-lived Broadway production of the same name — takes four narcissistic Broadway performers from The Great White Way to a small town in Indiana. On a PR mission to boost their not-so-admirable public reputations, they decide to aid a high school lesbian who wants to attend the prom with her girlfriend. Unfortunately, she faces many roadblocks from the conservative PTA.
The movie stars Meryl Streep as Dee Dee Allen: a woman whose celebrity status has removed the word altruism from her lexicon. James Corden plays Barry Glickman: a flamboyant gay Broadway star who merely has a Drama Desk award…no Tonys. There's Nicole Kidman as Angie Dickinson, who can't get out of the chorus in Chicago. And, as for Andrew Rannels, he plays Trent Oliver — a man only known for a sitcom who doesn't let anyone forget that he studied D-R-A-M-A at Juilliard.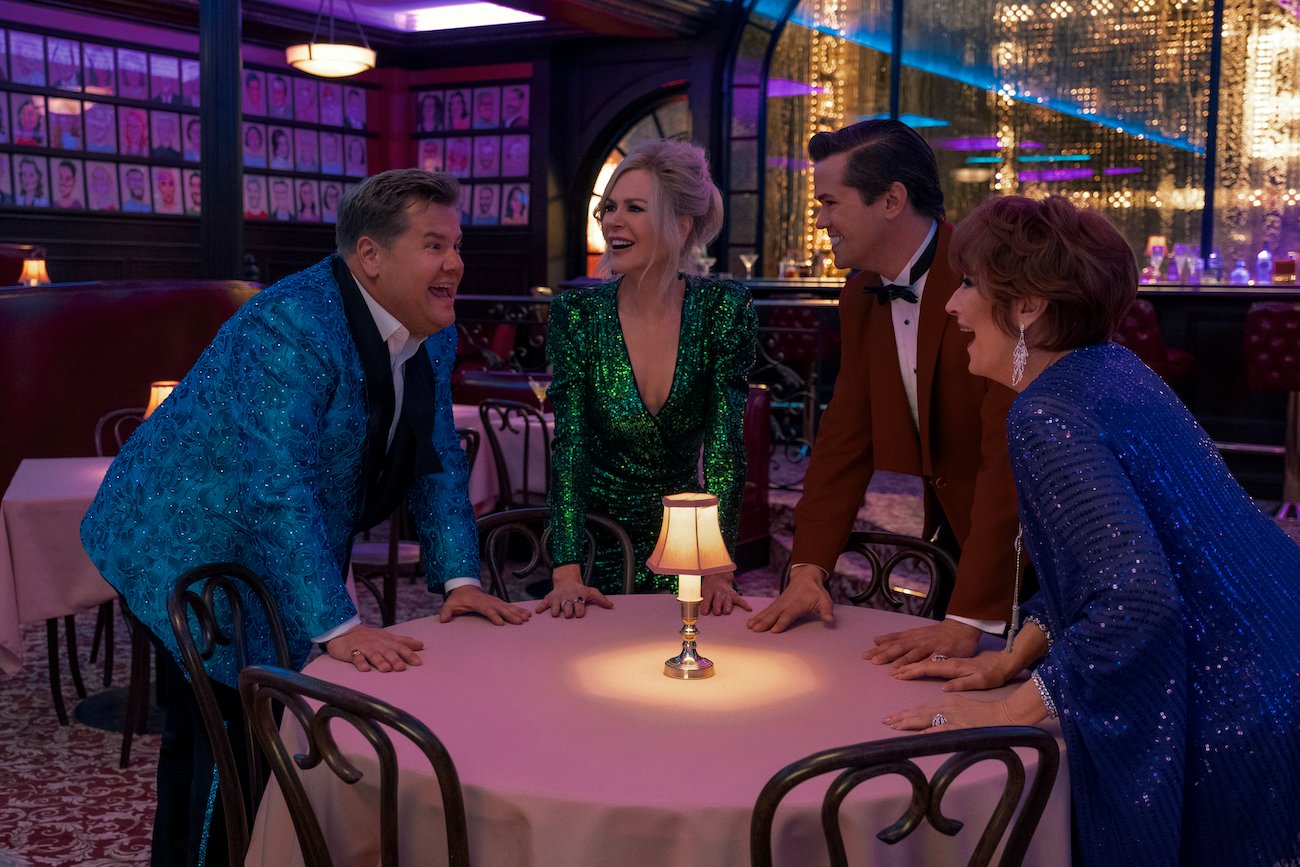 These four turn this movie into a theatrical experience — every pause is a pose. They don't stand still; they strike still. Yet, the intentionally over-the-top musical performances and shoulders-back dispositions do not take away from the gravity at the center — the narrative that in one scene pierces the soul and, in the next, snuggles up next to your heart. Two high school girls — one who is out of the closet and seemingly unafraid, and another who is closeted and concerned about what her mother will think—  shine through.
Jo Ellen Pellman portrays Emma: the young girl with a big heart and a brave soul yearning for equality in a town that disparages her. Ariana DeBose plays Alyssa, who is in love with Emma, yet can't face a mother who would see her daughter's sexuality as a smudge on her otherwise perfect portfolio. With help from a couple of liberals from New York City, anything seems possible for these two — as long as the stars can stop thinking about themselves for a second. 
Ryan Murphy balances humor and heart, never wavering too far in either direction 
The camera remains quite loyal to the characters' faces. Though sometimes gazing from afar for a group dance routine, the shots are mostly upfront and personal. The camera lingers over each exaggerated facial expression, yet also each wince, each tear, each lip-quivering moment of doubt. 
When Dee Dee Allen slams her Tony award on a desk, asking for a "suite" at a low-budget motel, all the beauty of such delusional grandiosity is right there between Streep's eyes. Yet, the visual intimacy is also there when she opens up to her dear friend Barry, or when Barry reveals aspects of his difficult childhood.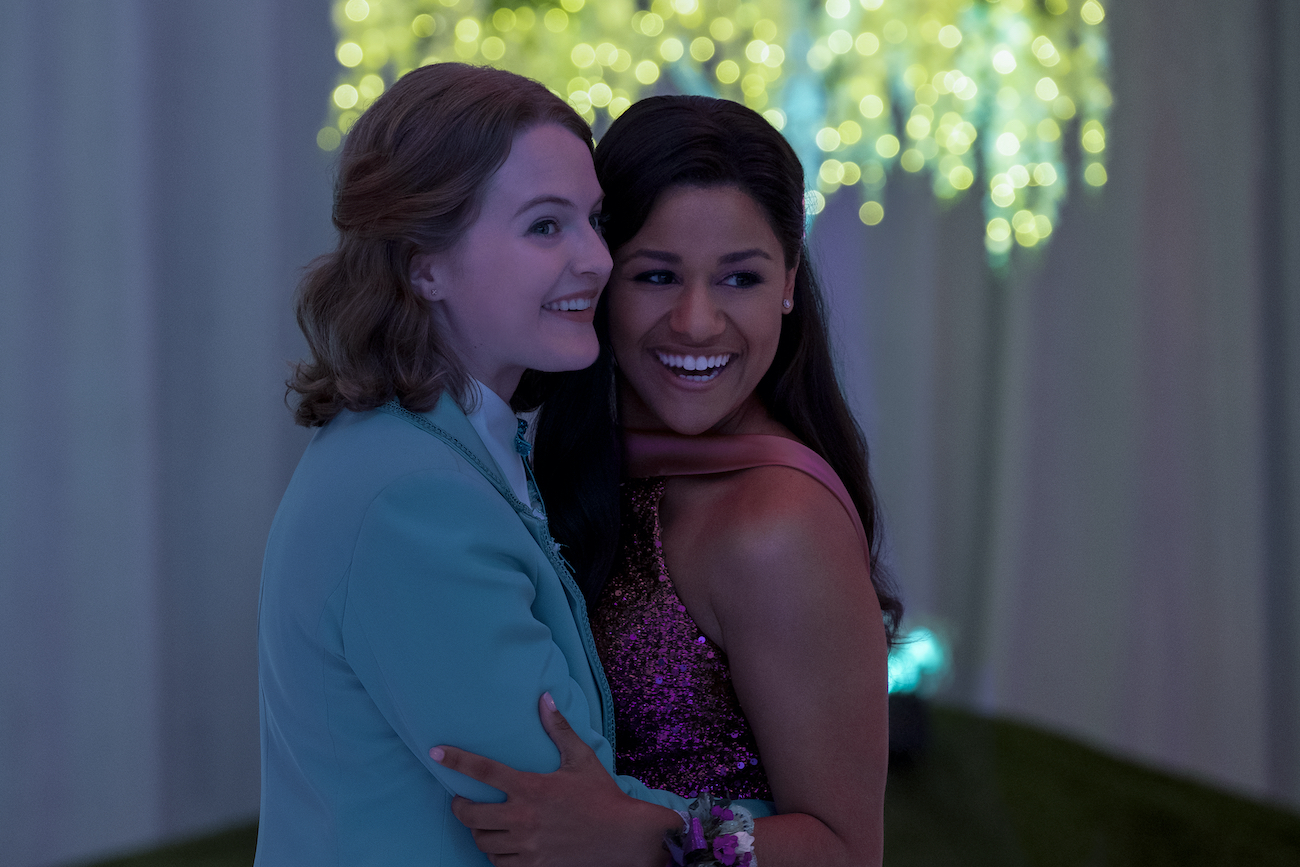 The movie adds dialogue and scenes that were not in the Broadway production, bringing a depth of character and a degree of dimension that would otherwise be amiss in a number-after-number joyride. These forays into childhoods and past traumas are necessities in films, even musical ones, which demand character exposés that are not always present in high-energy Broadway musicals. The movie takes what could have been gleeful caricatures and develops complex characters — with hilarious flaws. 
When the film transitions into a musical number, the lights come out and the set transforms — creating a theatrical experience that's somewhere beyond reality. Yet, when such scenes are over, the flashing lights cease, and the stage, once again, becomes Indiana. The people return to their everyday lives — to stand tall to the hatred and bigotry surrounding them. Yet, despite the shifting atmosphere, the film is not tonally incongruous.
In striking both chords interchangeably, The Prom keeps levity and sincerity in perfect harmony. It pays homage to the Broadway musical by creating a cinematic experience reminiscent of the stage — with all the benefits of a close-up. 
Every Broadway star gets their moment in the spotlight 
While group numbers are essential in any musical, memorable solos tend to steal the show. And, each A-lister in this ensemble gets their moment in the spotlight. Nicole Kidman, James Corden, Andrew Rannels, and Meryl Streep all get to bust out their pipes — often to quite amusing results. Even Keegan-Michael Key, who plays Meryl Streep's love interest, has his own tune. 
Their songs create that bubbly feeling in your stomach — the kind that creates a smile just on the verge of laughter. The musical numbers are well-acted no matter how ridiculous the lyrics may be. Streep is behind some of the most memorable songs, and it's no surprise that she seamlessly transitions from theatric thoughtlessness to pensive ponderance without it ever seeming disjointed. 
The Prom is happiness wrapped up. It's a lesson in acceptance with laughs at every turn. And while there are moments that pull at the heartstrings, the show closes with joy. Yet, such joy has faced quite the fight to breathe, and even with all The Prom's splendid spectacles, that message, and its sincere depiction, is what warrants theater's coveted bravo.