The Real Reason Gordon Ramsay Won't Be Leaving His Money to His Children
Gordon Ramsay is known across the globe for his unachievably high food standards and brash manner of speaking. While much of his persona might be exaggerated for the television public, he runs his family with the same unapologetic realism that he brings to potential chefs and flailing businesses.
A rough upbringing and a can-do attitude extend into the way he raises his children, and that's the very reason he and his wife, Tana have agreed that the Ramsay kids won't be inheriting their fortune. Sure, they have gotten a leg up with excellent educations, luxurious living accommodations, high-quality business connections, and the Ramsay name, but it won't be going much further than that, according to Ramsay and his wife.
Ramsay makes his kids sit in Coach
Ramsay is worth an estimated $190 million, so he can afford more than a few nice vacations for his family. He's happy to take the kids along when he can, but he draws the line at where they sit on an airplane. According to Travel and Leisure when the family flies all the kids hang out in coach, while mom and pop head behind the curtain to first class.
Ramsay told the publication, "They don't sit with us in first class. They haven't worked anywhere near hard enough to afford that. At that age, at that size, you're telling me they need to sit in first class? No, they do not. We're really strict on that." Obviously, their vacations are paid for, their plane tickets are paid for, but that is as far as the father of five is willing to go.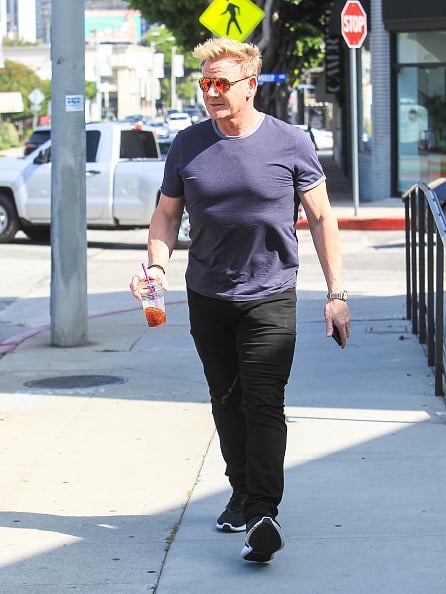 Budget flight accommodations aren't the only way Ramsay and his wife of 22 years keep their kids grounded. All four of Ramsay's older children are expected to subsist on a budget. The eldest of the Ramsay crew receives $100 a week for her university needs, while the other three get around $50 a week. From their money, they must pay their bus fare, their cellphones, and any related items they want. The newest addition to the Ramsay family doesn't need an allowance just yet.
Ramsay doesn't necessarily want his kids to go into the restaurant business
While Ramsay has made his name and his fortune as a top-notch chef, he doesn't necessarily want to see his children go into the same industry. While Matilda, the second youngest of the Ramsay kids, seems to be following in her father's footsteps, it's not because of him.
Ramsey notes that he doesn't want his children to be the "Ramsay kid" for their entire life. He'd like to see them make their own way and succeed on their own merits. As it stands, three of his five children aren't headed towards culinary greatest. The eldest, Meghan, is a psychology student, while Jack has his eye set on a military career. Holly, Jack's twin, is allegedly pouring her passions into the fashion world, according to the Telegraph.
Why won't the Ramsay kid be inheriting the family fortune?
Ramsay had to make his own way, that fact is known. The esteemed chef was from a rough upbringing and rose through the culinary ranks all by himself. He wants to see his children do the same and allowing them access to a fortune they didn't amass themselves seems like a sure fire way to make them lazy, at least according to Ramsay.
The chef and TV personality told the Telegraph that the children would not be receiving a hefty inheritance in his will. What they will get is a 25 percent deposit on an apartment. After that, however, they are seemingly on their own. He noted in the interview that he's not mean. In fact, Ramsay's take on the money his children will receive, all comes out of love. The goal for Ramsay and Tana seems to be to raise independent adults who make a mark on the world. Ensuring they have to make their own money is one way of doing just that.