'The Rookie' Season 5 Episode 13 Preview: Tim and Lucy Face the Consequences of Their Relationship
ABC's The Rookie Season 5 is the season of "Chenford," aka Tim Bradford and Lucy Chen. The two characters have been teetering the line of "will they/won't they" for many years, but they finally made the leap during the midseason finale. But now that Tim and Lucy are in a serious relationship, they'll have to face the consequences of their romance in The Rookie Season 5 Episode 13.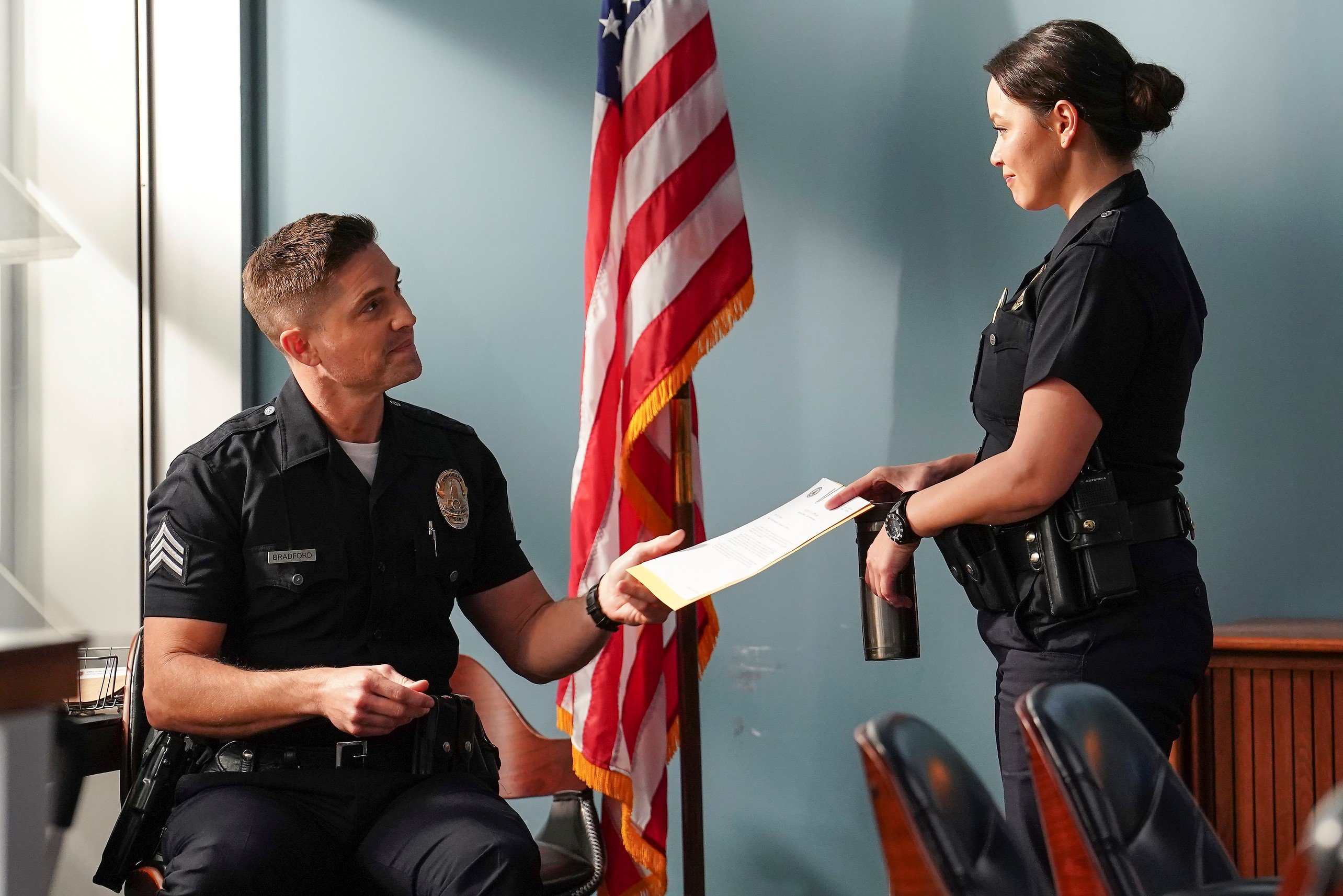 'The Rookie' Season 5 Episode 13 airs Tuesday, Jan. 24
Fans of The Rookie Season 5 won't have to wait long for episode 13, "Daddy Cop." The upcoming hour premieres on Tuesday, Jan. 24, at 8 p.m. ET on ABC.
The synopsis for "Daddy Cop" reads, "In the midst of a heatwave and a citywide blackout, Officer John Nolan and Aaron follow increasingly large leads after they discover criminals hiding at the station. While on duty, Officer Chen makes an alarming discovery after being called to a scene where a pungent smell has wreaked havoc. Meanwhile, Lucy and Harper scheme to get Tim out of his new job and into a more exciting position."
Fredrick Kotto wrote The Rookie Season 5 Episode 13, and Anne Renton directed it.
Tim and Lucy went public with their relationship in episode 12
When Tim and Lucy went on their first date in The Rookie Season 5 Episode 10, they weren't ready to tell their coworkers about their new romance. They were still figuring out their feelings for one another, but it didn't take them very long to realize how serious their relationship was. And by episode 12, Tim and Lucy were ready to take the next step.
The couple planned to rendezvous while Lucy's roommate Tamara was away. Sadly, their plans changed when Sergeant Grey forced Tim and Lucy to ride together. Lucy put her boyfriend through a "Lucy Lesson" — a hilarious spinoff of the infamous "Tim Tests." And he failed. Tim had to realize that he couldn't treat Lucy differently just because they were dating, but that was easier said than done.
Their failure not to be biased around one another led to them realizing that one of them had to leave Mid-Wilshire. Lucy offered to transfer, but Tim fell on his sword because he still wanted to see his girlfriend every day. So, he told Grey about his relationship with Lucy and asked to move out of her chain of command. The only available job for Tim at the station was Court Liason Sergeant — a desk job.
Tim later told Lucy he took the job, and they consummated their relationship. But we'll see how Tim really feels about his new position in The Rookie Season 5 Episode 13.
The characters scramble to find Tim a new job in 'The Rookie Season 5 Episode 13
The promo for The Rookie Season 5 Episode 13 teases how the heat wave increases crime in Los Angeles. As a result, Celina is injured while on the job.
The photos for the upcoming hour also give viewers a sneak peek at Lucy enlisting the help of her friends to find Tim a new job. So, we assume that Court Liason Sergeant isn't all it's cracked up to be.
Lucy, Nyla, James, and Angela seem to brainstorm at Nolan and Bailey's house, unbeknownst to Tim. But they scramble to hide their plans when Tim arrives.
The Rookie Season 5 Episode 13, "Daddy Cop," airs Tuesday, Jan. 24, at 8 p.m. ET on ABC.
For more on the entertainment world and exclusive interviews, subscribe to Showbiz Cheat Sheet's YouTube channel.