The Royal Family – A Definitive Guide
The royal family has fans from the United Kingdom and all around the world — here's a definitive guide to royal rules and history.
The royal family is a subject of public speculation regardless of what they do. Members of the royal family manage to make headlines every day, but while people around the world always maintain a healthy fascination with the royals, hot topics like marriages and childbirth really manage to drum up interest.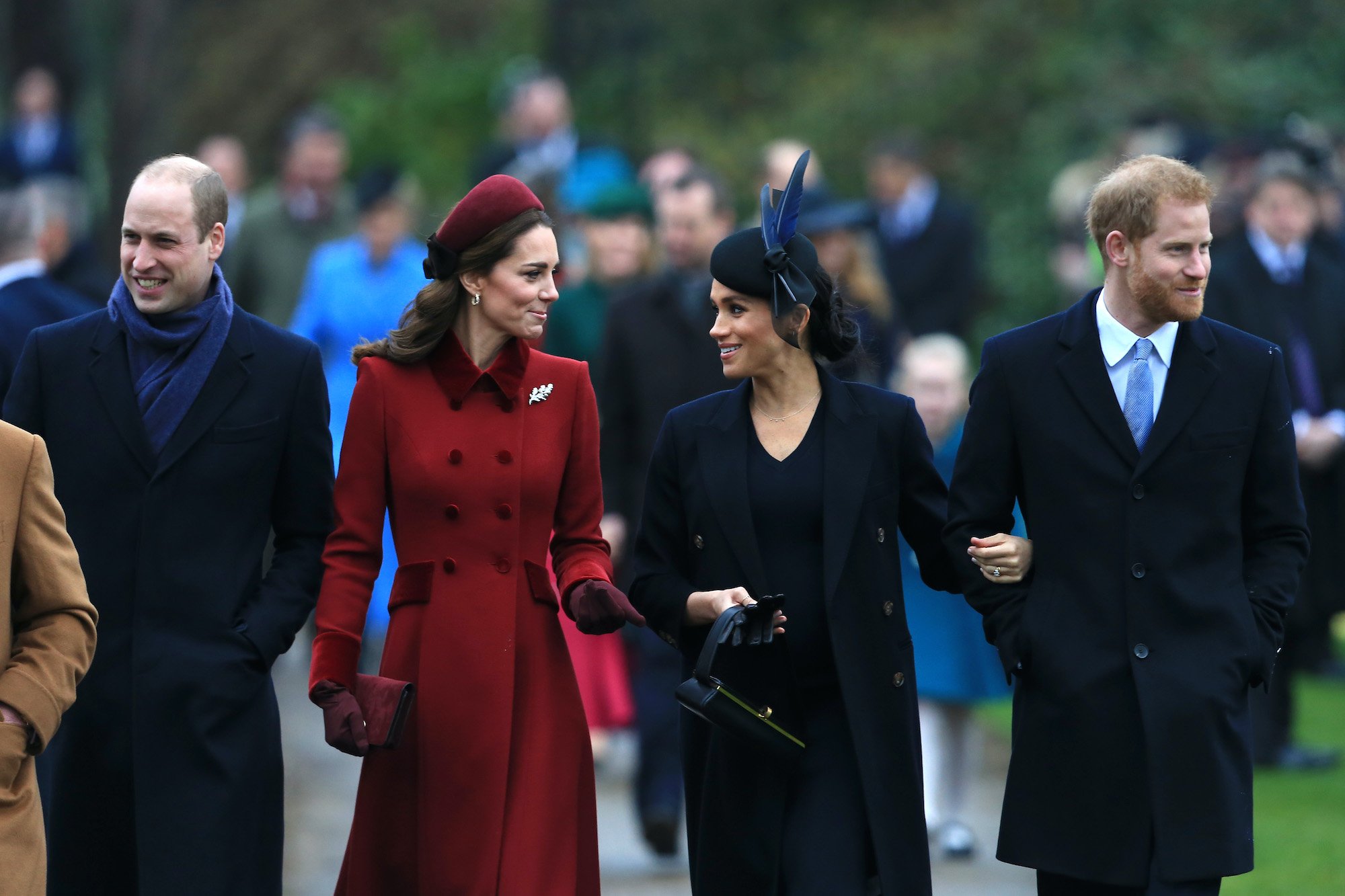 In particular, royal weddings are a source of endless fascination, and every time a member of the royal family gets married, fans scramble to learn everything that they can about the rather bizarre rules that govern marrying into the royal ranks. 
Can royal family marry anyone they want to?
Becoming a member of the royal family by marriage is something that should be taken seriously. Not only do senior, working members of the royal family have to focus most of their energy on their royal engagements, but they have to seriously consider which parts of their lives that they can share with the public. After all, the royal try to limit their royal family scandals to as few as possible.
Are royal family members allowed to have social media? Royals are not allowed to be active on social media, to be engaged in politics, or to dress in a suggestive manner when out in public.
In fact, when someone marries a member of the royal family, their life essentially revolves around the royals. When Meghan Markle, who had established a thriving career as an actress, got engaged to Prince Harry, she stepped away from her career in Hollywood, giving it all up in order to focus on life as a royal. 
Can royal family divorce?
While the conditions for becoming a royal seem steep, contrary to many myths, there's no set rule as to whom members of the royal family are allowed to marry. It is true that Queen Elizabeth must personally approve matches between certain senior royals, but she has never denied anyone who has sought her approval in the past — at least, not that anyone is aware of.
Traditionally, it has been frowned upon for members of the royal family to marry divorcées, but that is clearly not a rule that applies anymore, since Meghan Markle was divorced from her first husband by the time she started dating Prince Harry, and Queen Elizabeth had no problems with their union. One thing that has been noted as being particularly important to the queen when reviewing royal marriages is the matter of religion.
According to Popsugar, because the queen serves as Head of the Protestant Anglican Church of England, there are still rules in place to prevent a Roman Catholic royal from becoming monarch. Still, members of the royal family are allowed to marry those of the Roman Catholic faith. 
While at one point divorce was not allowed, it is now fairly accepted for royal family members to divorce.
Who will be the next royal family member to tie the knot?
Fans all around the world love watching royal weddings and revel in the spectacle. The most recent royal wedding was the marriage of Princess Beatrice, the daughter of Sarah Ferguson and Prince Andrew, to her longtime boyfriend, Edward Mapelli Mozzi. The two tied the knot in grand fashion in the summer of 2020, after being forced to delay their wedding for months due to concerns surrounding the coronavirus (COVID-19) pandemic. 
As for when the next royal wedding might take place, nothing has yet been announced. Still, rumors have swirled for years that Sarah Ferguson still carries a torch for her ex-husband and father of her two children, Prince Andrew. If those rumors prove true, the couple, who are still great friends, could eventually decide to remarry. For now, fans will have to speculate about the status of their relationship. 
The royal family has long been a subject of fascination for people all around the world. For hundreds of years, the royals have been an institution — and love them or hate them, they are an inevitable part of life for citizens of England and other parts of Europe.
These days, with various members of the royal family as high-profile as certain celebrities, more people than ever are diving deep to learn about the history of the royals. With so many various elements that make up the history and background of the royal family, it can be hard to know where to start — but in general, the timeline of the royal family can be traced back to one man. 
When did the British royal family start?
As one of the United Kingdom's oldest institutions, the royal family's heritage goes back nearly a century. While it can be hard to confirm exact dates and bloodlines, it is generally believed that the royal family began with a man named William the Conqueror, who started the monarchy as it is known today. The reign of William the Conqueror, which began in 1066, consolidated smaller British monarchies into one controlled center of power.
It would be several hundred years before the Tudors took control, effectively reigning in the countries of Wales and Ireland to join England. This started a period of history that is documented by historians and scholars and is considered to be one of the most interesting time periods for fans and pop culture aficionados.
The house of Windsor, the name so that many know so well, was adopted by the royal family in 1917 by King George V – and just a few decades later, Queen Elizabeth II assumed the throne. 
Who is the longest-reigning monarch in British history?
One of the most fascinating figures in royal family history is Queen Victoria, the great-great-grandmother of Queen Elizabeth II. Queen Victoria ruled the United Kingdom from 1837 until 1901, even before the royals were known as the Windsor family. Her reign lasted for a total of 63 years, which for many years was a record among world leaders.
These days, Queen Elizabeth II holds the title of the longest-reigning monarch in the United Kingdom. She assumed the throne in 1952 and has been the figurehead of England ever since. At the age of 95, she is showing no signs of slowing down anytime soon — but after she steps down, her son, Charles, Prince of Wales, will take the throne, and his son, Prince William, set to rule after him. 
How have the royal family's rules changed over time?
Over the years, the royal family has changed a bit, as the world has progressed. While there are many myths surrounding the royals, a few things are known for certain. In 2015, the royal rules of succession were officially changed, allowing females in the line of succession to be considered just as eligible for the throne as males before and after. This update places Princess Charlotte, Prince William's daughter, fourth in line to the throne, after her older brother, Prince George, and before her younger brother, Prince Louis. 
Additionally, the rules about whom members of the royal family are allowed to marry have been relaxed. In previous years, royals were not allowed to marry people who have been divorced, taking guidance from the Church of England. In 2002, however, the rules were relaxed – and in 2018, Prince Harry married Meghan Markle, who has been married and divorced once before.
Members of the royal family seemingly live very charmed lives. They get to attend high-society parties, hobnobbing with world leaders and celebrities, they enjoy the finest quality food and drink, and they have access to clothes from top designers.
Still, there are some definite drawbacks to being a royal, not the least being the extreme lack of privacy that senior members of the royal family must deal with. While the royals themselves rarely speak about the "rules" they have to follow with their fans, reports indicate that all senior royals have to pay attention to a strict code of conduct that extends to the clothes they wear, the food they eat, and the way that they comport themselves in public. 
Royal family members must follow certain food rules
Senior royals are exposed to many fine meals at official events and engagements. They must exercise caution, however, since they are reportedly required to skip out on any shellfish or meat cooked at a rare temperature. The reason is due to health concerns, rather than aesthetic ones — shellfish and rare meats tend to pose a higher risk of food poisoning, and royals can't risk having an upset stomach and missing out on official duties. 
Are royal family allowed to vote?
Are royal family allowed to vote? Many people might believe that the royal family is innately linked to British politics — but this would be incorrect. Rather, the queen encourages her family to remain politically neutral. It is a tradition within the royal family to avoid voting, running for political office, and even voicing political opinions.
This extends to social media as well, since most senior royal family members strictly avoid social media, and have accounts that are managed by employees within the palace. Even Meghan Markle, when she married into the royal family, had to deactivate her very active social media accounts in order to abide by this tradition. 
Royal women are required to sit a certain way
The royal family is all about image, and when members of the family step out in public, rarely a hair is out of place. Royal women are required to wear stockings, rock neutral-colored nail polish, and wear classy, appropriate clothing. They must also sit a certain way, with their knees and ankles together slanted to one side.
Royal women won't be seen with their legs crossed, one over the other, since it is seen as not appropriate or camera-friendly for official occasions. The approved manner of sitting, known as the "duchess slant," is said to be the one preferred by Queen Elizabeth. 
Bizarre rumors about the royal family that aren't actually true
Since the royal family doesn't often speak out about their long list of traditions, over time, a number of bizarre rumors have sprung up regarding certain habits of select royals. One of the most outrageous rumors held that Prince Charles requires seven boiled eggs prepared for him each morning, but that he chooses to eat only one of the seven to make sure that it is done perfectly to his liking. This rumor was debunked in 2012 by Prince Charles himself.
Another debunked rumor is regarding Queen Elizabeth's drinking habits. A long-standing report held that the queen enjoys no less than four alcoholic drinks every day. Queen Elizabeth's former personal chef Darren McGrady spoke out to correct the rumor after it started circulating, stating that while she has four favorite drink combinations, she most definitely doesn't have four cocktails each day. Some royal fans might also believe that members of the royal family aren't allowed to drink — but they are allowed to drink in public, as long as they practice proper decorum.