'The Sex Lives of College Girls': Will There be a Season 2?
HBO Max is one of the hottest streaming services around. Over the next several months, the platform is set to launch a variety of exciting new shows, programs that are sure to bring a slew of new viewers to the streaming service.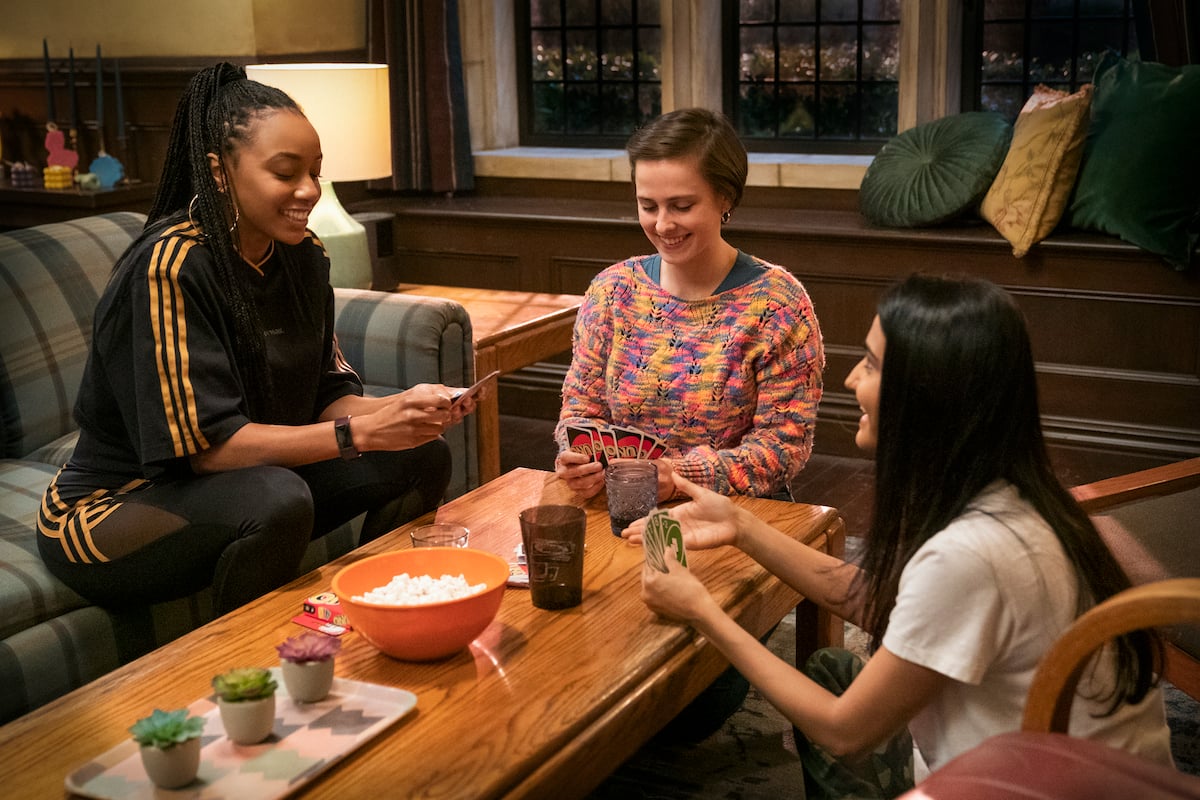 One of these hot new shows is the buzzed-about series The Sex Lives of College Girls. With fans eager to see the newest brainchild of long-time writer and comedian Mindy Kaling, many are already wondering whether there will be a second season of the comedy-drama series.
Will there be a second season of 'The Sex Lives of College Girls'?
The Sex Lives of College Girls started streaming the first two episodes on HBO Max on November 18, so many fans are just preparing to experience the comedy-drama show that has caused so much buzz over the past few weeks.
The series, which focuses on a group of four young college freshmen roommates attending Essex College in Vermont, has been praised by critics including The New York Times, for the frank way that it addresses sexual situations that are relevant to young people all over the world.
The Sex Lives of College Girls stars Pauline Chalamet, Amrit Kaur, Renee Rapp, and Alyah Chanelle Scott, with recurring appearances from fan-favorite performers like Sherri Shepherd and Nicole Sullivan.
Additionally, the series is created and executive produced by Mindy Kaling, who has a lengthy track record of not only producing hilarious shows, but creating projects that speak to the experiences of women as well.
Episodes of The Sex Lives of College Girls will drop through December, with the last two episodes of the first season set to begin streaming on December 9. The first season is slated to have a total of 10 episodes. At this time, a second season of the show hasn't been announced.
It's very possible that showrunners are planning for a second season, but are waiting to see fan reception to the full first season before making any sort of decision or announcement. 
Mindy Kaling wanted to tell a story about college age women
The first season of The Sex Lives of College Girls deals not only with the sexual experiences of the four young women featured – but with the way that their bond grows as well. It is the heart of the characters that really interests Mindy Kaling.
As she admitted in a recent interview, "I guess I'm more interested in young women and their horny exploits than I thought." Kaling went on to describe, as reported by Variety:
"One thing that a lot of my shows and projects have in common are young women who have big personalities and big ambitions … I wanted to show four young women who come in with a really strong point of view."
What are critics saying about 'The Sex Lives of College Girls'?
Critics are already praising The Sex Lives of College Girls, calling out the way that the characters are able to grow and engage with each other, even as they deal with a variety of awkward sexual situations. Variety's review notes that clearly, the genre of college stories isn't dead, and that,
"Even as it stumbles into some pitfalls, The Sex Lives of College Girls proves that there are plenty of ways for TV shows to tell college stories, especially when rooted in engagingly messy characters like these."
While it is too early to gauge major fan reactions to the show, the critics have spoken, and it is clear that The Sex Lives of College Girls is primed and ready for a takeover – and that it could very well prove to be HBO Max's next big hit.
RELATED: 'The Office': B.J. Novak Pushed Mindy Kaling to Consider Her Religion and Culture More Carefully