The Story of Demi Lovato's Childhood Pact With God Will Give You Chills
Demi Lovato is a famous pop star, from the same generation as Miley Cyrus and Selena Gomez. Similarly to Gomez and Cyrus, she rose to fame on Disney Channel and has since gone on to become a somewhat controversial figure. Lovato's struggles with drugs and alcohol have become notorious in the industry and she has been to rehab several times, attempting to kick her issues to the curb. These days, Lovato is proudly sober and isn't ashamed about sharing her journey with fans. In a recent interview with Ashley Graham, Lovato talked about her difficult early years and the astonishing pact that she made with a higher power.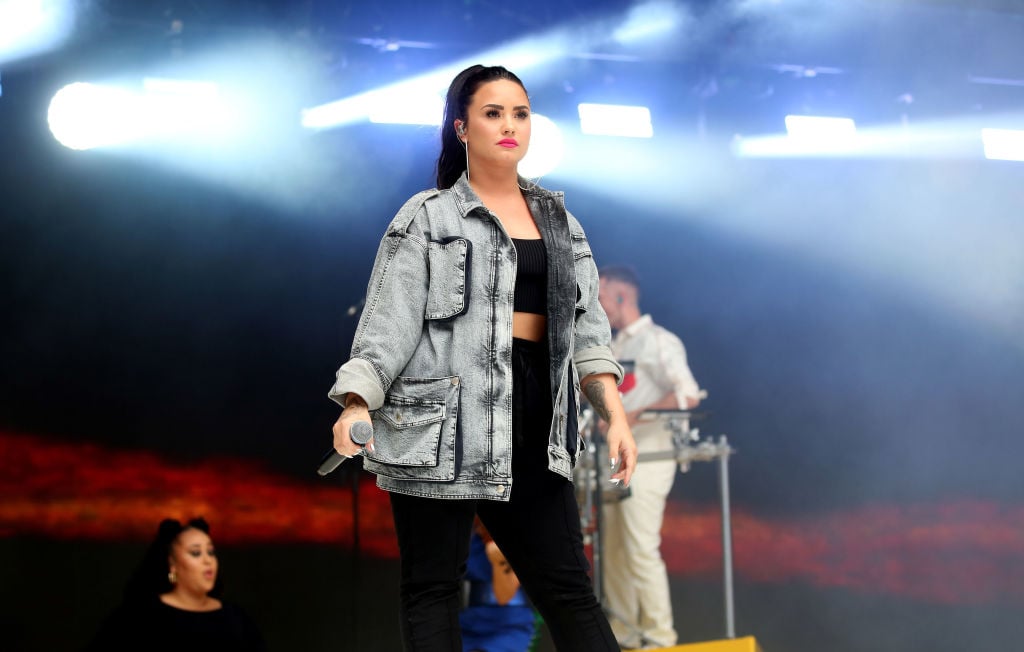 When was Demi Lovato born?
Demi Lovato was born in 1992, in Albuquerque, New Mexico. Her mother, Dianna De La Garza, was a former cheerleader for the Dallas Cowboys football team, while her father worked as an engineer and musician. Lovato's parents divorced when she was still a toddler and she was moved to Dallas, Texas, where she spent the remainder of her childhood. It was in Texas that Lovato first started to develop her talents as a musician, learning how to play the piano and guitar by the age of 10.
In addition to her prowess on instruments, Lovato was quickly becoming a skilled actress and dancer. It didn't take long for industry executives to notice young Lovato, and in 2002, at the age of only 10, she landed her first acting role – on the popular children's program Barney & Friends. Her role as Angela on the show led to other opportunities, including parts in the television shows Just Jordan and Prison Break. In spite of her growing success, Lovato was uncertain about her future. 
What was Demi Lovato's 'pact with God' about?
Recently, Lovato sat down with model and body positivity activist Ashley Graham for an episode of her podcast "Pretty Big Deal." In the episode, Lovato talked about how she landed her big break. Lovato revealed that she "made a pact with God," asking the deity to make her famous and to make her a singer and "give her Grammys and stuff."
Oddly enough, not long after Lovato made her pact, she was approached by a strange woman at a Pentecostal church convention that she attended with her aunt and uncle. As Lovato told Graham, "I'm just standing there in the back and this woman pointed to her (Lovato's aunt), said come here, and prophesied over me and the translation was, 'You're going to be a hero to thousands of people someday through art.' She just looks at me and she says, 'Are you ready?'" Following the odd encounter, Lovato started going out on more auditions. After flying back home after the auditions, Lovato found a business card in Walgreens that simply said: "are you ready?" with a Bible verse listed on the back. After Lovato found the card, she received the phone calls to let her know that she had booked the auditions she had tried out for – one of them being the television film Camp Rock, the role that would launch her career in a big way.
Demi Lovato has received critical acclaim
Demi Lovato became a big star after the release of Camp Rock, as much for her singing as for her acting. Lovato's powerhouse vocals were praised by critics and fans alike and soon, she began releasing albums. Lovato was able to seamlessly make the transition from acting to singing, and although she has had ups and downs in her career, her fans have always been there for her – in the good times as well as the bad.
There's no doubt that Demi Lovato still has a lot of good to do in the world, and a bright future still ahead of her.