'The Umbrella Academy' Showrunner Says Elliot Page Didn't Ask for Viktor's Transition
The Umbrella Academy Season 3 reintroduced one of its main characters. Showrunner Steve Blackman talks about Viktor Hargreeves's transition and his conversation with Elliot Page about what to do with his character.
[SPOILER ALERT: Spoilers regarding The Umbrella Academy Season 3 Episode 2 ahead.]
How did Viktor Hargreeves transition in 'The Umbrella Academy'?
RELATED: Is The Handler in 'The Umbrella Academy' Season 3? Kate Walsh Explains Her Small Role in the New Season
Page came out as trans masculine back in 2020. The Umbrella Academy revealed his character would also be transitioning in season 3.
The first episode of the new season had the characters focused on their new timeline. But after the shock set in, the second episode showed Viktor reflecting on his relationship with Sissy Cooper (Marin Ireland) and how they talked about letting each other out of the box they were in. He then gets a haircut and tells his siblings to call him Viktor.
All his brothers are quick to accept his transition, but he has a more profound talk with Allison (Emmy Raver-Lampman). "You couldn't have known because I didn't fully," he told her. "Being with Sissy, I don't know. She opened something in me, showed me I'd never be free hiding from who I really am. And after losing her, I realized I just can't live in that box anymore."
Viktor later said, "You know, I always hated mirrors. I thought everybody felt so strange in their skin. I guess that's not true, right?" He said now that he's transitioned, all he sees in the mirror is "Me."
Steve Blackman said Elliot Page didn't ask for his transition to be in 'The Umbrella Academy'
RELATED: 'The Umbrella Academy' Fans Change Their Tune on Luther After Watching Season 3
After Page made his big announcement, some fans questioned what this meant for the Netflix show. Blackman revealed to Entertainment Tonight what his conversations with the actor were like behind the scenes.
"I had already finished the season, the writers were gone, scripts were finished and I got a call from Elliot one day saying, 'I'm transitioning.' I was very happy for him," the showrunner explained. "To his credit, he didn't demand that I write it into the story. He said, 'Do what you want. I trust you. Write it in, don't write it in, whatever you want to do.' Elliot is very kind like that."
He continued, "Ultimately, I decided to write it in, but to be honest, I did not know a lot about what it is to be transgender and I didn't know how to tell that story." So Blackman recruited help from Page, Nick Adams, who is GLAAD Media Institute's Vice President and advocate for transgender rights, and transgender journalist Thomas Page McBee.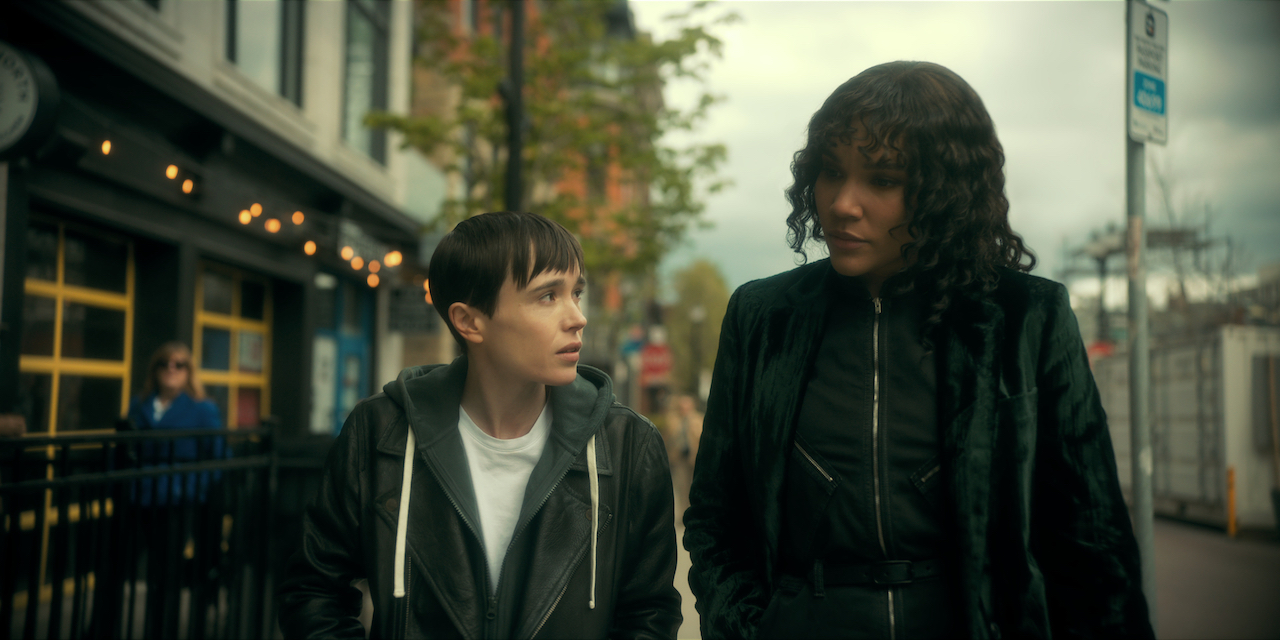 Blackman wanted a specific tone in handling the story. "I didn't want to hang a lantern on it and make it the sob story of the season," he said. "We all agreed that we want it to be something that just happened and let the family react to it. That was the hard balance to find that."
The rest of the season had the characters more focused on the end of the world as usual and their toxic family dynamic. It looks like The Umbrella Academy showrunner succeeded in having that balance for the story.
RELATED: 'The Umbrella Academy': Tom Hopper Says Luther's Finale Change Felt' Odd'