The Unofficial 'Bridgerton' Musical Already Has Amazing Songs;' Could It Get the 'Ratatouille the Musical' Treatment?
Bridgerton is a fun, dramatic Netflix original series that everyone is nearly done bingeing by now, right? It's from Shondaland and follows Daphne Bridgerton along with several others in London at the height of the season in the early 1800s as she, and other women search for husbands. It's vibrant and funny but has a bit of heart too. 
If you thought there were parts that were ripe for a good song and dance number, then you weren't alone. There's a musician named Abigail Barlow who's currently writing the unofficial Bridgerton musical on TikTok and it is fantastic. It has the praise of the showrunner, Netflix, and even the author of the books the show's based on. Could this actually get the Ratatouille The Musical treatment? [Spoiler alert: Spoilers ahead for Bridgerton Season 1].
A musician is creating a 'Bridgerton' musical and posting it all on TikTok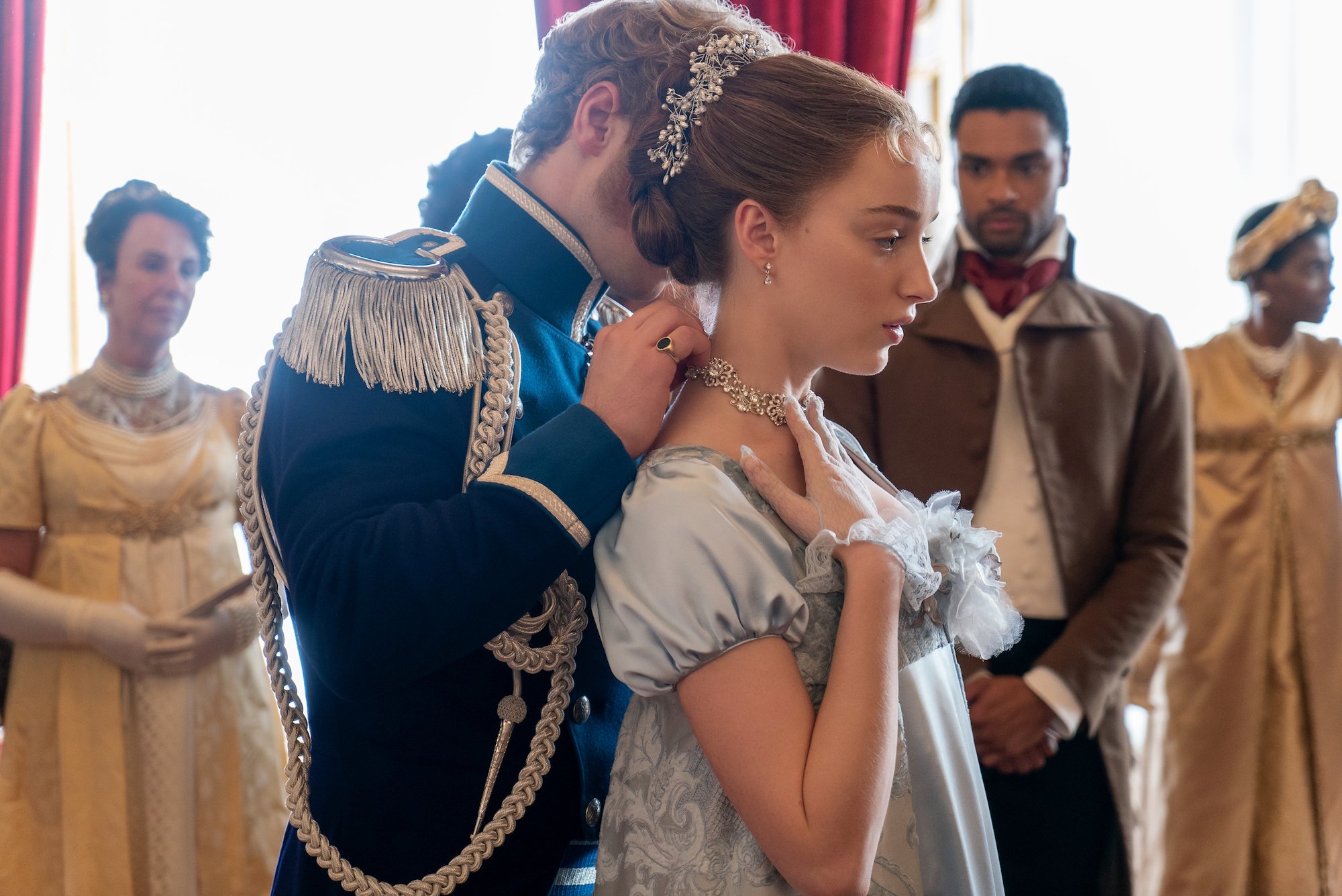 On Jan. 10, Barlow posted a video on TikTok with the caption, "Ignore the terrible ✨queens English✨ #IsThisAvailable #fyp" It was a song called "Daphne's Song" and Barlow started off the video asking the audience, "What if Bridgerton was a musical?"
The song was solemn and from Daphne's point of view at the last ball of the season. This is after her falling out with Simon, after they're married but she finds out he was lying about why he can't/won't have kids. And after she forces him to possibly get her pregnant. 
She's singing at the party and going on about how she doesn't know where they stand. How she wishes she can ask Simon if he's sorry or even what he's drinking. The song actually makes the emotions from the scene that much more dramatic and palpable and Barlow's runs? Insane. 
Since then, in about four-days time, Barlow has posted five songs total, with the help of Emily Bear her writing partner. There's a song from Eloise's point of view talking about all she'd be able to do if she were a man. And another from Penelope Featherington's character about how she'll always just be her and unfortunately she doesn't see herself worthy of a fairytale ending. Or even the boy she loves. 
'Burn For You' might be a fan favorite, and she's received a lot of praise thus far
But maybe the star song, thus far, is "Burn For You," which is from the point of view of Daphne and Simon, Barlow's first duet. It's after the two of them are married on their wedding night. It's when they're in the inn and Daphne is still under the impression that Simon only married Daphne out of duty, and that he doesn't like her. Even though she fell for him already. And the audience knows he's already gone for her. 
So the song, "Burn For You," is just as full of passion as Daphne (Phoebe Dynevor) and Simon's (Regé-Jean Page) conversation is in the show. And it's only over TikTok right now; imagine if this was on stage. 
Anyway, the lyrics are almost the same as the show's dialogue, right down to the "I burn for you," which has a gorgeous run for both Daphne and Simon's parts. Barlow first posted a video where she sang both parts, and then she posted another where she sang only Daphne's parts. This was so others could duet Simon's. And singer Nick Daly did popular version that Netflix reposted to their Twitter account. 
Showrunner Chris Van Dusen shared that video and author of the original series Julia Quinn shared the video on her Instagram story as well. It's gaining a lot of traction and popularity and the Bridgerton musical is not dying down. 
Abigail Barlow also has an update on whether this is going to be a real musical or not 
In another time or place, a viral video or unofficial music based on a popular series wouldn't necessarily mean that it would go on to become a real musical. However, after the year we all had, and the fact that Ratatouille The Musical did go on to become a musical after being a viral TikTok hit, anything is possible. 
So will Barlow's Bridgerton musical become a real production? Well, she's going to continue creating and we'll just have to wait and see. 
"First of all, I want to say thank you so much for being so invested in the Bridgerton musical. It was a fun idea I had and now it could possibly be a full-length project that I share with you guys…" Barlow said in a recent video. "You guys have given me a lot to work on and I'm so excited."
Barlow said that right now it looks like it'll be a concept album rather than a production on Zoom other more, like what happened with Ratatouille. 
"Possibly for pitch when theaters open back up. Who knows?" she continued. "I'm writing something new everyday, [so] keep checking in."
That's what great about TikTok musicals; you can have new material all the time; and it's pretty amazing music too.