'The Vampire Diaries': Candice King Reveals Her Least Favorite Caroline Forbes Scenes
Caroline Forbes had one of the best arcs on The Vampire Diaries. She started out as an insecure teenager who struggled with understanding her emotions. And as the show evolved, so did Caroline. In a recent interview, Candice King opened up about the joys of playing Caroline for eight seasons, as well as the scenes she dreaded filming the most.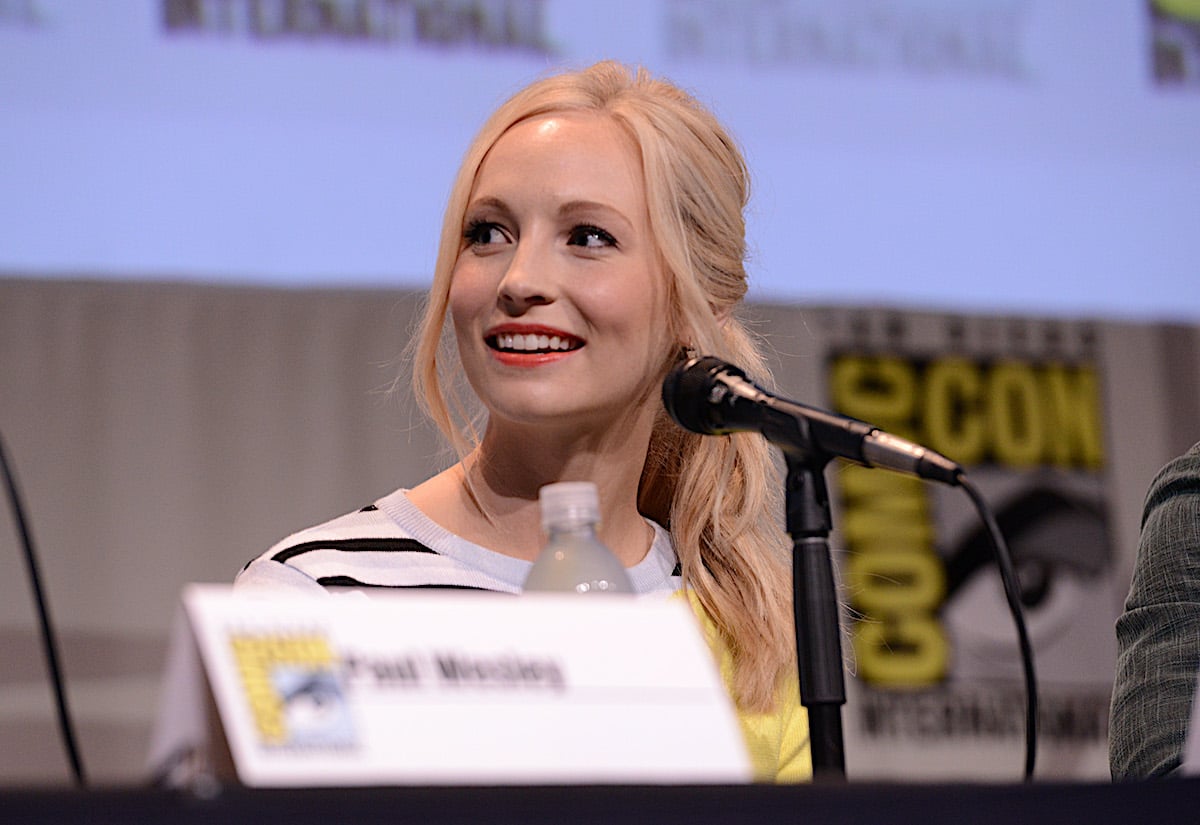 What happened to Caroline Forbes in 'Vampire Diaries'?
Caroline was an overbearing high schooler focused on perfection. She struggled with her self-worth, always comparing herself to Elena Gilbert (played by Nina Dobrev). She frequently said she felt like "a mess." Being turned into a vampire in season 2 forced her to grow and evolve, and it resulted in her becoming one of the most emotionally mature characters in the series.
While Caroline didn't choose to be a vampire (Katherine turned her against her will to send a message to Damon and Stefan Salvatore), she embraced her new reality. Throughout her arc on the show, Caroline learned to be better friend, developed a better relationship with her mother, was a pillar of support for her friends, and became a mother herself. She also had her fair share of purely bad*ss moments.
In the last season of The Vampire Diaries, Caroline and Stefan finally got married. But Stefan tragically died in the series finale just after their wedding. Caroline opened the Salvatore School for the Young and Gifted in his honor. Her daughters attend the school, along with Klaus Mikaelson's daughter, Hope Mikaelson.
Caroline liked being a vampire more than being human. She felt it gave her strength (not just physical) and helped her become the best version of herself. Being a vampire made her feel limitless instead of an "insecure, neurotic control freak."
RELATED: 'Legacies': Candice King Says She 'Absolutely' Would Return to Play Caroline Forbes
Candice King hated whenever Caroline Forbes had to cry on 'The Vampire Diaries'
Part of the reason fans loved Caroline so much was her vulnerability. That vulnerability came through in some of her most difficult moments, like when her mother died of cancer in season 6. Naturally, those scenes involved a lot of crying. And those were the scenes King dreaded the most.
The actor told Tommy DiDario in an April interview that crying on camera kept her up at night. She said:
"I really don't like crying on screen. I really don't like it. The whole thing stresses me out. I won't sleep for a week if I know I have to cry. Even to this day I just don't like it."
As she continued:
"I remember it was when Caroline was dealing with her mother's grief and Julie [Plec] was like, 'You're going to love to cry by the end of this! I'm going to help you out!' Just having to go into the vulnerable place. And not necessarily because it's emotion, it's tears vulnerability. But more importantly, for anybody, when you're out of your comfort zone and you feel imposter syndrome and you shouldn't be there. But leaning into it and being like, 'No, I'm gonna show up and I'm gonna do my best. And sometimes I might do it well, sometimes I might not. And I'm gonna have to figure it out.' And so being in that scary place out of my own comfort zone."
RELATED: 'The Originals': Joseph Morgan's Favorite Scene Was Incredibly Violent
Will Caroline be in 'Legacies'?
Getting herself out of her comfort zone and tackling the difficult crying scenes was a point of pride for King. And don't worry, appearing in Legacies is definitely within her comfort zone.
Later in the interview, King was asked if she would be willing to return to the role of Caroline in Legacies. And her response was a resounding yes. She said:
"Yes…I always just say yes. And obviously, COVID changed things and the way that things were filming, so those invitations might even be a little delayed, you know. But, uh, yes. Absolutely. Absolutely."
King previously played Caroline in season 5 of The Originals, and she appeared in Legacies Season 3 Episode 3 via voiceover. Now she just needs to get back on screen! But please, Julie Plec, don't make her cry too much.