'The Vampire Diaries': Caroline Forbes and Klaus Would Be Too 'Toxic' to Include if Show Was Remade, Creator Says
One of the most shipped The Vampire Diaries relationships was Caroline Forbes and Klaus Mikaelson. Fans loved their chemistry, and many fantasized about Caroline and Klaus ending up together when Candice Accola King appeared in The Originals Season 5. But The Vampire Diaries creator Julie Plec said Klaroline wouldn't hold up if The Vampire Diaries was remade today. In fact, she said the relationship is too "toxic" to make it through a writers' room now.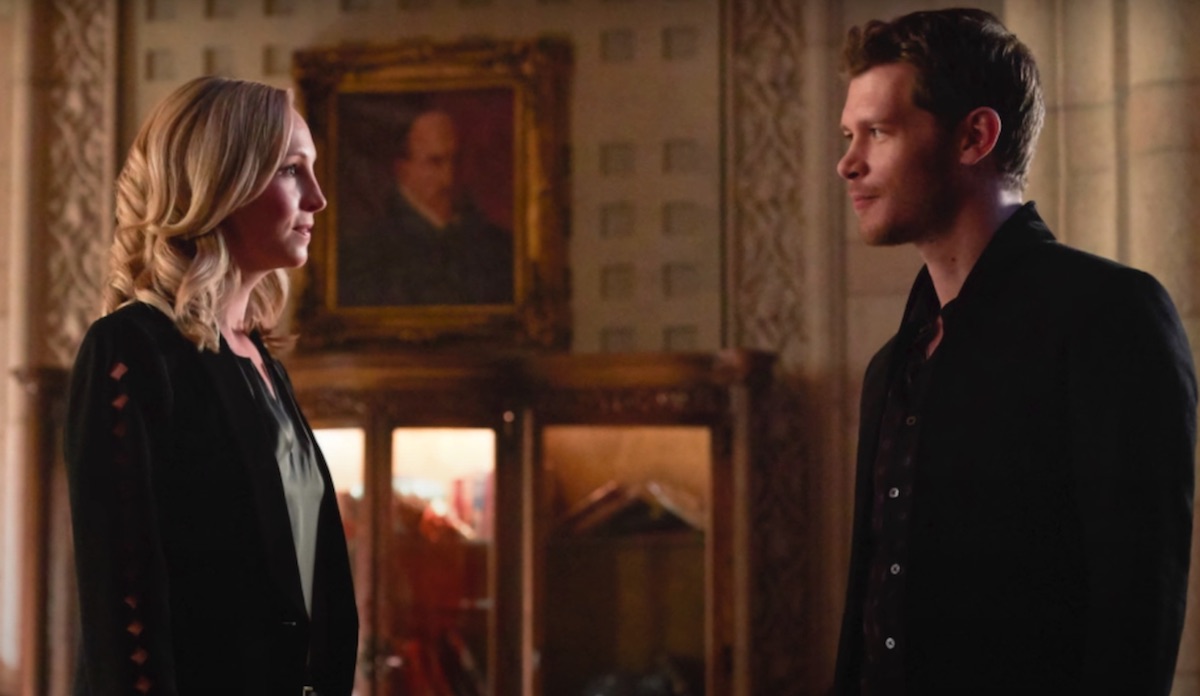 Do Klaus and Caroline ever get together in 'The Vampire Diaries'?
Caroline and Klaus have influenced all three of the Vampire Diaries shows. First, their almost-relationship brought lots of drama to The Vampire Diaries. And then, King appeared in five episodes of The Originals' final season. Now, Caroline and Alaric's daughters and Klaus' daughter are the main characters of Legacies. But Caroline and Klaus were never officially together the entire time they knew each other. They hooked up and had their share of romantic moments, but they never were an official couple.
Fans hoped Klaroline would end up together in The Originals finale. But King, Morgan, and Plec all knew that wasn't the right move. Because for all of Klaroline's good moments, there were plenty of unhealthy ones. For example, there was the time Klaus took over Tyler's body and made Caroline think it was Tyler she was making out with in the woods. There was also the fact that Klaus is hundreds of years old and Caroline was a high school teenager.
Of course, the same critique can be said of Elena Gilbert's relationships with Stefan Salvatore and Damon Salvatore, as well as Stefan and Caroline's relationship. That's a big conceipt viewers of The Vampire Diaries have to give from the jump (and Twilight viewers, and basically any story that involves supernatural beings pursuing teenagers). Sorry, but it's true! The nature of these relationships have always been gross when you really think about it.
RELATED: 'The Vampire Diaries': Candice King Felt 'Imposter Syndrome' Playing Caroline Forbes
'The Vampire Diaries' Caroline Forbes and Klaus' relationship wouldn't work now
The actors playing these supernatural beings and teenagers were much older than their characters. So at least there was that. But inappropriate dating ages aside, Klaus was straight up evil for a long time, making him and Caroline oscilate between being friends, enemies, and lovers throughout the shows. They really shouldn't have ended up together. And they didn't! Caroline married Stefan. And like Stefan at the end of The Vampire Diaries, Klaus sacrificed himself to save his family in The Originals series finale along with Elijah.
Caroline and Klaus reunited in the last season of The Originals, but they said their goodbyes at the end of her arc. It was a lovely ending for them. And a fitting way to close their chapter. King told NKD Mag The Vampire Diaries team always knew Klaroline's storyline wouldn't satisfy most fans, according to Just Jared Jr. She said:
"Julie Plec always had a very clear idea of what she wanted for Caroline and Klaus together. It wasn't exactly always in line with what the fans wanted for those characters…she wrote very important moments that she wanted for those characters, but I think she also gave a lot to the fans and what they wanted to see."
Speaking with TV Line, Morgan said King's appearance on The Originals was a solid ending for Caroline and Klaus' relationship. He said:
"I feel very happy with it. Being that this is the end of the whole thing and this is the last days of playing Klaus and the show The Originals, I'm comfortable with where that ends. There's nothing that could be done that would ever be satisfactory to everyone."
As for Plec, she reunited with Nina Dobrev and Paul Wesley on Entertainment Weekly's Binge podcast in August 2021. And she told it like it is when it comes to Klaroline.
"It's so toxic," she said. "That little romantic relationship would never get through a writers' room today because it's just unbelievably f—ed up, but boy was it good."
RELATED: 'The Vampire Diaries': Candice King Reveals Her Least Favorite Caroline Forbes Scenes
Julie Plec didn't want Caroline Forbes and Klaus to end up together
Fans are eager for a Vampire Diaries reboot (or at least a season 9). But Dobrev, Kat Graham, Ian Somerhalder, and Wesley have all said a reboot would require discrediting The Vampire Diaries ending. And to an extent, Plec agrees.
When it came time for Caroline and Klaus' reunion in The Originals, Plec went into it knowing she wouldn't make them end up together. For her, preserving Stefan and Caroline's love made more sense for the plot. She told TV Line:
"I think they could have ended up together. They could have had a moment together, or a series of long moments together. As a fan, I didn't want to dishonor Stefan by having Klaus become Caroline's one true love. I certainly love the idea that, in time, you can learn to love someone new even after you've lost someone. Caroline's got her own stuff to deal with; she's got daughters who need her and a school she's running. She's got her own life. She'll be OK. Klaus impacted her in really profound ways, but I think she's going to be OK."
Sorry, Klaroline shippers. But they were never endgame.