'The Vampire Diaries' Season 9: The Cast Weighs in on a Reboot
Will The Vampire Diaries Season 9 ever happen? Sorry, everyone. But it doesn't seem likely. The Vampire Diaries ended in March 2017. Ever since, fans have rewatched the series on Netflix. And the show being on the streaming service has only increased the fanbase. While the cast are all vocally appreciative about the continued love for the series, four of its stars have said they don't want to bring the show back. And their reasoning makes sense.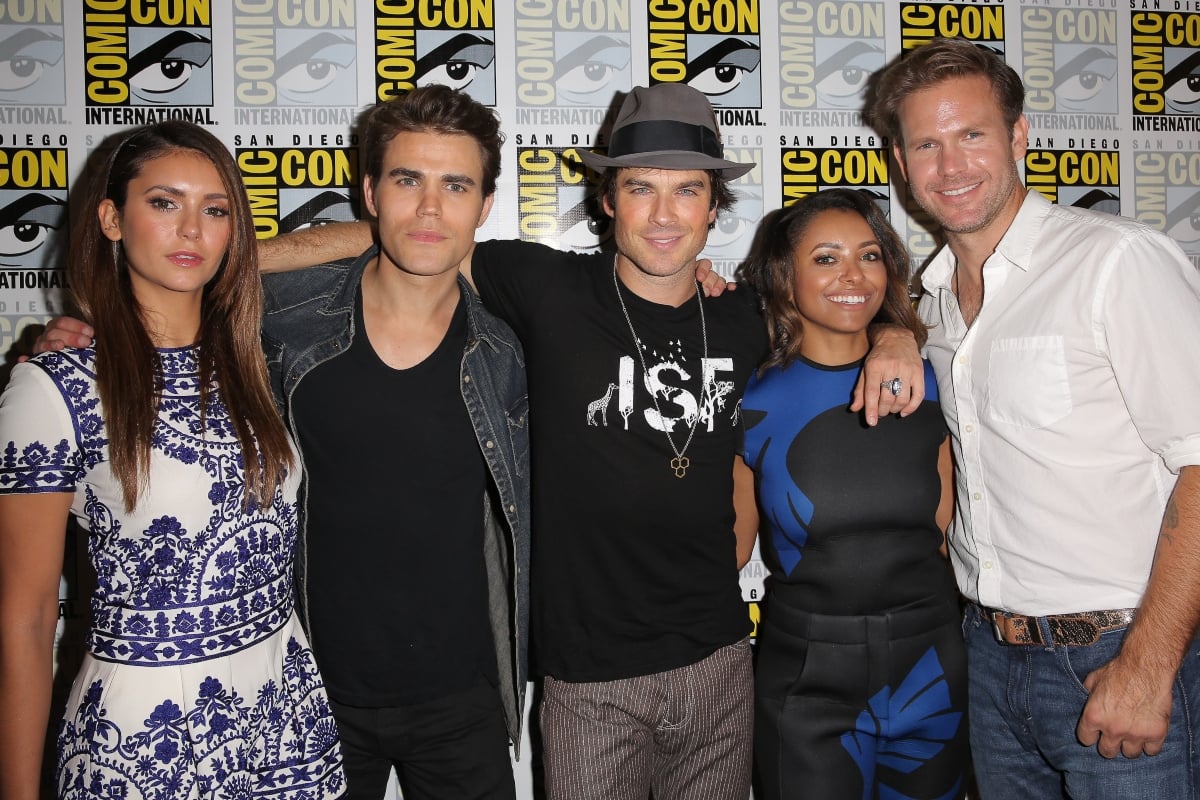 Will there be a 'Vampire Diaries' Season 9?
Reboots galore is the current theme of TV and movies. Gossip Girl is officially back, Dexter is returning, and fellow vampire show True Blood is being rebooted as well. It's only natural The Vampire Diaries' massive fanbase would want The CW hit to come back too.
The show's universe lives on in Legacies and in The Originals before that. And now, creator Julie Plec is working with Sheriff Forbes actor Marguerite Macintyre on Vampire Academy for Peacock, although it's not narratively connected to Plec's original shows. After eight long, successful seasons, the cast has moved on to other things. It seems that even if a Vampire Diaries Season 9 were to happen, the original cast — Nina Dobrev, Ian Somerhalder, Paul Wesley, and Kat Graham — wouldn't want to be involved.
RELATED: Will Damon and Elena Be in 'Legacies'? The Show Has an 'Open-Door Policy'
Kat Graham and Nina Dobrev 'aren't interested' in a reboot of 'The Vampire Diaries'
Graham said as much when speaking with TMZ in June.
"I don't think Nina and I are interested in that," she said plainly. "But I think our friendship will be forever. I think that's the dream."
Graham added that she and Dobrev feel the show's eight seasons were enough, the story is complete. But the story of their long friendship still continues, and she hopes fans find joy in that. Graham said:
"I think if they know that the stuff that they saw on screen and the friendship and the love that I have for her is real, then I think that's all people need to know. Some things end, right? Seasons end, but friendships will be forever. She's a really great person, and she's really strong. And she always really had my back on that show. And I needed a lot of support sometimes, so she really was there for me in every aspect of that. She's also incredibly strong and really had the back of me and the other women on that show."
Dobrev told Andy Cohen in 2019 she was satisfied with how the show ended, implying she thinks it's better to leave well enough alone.
"I think the show had a satisfying, awesome [ending] — for me it was great, because I got to go back and be a part of the finale, say goodbye and pay homage to the characters," she said. "So, I was really happy with it, for sure."
RELATED: Ian Somerhalder and Paul Wesley's 'Blood Brothers' Cocktail Is Inspired by Damon and Stefan Salvatore
'The Vampire Diaries' Season 9 wouldn't make narrative sense, Ian Somerhalder and Paul Wesley say
As for the Salvatore brothers, Somerhalder and Wesley think a Vampire Diaries Season 9 would ruin the show's ending. The series ended with showing Damon and Elena in the after-life after spending a long life together as humans. Elena reunited with her family at the Gilbert house, and Damon and Stefan reunited at the Salvatore house. The series ended with Damon saying, "Hello, brother," and the two sharing heartfelt hug.
Wesley told the Watch With Us podcast the show ran "too long," adding, "I think we had told all the story that needed to be told." Somerhalder agrees. He told Cohen in 2021 that he doesn't see how a season could feasibly happen.
What's more, Somerhalder and Wesley fought over who would get to die in the series finale. Wesley won, giving Stefan a hero ending and Damon the chance to live a human life with Elena. But the actors wanted the brothers to die together.
"I just felt that it was more poetic for these two brothers to go away, and then to let these humans sort of resettle back into their town," Somerhalder told Access while promoting Brother's Bond bourbon with Wesley. "But I lost that battle."
If they were fighting for their characters to die, y'all… a reboot is not going to happen. We'll always have Netflix!