'The Vampire Diaries' Star Nina Dobrev Claimed She Would Never Date a Co-Star, But Changed Her Mind After Meeting Ian Somerhalder
Nina Dobrev and Ian Somerhalder dated for more than three years while working on 'The Vampire Diaries' despite Dobrev claiming that she never wanted to date a co-star.
Many actors end up dating their co-stars, and The Vampire Diaries stars Nina Dobrev and Ian Somerhalder were not the exception. Their intense chemistry was evident onscreen and caused many fans to root for Elena and Damon's characters to get together. And the actors carried their chemistry offscreen when they began dating after The Vampire Diaries aired. But, according to Dobrev, she had a rule against dating co-stars.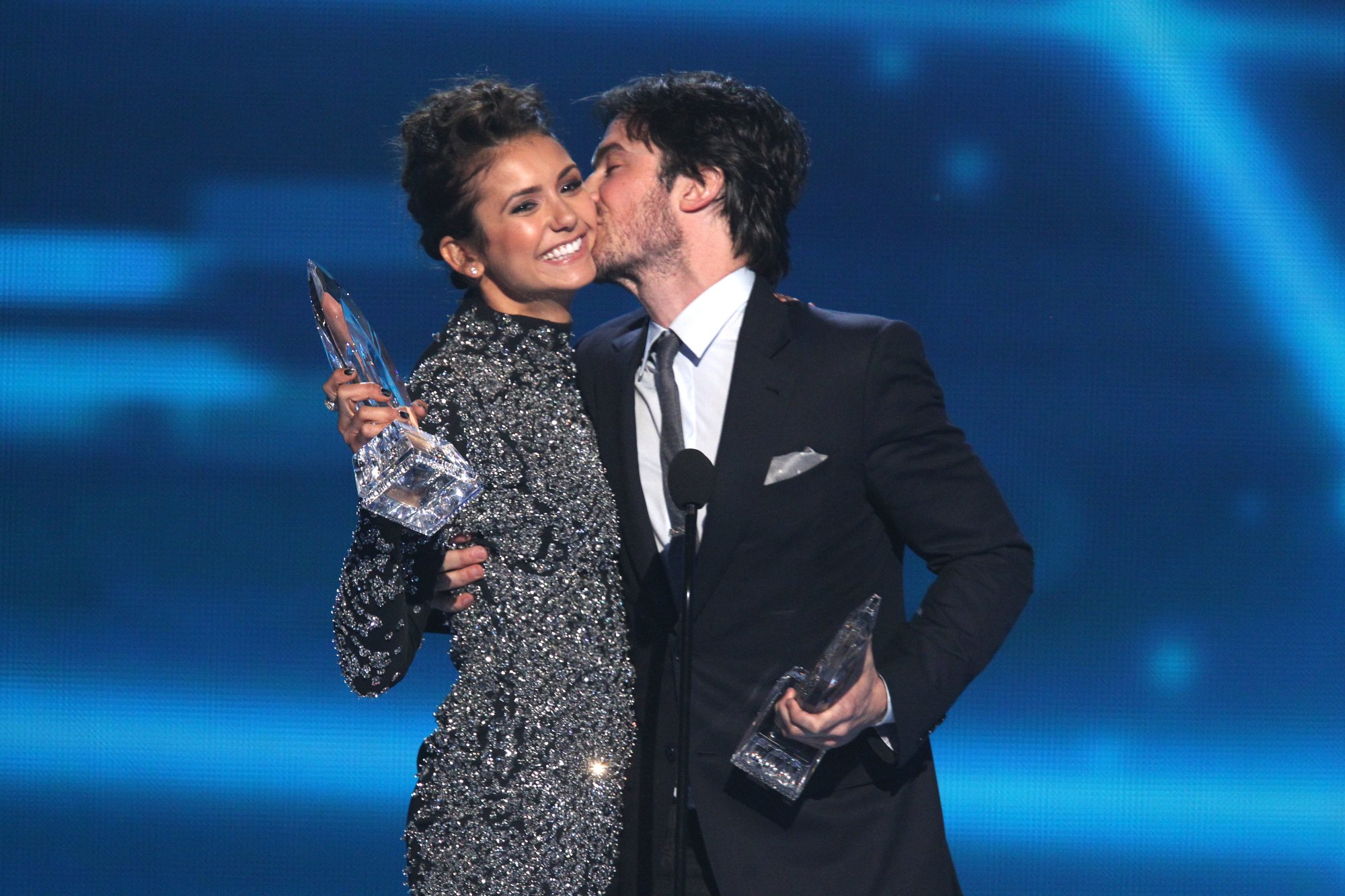 Nina Dobrev dated Ian Somerhalder while working on 'The Vampire Diaries'
The first season of The Vampire Diaries premiered in 2009, but Nina Dobrev and Ian Somerhalder didn't start dating until 2010. And they wouldn't officially announce their relationship to the public until 2011.
Dobrev played Elena Gilbert, and Somerhalder played Damon Salvatore in the CW show. At the beginning of the series, Elena and Damon share a "will they, won't they" relationship. And the fact that Elena was dating Damon's brother, Stefan, made it all the more complicated. Eventually, they gave in to their feelings for one another, and Dobrev and Somerhalder did the same in real life.
However, their relationship ended in 2013 after three years of dating. Both actors remained professional and continued to work together on The Vampire Diaries until Nina Dobrev left the show in 2015. Somerhalder and Dobrev acted together once more when she returned for the series finale in 2017.
The actor once stated that she never wanted to get romantically involved with a co-star
During an interview with Seventeen in 2012, Nina Dobrev opened up about her relationship with her The Vampire Diaries co-star.
"The first time I was on the cover of Seventeen, the cover line said 'Nina: Why she wouldn't date any of her co-stars,'" Dobrev shared. "And then cut to two years later [when she was dating Ian Somerhalder]."
She added, "It's funny that I said that, but you know what? It was honestly what I believed at the time. I didn't want to be dating one of my co-stars — my goal on the show was to be professional. But sometimes you can't help who you have a connection with, and you can only fight it for so long—which I did for a really, really long time."
Although Nina Dobrev publicly stated that she never wished to date a co-star, she couldn't deny the chemistry between her and Ian Somerhalder on the set of The Vampire Diaries.
Nina Dobrev started dating Shaun White three years after 'The Vampire Diaries' ended
Both Nina Dobrev and Ian Somerhalder have moved on from their The Vampire Diaries romance. Somerhalder married actor Nikki Reed in 2015, and the couple welcomed a daughter in 2017. As for Dobrev, she has been dating Olympian Shaun White since 2020.
White told People in Jan. 2022, "Nina's just been so supportive and so amazing through this whole process for me. Through the pandemic, she was a lifesaver — she really made that time in my life special."
All eight seasons of The Vampire Diaries are available to stream on Netflix.