'The Witcher': Are Fans Drawn to Freya Allan's Ciri?
The Witcher follows the adventures of Geralt of Rivia, played by Henry Cavill. However, Geralt isn't the only interesting character on the show. The Netflix series also chronicles the lives of Yennefer of Vengerberg and Princess Cirilla, aka Ciri, of Cintra. Anya Chalotra plays Yennefer, while Freya Allan portrays Ciri.
Freya Allan's Ciri is an intriguing character in The Witcher. As the princess of Cintra, she grows up sheltered and protected. Then, tragic events force her to go on the run. Watching her face that challenge sounds interesting. But has Ciri's storyline fascinated viewers? Find out what fans think of Freya Allan's Ciri in The Witcher.
[Warning: This article contains spoilers from The Witcher.]
Why might fans be drawn to Freya Allan's Ciri in 'The Witcher'?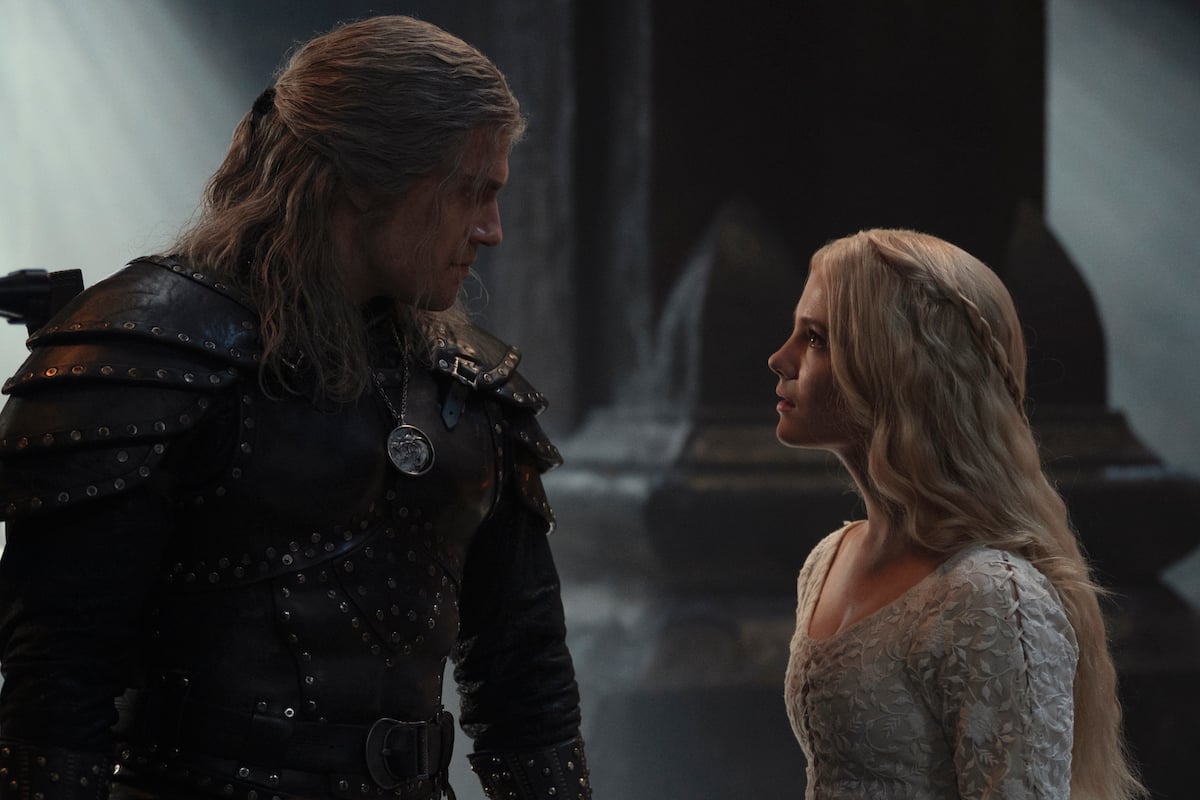 Freya Allan's Ciri is an interesting character in The Witcher. She grows up a princess whose grandmother, Queen Calanthe, protects and cares for her. But then, Nilfgaard invades and takes over her kingdom of Cintra. Before allies smuggle Ciri out of the kingdom, her grandmother tells her to "find Geralt of Rivia" because he is her destiny.
Eventually, the two find each other, but not before Ciri embarks on several adventures. After losing her family and home to Nilfgaard's invasion, she tries in vain to find replacements. First, she meets a boy named Dara; next, she crosses paths with other refugees fleeing Cintra; then, she comes upon a woman at the market in a small town. Ciri also spends time in Brokilon Forest with some dryads but ends up leaving with someone she thinks she knows.
Ciri also has powers she doesn't really understand. She is brave enough to survive everything she endures after losing her family and home. Ciri is also determined to continue searching for Geralt despite all the hardships she faces. Because of those admirable traits, she seems like the kind of character fans would enjoy.
What have viewers said about Ciri?
The Witcher viewers have had plenty of positive things to say about Ciri.
One fan wrote on Twitter, "I honestly can't wait for The Witcher season 2 because I want more Yennefer and more Geralt [and] Jaskier bickering [and] also Ciri growing up."
Another Twitter user added, "Unpopular opinion: The Witcher series would've been better if Ciri was the main character." 
Another fan said, "I'm not saying I binge-watched The Witcher, but I almost shed a tear when Ciri hugged Geralt." 
Yet another viewer wrote, "Just finished watching The Witcher, and wow! ... Can't wait … to see more of Geralt … Yennefer, Triss, Ciri."
Do fans like Freya Allan in the role of Ciri in 'The Witcher'?
Viewers have weighed in on Freya Allan's portrayal of Ciri in The Witcher.
"I don't know if there [have] ever been better casting decisions than the ones made for The Witcher," one Twitter user wrote. Listing the main characters and actors who portray them, the fan gave Freya Allan as Ciri a "10/10." 
Another viewer said, "Freya Allan as Ciri is currently insecure but the mysterious character I expected. I am looking forward to seeing more of Freya Allan as Ciri and her character arc."
One Twitter user wrote, "Anya Chalotra and Freya Allan were amazing as Yennefer and Ciri, and we couldn't have asked for a better casting." 
Another viewer said, "Finished The Witcher … Freya Allan who played Ciri was … well played."
The Witcher Seasons 1 and 2 are streaming on Netflix. Scripts are in development for season 3, but it likely won't release until 2023 or later.
RELATED: The Witcher' Season 3 Cast, Storyline, Filming Updates, and Possible New Characters