There's a Mystery Catra and Adora Fanfiction From The Creator of 'She-Ra and the Princesses of Power' and Fans Think They Found It
There are good shows and then there are great shows. The difference is how they make you feel when they're all over. With She-Ra and the Princesses of Power, it spurred fans to rave up and down Twitter after Season 5 dropped. They even demanded a movie following the series finale. That's definitely a sign of its "greatness" status amongst fans. Even the showrunner Noelle Stevenson couldn't get enough of the Netflix show, because she revealed that she wrote a fanfiction following the finale. And fans think they found it. [Spoiler alert: Spoilers ahead for She-Ra and the Princesses of Power].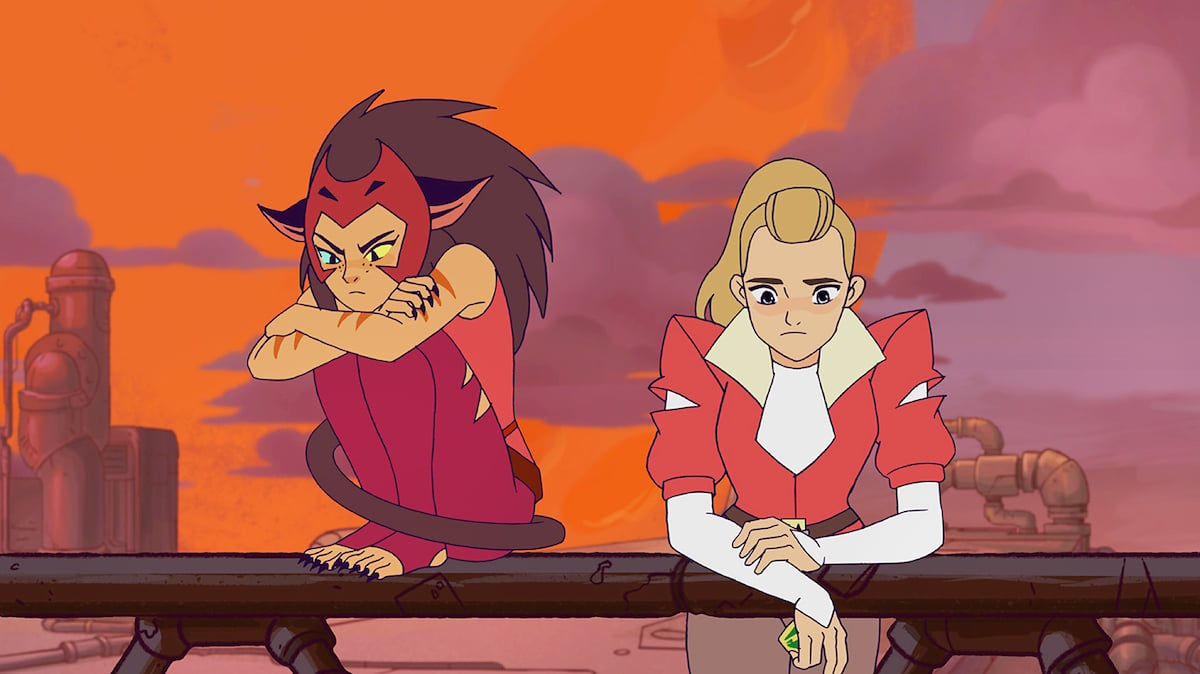 'She-Ra and the Princesses of Power' concluded its final season on May 15
She-Ra and the Princesses of Power is a Netflix original series that's also a reboot of the 1980s show, She-Ra: Princess of Power. It features Adora, a former Horde trainee, who finds a magical sword in the woods that only she can wield. With it, she turns into She-Ra, an 8-foot tall warrior who's also pure magic. 
Throughout five seasons, she and the other Princesses, along with her Best Friend Squad, fight to defeat Hordak and then Horde Prime, who both want to conquer Etheria. The show dives into the meaning of destiny: can you choose your own ending amidst what's fated? 
Along the way, Adora has to overcome her savior complex and her anxiety with failing. Not to mention her former best friend (and later love interest) Catra won't let her gain an inch, either. The first season premiered in 2018 and just released its final season (Season 5) on May 15 on Netflix. 
The showrunner for 'She-Ra and the Princesses of Power' shared that she wrote a deleted scene fanfiction
To raise money for Black Lives Matter, Stevenson and her wife Molly Ostertag, a cartoonist, hosted a Twitch live stream on June 9. According to CBR.com, their stream raised $40,000 in donations from viewers. It lasted around 4 hours and throughout, Stevenson and Ostertag drew some characters from the show and spilled a lot of tea. They also gave some behind the scenes tidbits.
One of the big bombshells Stevenson shared was the fact that she had so many feelings and scenes in her head from the final season. For time reasons and coherency, not everything could make it in the show, and so she wrote a fanfiction. 
"I had a freakout because I wanted everyone to see my fanfiction and say nice things about it but I couldn't tell anybody that I had written it," Stevenson said on the stream. She shared that she made an AO3 account specifically for this fanfiction, and shared the fact that she did this on the stream because she kind of wanted fans to find it. 
This is where the sleuthing skills of the fandom came out of the woodwork and find the fanfic they did. Or, at least they're pretty confident that they did. 
Stevenson left some good clues, saying that it's appropriate, so no need to search under the "Explicit" or "Mature" sections on AO3. She also seemed to confirm on Twitter that it was under the "Hurt/Comfort" tag on the site, according to CBR.com. 
Fans quickly found out which fanfic on AO3 seemed to fit the description
With these hints, the SPOP fandom was able to find what they all unanimously agreed was the fanfiction: "Don't Go" by Annacharlier.
The story is a one-shot and also has the tag "Missing Scene," which coincides with what Stevenson said. It occurs after Episode 5, "Save The Cat," when Adora saves Catra from Horde Prime and his mind-controlling chip. Catra is suffering from severe trauma because of the chip and also the fact that she did so many bad things when she was working with the Horde. Why would Adora want to come back for her? Or even forgive her? 
The Twitter user @catrasblueeye replied to a now-deleted tweet from Stevenson with two screenshots that also seem to confirm it's "Don't Go." One is a section from the fanfic, which focuses almost solely on Adora and Catra. The other image is allegedly art that Stevenson shared (but deleted), which seems to illustrate said scene.
Stevenson hasn't confirmed anything, and just tweeted, "gonna go back to being unknowable for a while y'all saw nothing." The fanfiction was posted on AO3 on May 20, and the art was posted on May 23, according to another user.
The pieces all seem to align for this, and it is really well written, as if by a professional (which Stevenson, of course, is). Som if Stevenson's fanfic isn't Annacharlier's story, well then someone else has the most popular She-Ra fanfic on AO3 with hundreds of comments. Kudos to them.