This Is How Stevie Nicks Really Feels About That Viral 'Dreams' TikTok
Fleetwood Mac's "Dreams" is an eternal vibe, but it's been given new life thanks to one TikTok user's viral video.
Posted to the app on Sept. 25, TikTok user Nathan Apodaca (@420doggface208) is seen riding a longboard down a winding road while drinking Ocean Spray cranberry juice and lip-syncing along to the Fleetwood Mac hit. At the time of publication of this article, the video had 11 million likes.
Its popularity not only changed Apodaca's life (he's now verified on TikTok and Instagram, has $10k in donations from fans, Ocean Spray got him a truck, and he's booking commercials left and right), but it's also helped "Dreams" resurface on the charts. The power that video has! And now, living legend Stevie Nicks has shared how she feels about it.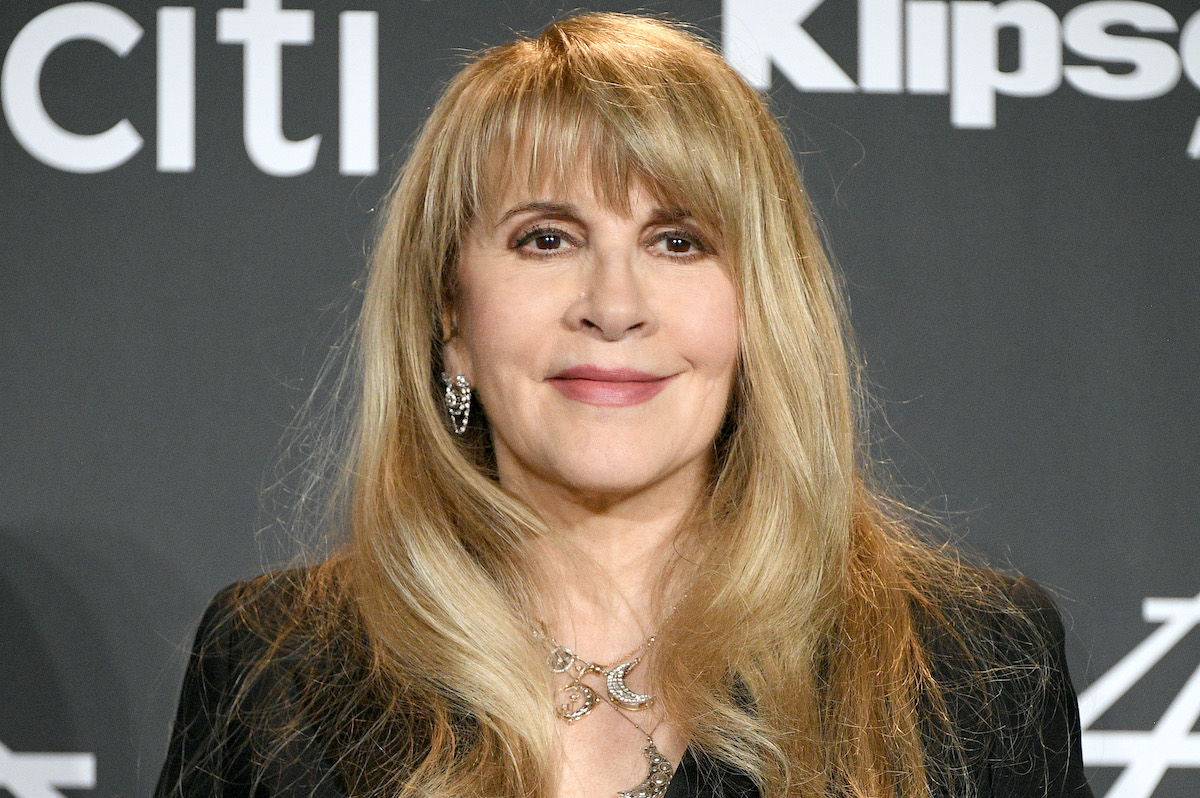 Stevie Nicks says the viral 'Dreams' TikTok is mind-blowing
In an interview with CBS Sunday Morning, the Grammy winner said, "This TikTok thing has kind of blown my mind."
"I'm happy about it because it seems to have made so many people happy," she added. Indeed, countless TikTok users have recreated the video since it went viral, including Nicks' Fleetwood Mac bandmate, Mick Fleetwood. Other celebrities such as Jimmy Fallon and Shakira have also created their own rendition of the absolute mood of a video.
And of course, Nicks had to get in on the trend herself. On Oct. 15, the 72-year-old posted a video of herself putting on roller skates while singing her hit song, and she gave Apodaca a shout out in the caption.
"Afternoon vibe," she said. "Lace 'em up! #Dreams #FleetwoodMac #CranberryDreams #420DogFace208."
RELATED: Mick Fleetwood Credits His Dyslexia With the Drumming Pattern in One of Fleetwood Mac's Greatist Hits
TikTok user 420doggface208's 'Dreams' video put Fleetwood Mac back on the charts
And it's not just popular on social media. According to Billboard, "Dreams" "tripled in sales" and "doubled in streams" from Sept. 25, when the video was posted, to Sept. 27.
On Oct. 21, Billboard also reported that Nicks was No. 1 on the Billboard Hot 100 Songwriters chart because of the 1977 hit's resurgence. Nicks wrote the song by herself, which was the second single from Fleetwood Mac's seminal Rumours album. As of Oct. 26, "Dreams" is No. 1 on the Rock Streaming Songs chart and Rumours is No. 2 on the Top Rock Albums chart.
RELATED: Stevie Nicks Says She Would Have Had to Quit Fleetwood Mac If This Happened
Fleetwood Mac's 'Dreams' has gone viral on social media before
Clearly, "Dreams" has staying power. Billboard noted the song hasn't really left the charts since its release 43 years ago. And this TikTok isn't even the first time "Dreams" resurfaced because of a viral video.
On March 22, 2018, a tweet arguing how danceable Fleetwood Mac's music is went viral.
"'Fleetwood Mac's music is so boring, you can't even dance to it,'" the video was captioned. "Me, an intellectual."
The tweet sent "Dreams" to No. 14 on the Top 100 Hot Rock Songs chart and sent Rumours from No. 21 to No. 13 on Billboard's Top Rock Albums chart. It also caused a spike in Fleetwood Mac sales and downloads.
This just goes to show that some songs really are timeless.