'Tick, Tick… BOOM!': 'RENT' Easter Eggs Lin-Manuel Miranda Added Into Jonathan Larson Movie Musical
Is Tick, Tick… BOOM! about RENT? No, but we get why you'd think that. The upcoming movie musical is based on Jonathan Larson's autobiographical musical of the same name. Larson started it before he created RENT. But it was completed and staged after his death in 1996. Lin-Manuel Miranda directed Tick, Tick… BOOM! for Netflix, and Andrew Garfield plays Larson. To honor Larson's legacy, Miranda added some fun RENT Easter eggs into the movie musical's plot. Here's all of the RENT references in Tick, Tick… BOOM! we've caught so far.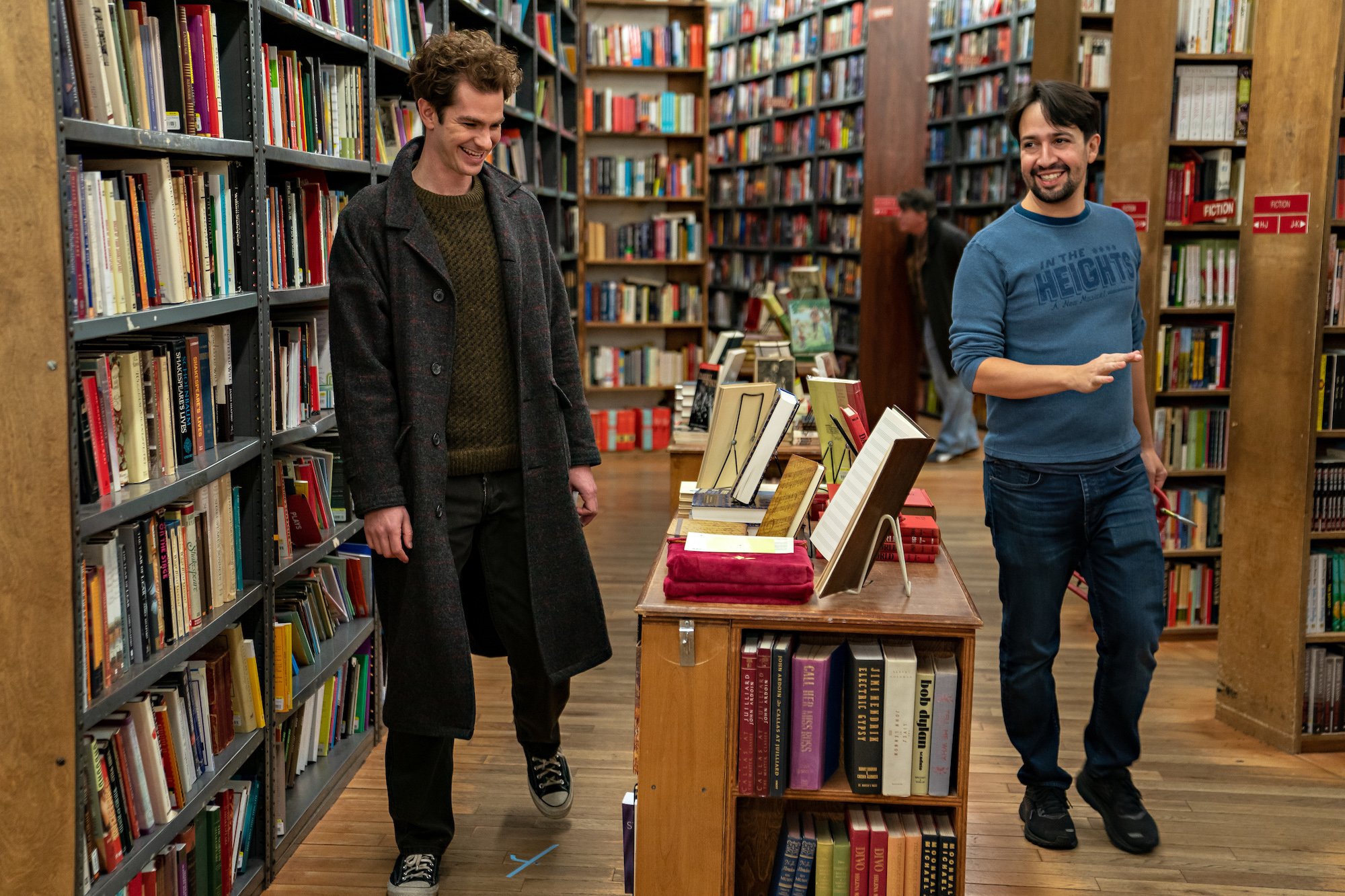 What is the musical 'Tick, Tick… BOOM!' about?
Tick, Tick… BOOM! the musical is about Larson's life as a struggling artist in New York City during the AIDS epidemic. It details his own personal struggles as he tries to figure out what he's meant to do with this life. The Tick, Tick… BOOM! characters are Jon, Susan, and Michael. Jon is Larson, Susan is his girlfriend, and Michael is Larson's best friend. Each of them represents the different decisions artists can make for their lives. Michael quits the arts for a more financially stable but boring career he regrets. Susan wants to move out of NYC and start a family. Jon can't figure out what he should do. And on top of it all, he's about to turn 30. Existential life crisis? Check.
Larson was working on this musical before RENT. It was previously called Boho Days. He also spent eight years creating a rock musical called Superbia, adapted from George Orwell's 1984. His efforts to stage the futuristic musical are depicted in the upcoming movie. Superbia never got a full production, but it did get Larson some notoriety. RENT was the first Larson show to open on Broadway, but he died the morning of the Off-Broadway production's first night of previews on Jan. 25, 1996. He was 35 years old.
Tick, Tick… BOOM! will be a little different from the original musical, which was finished and staged Off-Broadway in 2001. Miranda, Leslie Odom Jr., and Karen Olivo starred in the second production of it in 2014. Miranda's Fosse/Verdon collaborator, Steven Levenson, wrote the script for the film.
'RENT' references in 'Tick, Tick… BOOM!'
Levenson told Playbill the movie musical is a "hybrid between this musical and this real story of this guy, Jon, who's making a musical about how he's struggling to find his voice, and trying to be an artist."
"It's a little bit more about the person of Jon, and his life — what it was when it started," he said.
Expanding Larson's musical biography into a movie musical biography is fitting. And it allowed for Miranda and Levenson to incorporate Easter eggs to Larson's later work. For starters, Joshua Henry's character in Tick, Tick… BOOM! is an actor named Roger. He's one of the actors cast in Larson's workshop. Roger is the name of one of the main characters in RENT, played by Adam Pascal in the original Broadway cast and movie.
Miranda also cast actors who have been past productions of RENT. POSE star MJ Rodriguez plays one of Larson's co-workers at a diner in Tick, Tick… BOOM! Before becoming the Emmy-nominee she is today, Rodriguez was known for playing Angel in RENT in the 2011 Off-Broadway revival. Her decision to play Angel as a trans woman instead of a drag queen was lauded. De Jésus, seen in Ryan Murphy's The Boys in the Band, plays Michael in Miranda's movie. De Jésus was also in RENT during its original Broadway run, which closed in 2008. He was a replacement for multiple roles and an understudy for Angel. He was also in the original Broadway cast of In The Heights.
Another way they honored Larson was by making Stephen Sondheim a character played by Bradley Whitford. Sondheim was one of Larson's biggest influences, and he encouraged Larson and gave him some musical advice following Superbia.
'Tick, Tick… BOOM!' release date
Tick, Tick… BOOM! is one of the many Broadway movie musicals coming out this year and Miranda's second. The film adaptation of his first Broadway show, In The Heights, came out in June 2021. The filmed performance of Hamilton also debuted on Disney+ in 2020.
Between these projects and Fosse/Verdon, Miranda has been involved with a lot of the mainstream musical content of the last several years, but Tick, Tick… BOOM! is his feature film directorial debut.
Tick, Tick… BOOM! will get a theatrical and streaming release. It hits select theaters Nov. 10 and comes out on Netflix on Nov. 19.