'Today': Watch Giada De Laurentiis' Bengal Cat Make an Encore Appearance With the Chef on the Morning Show
The hosts on Today are always happy to see celebrity chef Giada De Laurentiis when the Food Network star stops by for a Today Food segment. But of late, they anticipate a visit by her Bengal cat Luna even more.
De Laurentiis' cat, who looks larger than life on camera with her distinct markings and regal bearing, seemed very much at home in the chef's home kitchen during her most recent appearance on the morning show.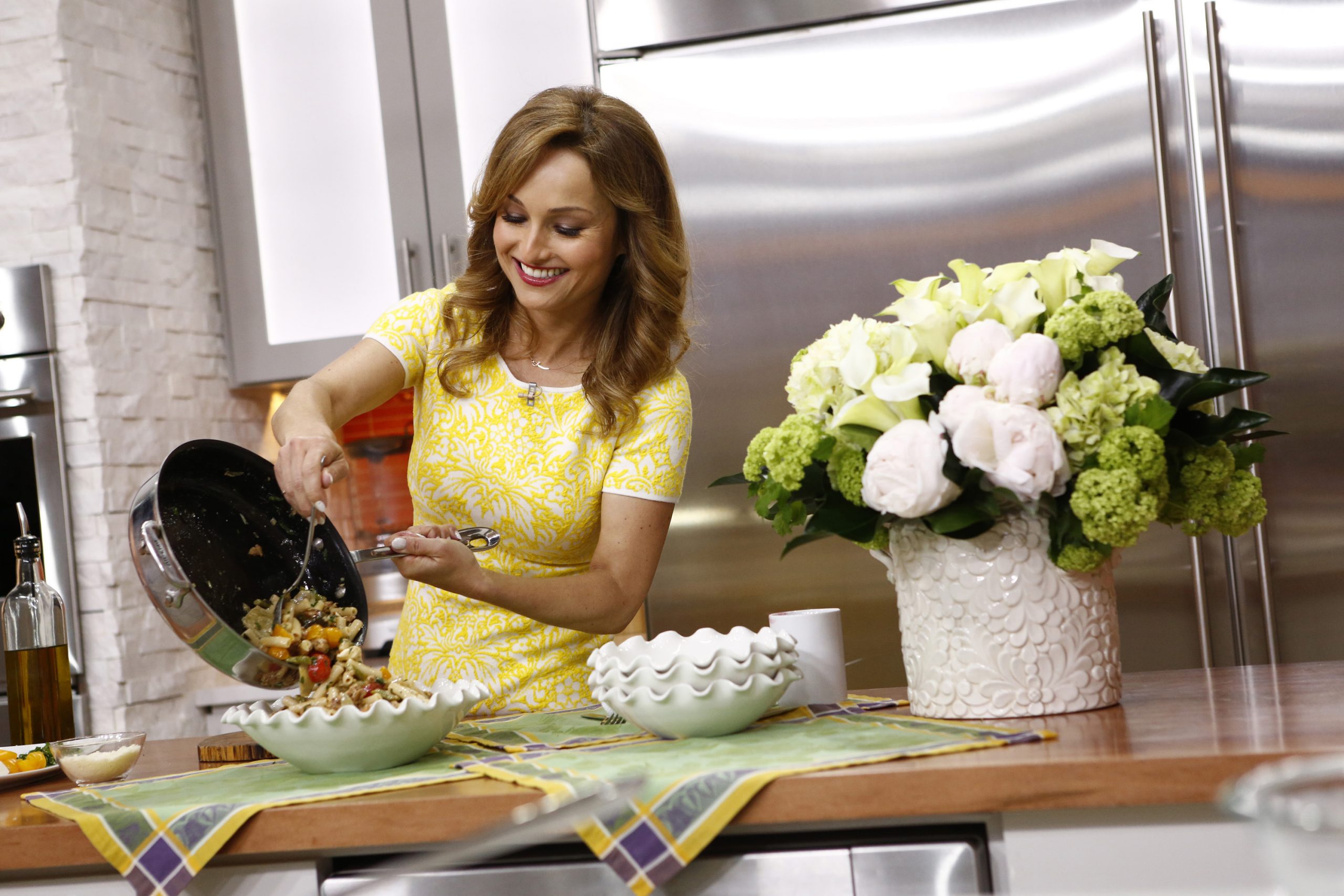 This wasn't the first time De Laurentiis' cat pounced on the chef's counter while she cooked
Since the start of the coronavirus (covid-19) pandemic, De Laurentiis' appearances on Today have been live from the kitchen in her Los Angeles home.
While preparing a Red, White, & Blue Salad in 2020 for the Independence Day holiday, the chef's cat somersaulted onto her working counter. Today anchors Savannah Guthrie, Craig Melvin, and Carson Daly, who were watching remotely from the show's studios, were shocked by the abrupt invasion of fur amidst De Laurentiis' food.
"Oh my gosh!," Daly said, when Luna hopped on the counter, adding, "And just a little dripping of cat hair on that salad!"
De Laurentiis, laughing, assured him that her cat did not shed. "She's a short-haired cat, there's no cat hair!"
Her most recent appearance on 'Today'
On her remote visit this week (video here), De Laurentiis was demonstrating her take on Tabbouleh. The Rome-born chef's version uses millet grain instead of bulgur wheat and includes cucumbers, strawberries, and fresh mint.
Naturally, with all that food around, Luna was bound to show up. And she did, almost as soon as the chef began explaining the dish.
"Whoa! Wow, that's a giant cat!," co-host Al Roker said.
De Laurentiis at this point, seems to have surrendered to her cat's will. "Al, I don't know, every time you're in this, she comes in!," she said.
De Laurentiis running an 'exotic animal park'?
Luna also showed up earlier this year in March as De Laurentiis promoted her just-hit-the-shelves cookbook, Eat Better, Feel Better, and showed viewers how to make Paccheri With Mushrooms and Pistachios.
Just as they thought it was safe, anchors Hoda Kotb, Roker, Guthrie, Melvin, and Daly were once again startled by Luna's arrival.
"Giada, you're a world-renowned chef, but I guess you're also running some sort of exotic animal park," Daly said.
De Laurentiis replied laughing, "Yes, I'm the new Ms. Tiger King, I guess." Explaining her cat's behavior, she said, "The minute she smells food, because I'm cooking some mushrooms and I've got some fresh pasta here, she's all over the place. I try to keep her off the counter and I know it makes people very uncomfortable."
The mother of one revealed that filming from her home has not been as easy as it looks. "Unfortunately, when you're shooting from home, it's difficult to do a show, to cook, and to keep your animals all off," she said.
Almost on cue, as De Laurentiis discussed the challenges of cooking at home, Luna could be seen roaming on the counter.
RELATED: Giada De Laurentiis' 1st Client as a New Chef Was This Oscar-Winning Director: 'He Needed a Chef For a Year'