Tom Holland Hopes Fans 'Disconnect from the Spider-Man World' To Enjoy His New Film 'The Devil All The Time'
One of the newest movies to come to Netflix is The Devil All The Time, which has such a star-studded cast. From Bill Skarsgard to Robert Pattinson and more, viewers are bound to see someone they're a fan of. Tom Holland also plays an integral part in the film as Arvin, who Antonio Campos, the director, calls the "moral center" of the whole story. And it is a vast departure from roles Holland has played before. And that was the appeal for the actor.
Tom Holland was excited to take on this role and dive into this new accent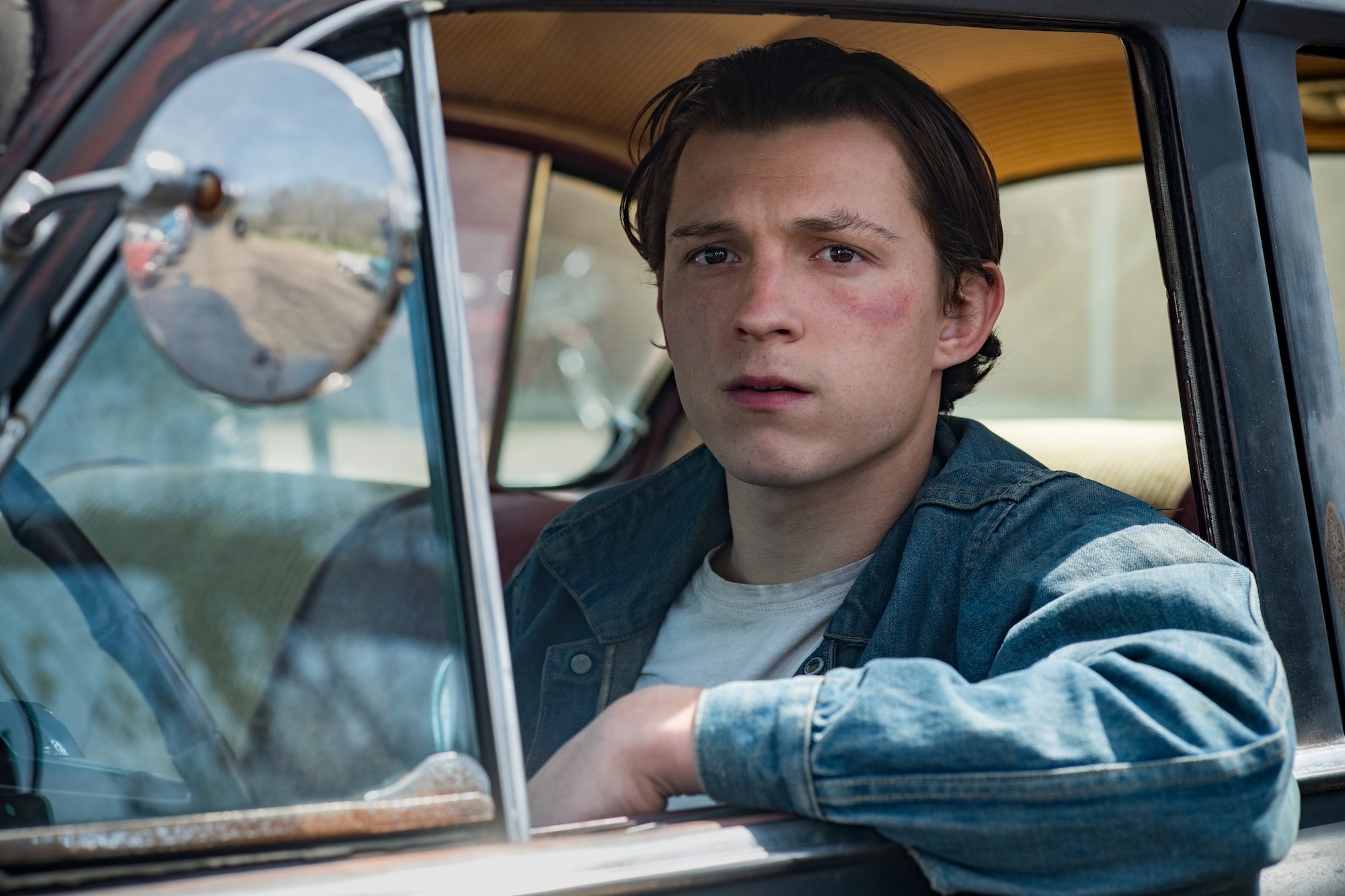 Holland's been in the industry for years now, but made a major name for himself by playing the famous superhero Spider-Man in the Marvel Cinematic Universe. His version of Peter Parker has been praised as one of the best live-action portrayals of the beloved comic book character. And for good reason; Holland really captures that young Parker outlook.
But even just down to the voice, which is already different from Holland's natural British accent, The Devil All The Time was a new challenge for him. 
"It's exciting for me to be able to play this character who talked to the lower register, who's slower, who talks and maybe a more menacing voice," Holland said in a video for Netflix Film Club. "With a film like this, the most important first step is getting the accent right. If you don't get the accent right, then you may as well not do it."
In this "Gothic thriller," Holland plays a character who grew up in the south, and the movie ranges from the '40s to the '60s. His character Arvin went through a lot before he was even a teenager. So by the time he's Holland's age in the film, Arvin is jaded and very angry. 
Even more so, 'The Devil All The Time' was a way for Holland to 'disconnect' from Peter Parker
As Holland explained, audiences are most likely to know him for Peter Parker. Along with that, they probably associate him with Peter's innocent demeanor and light way of talking. So in addition to the new accent, this role's new persona attracted Holland. 
"What really attracted me to this role was just the fact that I would be pushing myself in ways I haven't," Holland said. He noted that it was a "fun process" knowing who viewers associate him with. 
"I wanted to bring what was on the page alive. For me, that meant sort of like finding things in me I didn't know I had. Alvin's a very aggressive person, a very angry person, while also being a very caring, loving and calm person," Holland said. "So it's been a real sort of crazy ride for me to try and balance this attitude that he has towards life." 
And, of course, the idea of audiences seeing this new side drew him to the role as well. 
"For me, it's been really exciting to sort of dove into something new and fresh and hopefully audiences disconnect from the Spider-Man world and dove into Antonio's world. That is Devil All The Time."
Director Antonio Campos cast Holland and Robert Pattinson 'against type'
In an interview with Variety, Campos was asked about Holland and Pattinson being cast "against type," referring to what they're most known for. For the director, he didn't typecast them in his head and could put them in these dark roles, which he did. 
"When I first met Tom he had just been cast as Spider-Man, but I hadn't seen him as Spider-Man. I'd seen his work on The Impossible," Campos said. "But in talking with him,  I felt he had a wonderful energy and was such a clever, soulful person. He had the right spunk to him."
Pattinson's a bit different, even though he also skyrocketed to stardom due to a popular role in a franchise. In the last several years since The Twilight Saga ended, Pattinson has taken on weird or obscure roles in independent films or odd features. So The Devil All The Time wasn't necessarily a true departure from what he's been doing, although the disturbing nature of this role as Reverend Preston Teagardin is a bit new.
"Rob was the first person I gave the script to and he came back and was desperate to play Rev. Teagardin." Campos shared. "I was shocked, but he had this sense that the character was complicated and he wanted to be the villain in a movie."
After watching the movie, viewers definitely won't just know Holland as Spider-Man anymore.