'Top Chef': Padma Lakshmi Hopes the Bravo Hit Sweeps at the Emmys – 'Maybe This Is Our Year!'
Top Chef host Padma Lakshmi is thrilled at the number of Emmy nominations her Bravo reality cooking show has received.
The two-time Emmy Award-winning program is ready to take home more awards this year and Lakshmi is their top cheerleader.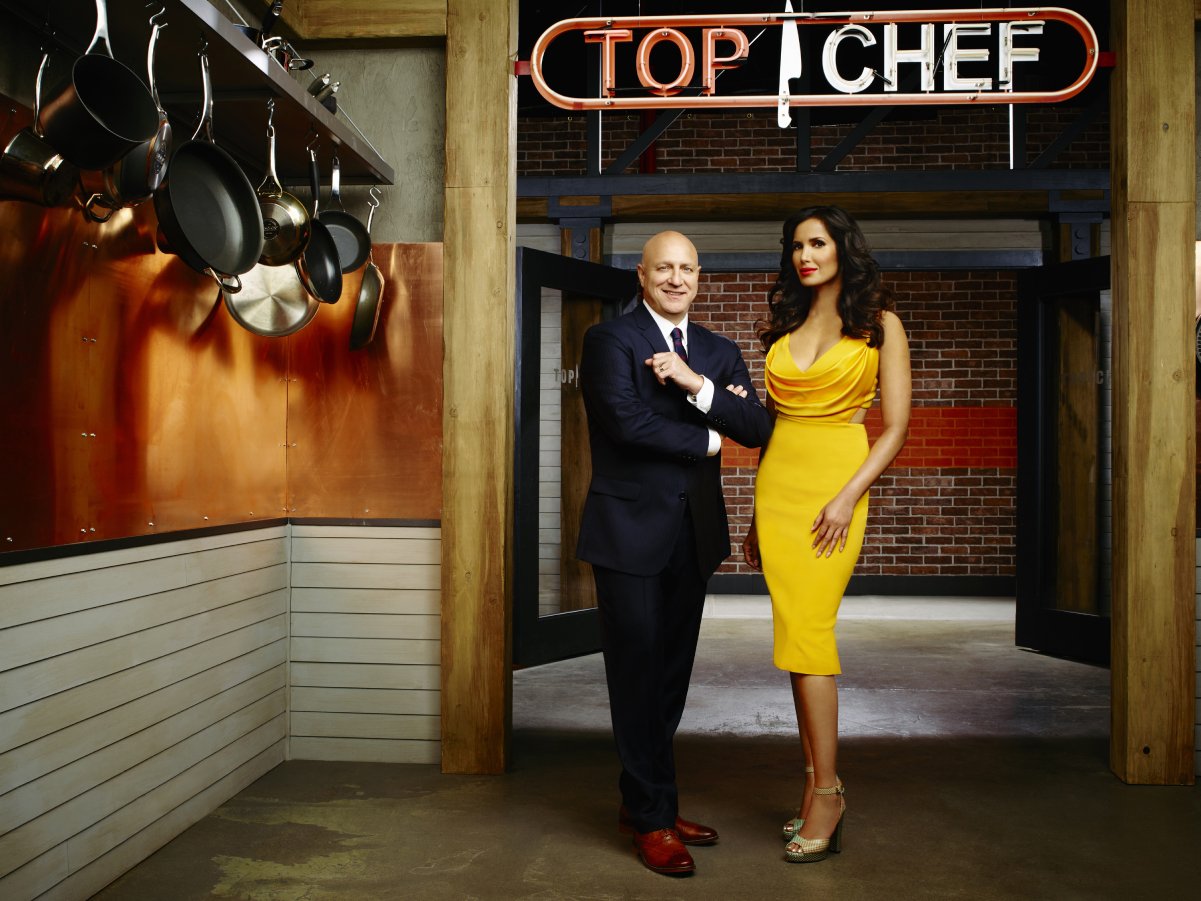 'Top Chef' Season 17 was in Los Angeles
The new season of Top Chef was an all-stars season and premiered in March 2020. It featured fifteen contestants from past seasons who had never won the grand prize. The 17th season was their chance to avenge their losses.
"It's All-Stars, which is really exciting," the competition's show host told Savannah Guthrie in March 2020 on Today. "You're going to know all of the contestants. We have ten finalists and five front-runners, so they've all at least have made it to the last part of [the show]."
This season was filmed in Los Angeles.
"So we have a lot going on," Lakshmi continued, "we shoot at Griffith Observatory, the Disney Concert Hall, we are at the L.A. Coliseum with all these Olympians, we have Randall Park . . . Kelly Clarkson, I mean, it's chock full of [guests]."
Melissa King, winner of 'Top Chef' Season 17
The contestant crowned "Top Chef" for the 17th season was Melissa King. Named one of the Best Female Chefs in San Francisco, King was praised by Lakshmi on her Instagram account for her big win.
"Melissa," Lakshmi wrote, "you really came into your own this season. It's been such a pleasure to watch you blossom into a confident, on point and innovative chef. You showed us how Chinese food can be elevated and Chinese flavors enhance all food. Your finale dishes were stunning. You made me so proud! Brava @chefmelissaking! @bravotopchef#topchef"
Lakshmi's hoping 'Top Chef' takes home all those Emmy Awards
Naturally, the mother of one and television personality is delighted that the show that has given her such visibility, and for which she's played a large role in its success, has been recognized for its work.
For 2020, it's been nominated for Emmy Awards in the categories of: Outstanding Competition Program, Outstanding Directing for a Reality Program, Outstanding Picture Editing for a Structured Reality or Competition Program, and Outstanding Host for a Reality or Competition Program.
"We were nominated for FOUR Emmys for @bravotopchef! AND I was nominated for hosting!!⁣," Lakshmi gushed in her post.
⁣⁣
⁣"It was an emotional season for everyone," she admitted. "The camaraderie among the contestants this year was really beautiful to see, and I can't tell you how thrilled I was that @chefmelissaking won."
The model and author once again acknowledged Chef King's extraordinary artistry, which Lakshmi noted even made an Italian butcher weep. She expressed the hope that perhaps this year was Top Chef's year to sweep every category it's nominated for.⁣⁣⁣⁣
"Every year we strive to be better than the last," she said. "Thanks again to the @televisionacad. Who knows? Maybe this is our year!"