'Top Gun: Maverick' Honors Director Tony Scott After His Tragic Death
Many '80s movies made an impact on the national consciousness. But few have become as enduring and popular as Top Gun. The 1986 flick made Tom Cruise a Hollywood superstar and solidified his status as an action icon — a designation that has lasted for decades. Today, Cruise is still relevant and starring in the hit sequel Top Gun: Maverick. Though some of the players from the original film returned for the sequel, one tragically could not. Tony Scott, who directed Top Gun, died a decade ago. But Top Gun: Maverick filmmakers still found a way to honor the late director. 
'Top Gun' producer Jerry Bruckheimer tapped Tony Scott to direct the 1986 film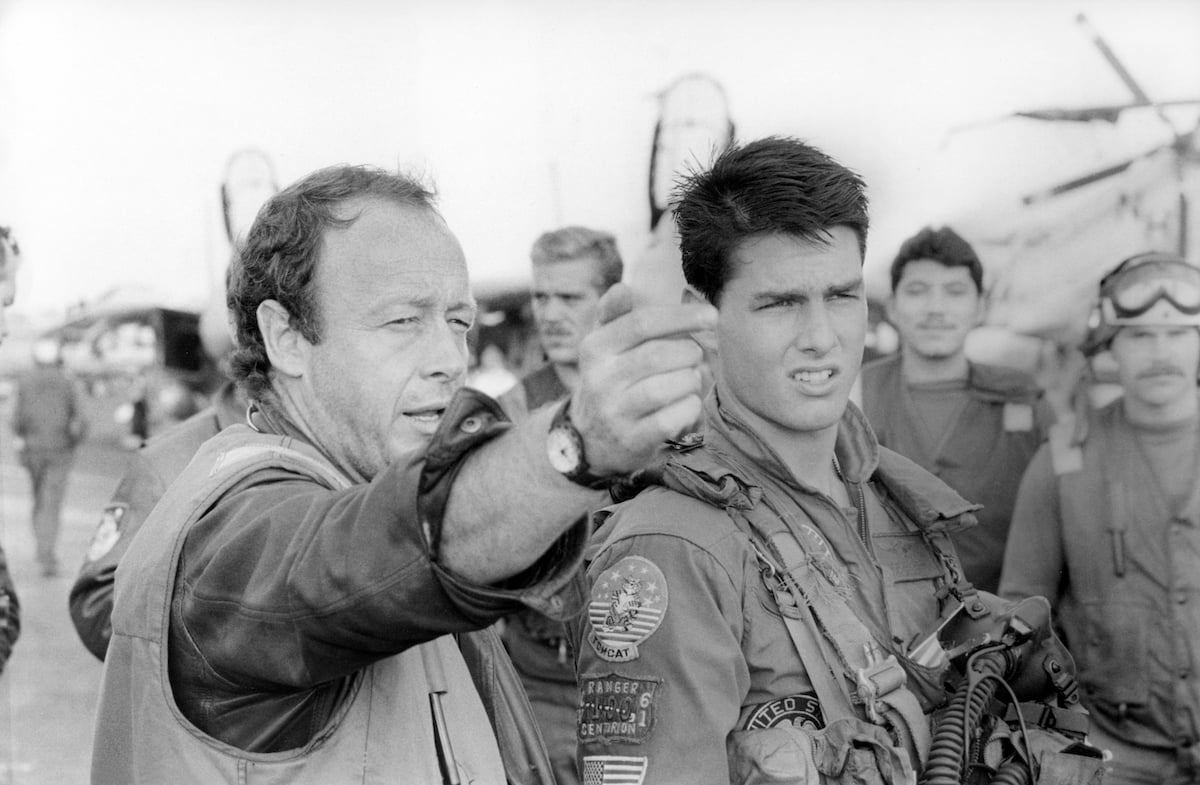 Jerry Bruckheimer is a powerhouse filmmaker, so when he turned to British director Tony Scott to help him bring his vision for the movie Top Gun to life, it was all hands on deck.
Scott got his start directing Hollywood movies in the early '80s after beginning his career as an advertising expert in England. He signed on to direct Top Gun, and there's no doubt his commitment to pumping the flick full of over-the-top action helped make it a hit.
According to IMDb, Top Gun became the highest-grossing movie of 1986. It ultimately grossed $356 million against a rather slim production budget of $15 million. For viewers of all ages, the movie provided nonstop fun. And the charm, incredible flight sequences, and Cruise's star power contributed to making Top Gun a legendary film.
It's also not surprising that Top Gun: Maverick filmmakers wanted to give a special shoutout to the late director Tony Scott. In the opening credits, they dedicate the 2022 movie to his memory.
'Top Gun' director Tony Scott died tragically in 2012
Tony Scott died in 2012 after jumping from the Vincent Thomas Bridge in Los Angeles.
"Several witnesses told police they saw Scott get out of his Toyota Prius, which was parked on the bridge, about 12:30 p.m. Then he scaled an 8- to 10-foot fence and jumped off without any hesitation, law enforcement sources said," the Los Angeles Times reported.
"A source said officials looked inside the car and determined it belonged to the famed action-movie director and producer. A note listing contact information was inside. A suicide note was later found in his office. Its contents were not revealed."
In the days following his death, a rumor circulated that Scott had inoperable brain cancer. However, Scott's family later debunked the story.
Though Scott was best known for directing 1986's Top Gun, he also had a hand in making numerous other hit films. They include Crimson Tide, Enemy of the State, Man on Fire, and True Romance. Scott's last film before his death was the 2010's The Unstoppable, starring Denzel Washington and Chris Pine. 
'Top Gun: Maverick' is a hit summer blockbuster
Although Top Gun is now a landmark in cinematic history, there was one point when its makers didn't think the film would get made. Bruckheimer revealed in a November 2020 episode of Rob Lowe's Literally podcast that Paramount almost passed on the action/adventure about Navy fighter pilots.
"What was interesting is a TV show at the time was on about the Air Force," Bruckheimer said. "Unfortunately, nobody tuned in. So the Paramount management said, 'Well, people don't want to see aviators. Forget it — we're not going to make it.'"
Ultimately, a change in management helped Top Gun get the green light. And the rest is history.
After Top Gun became a hit, Bruckheimer and Scott tried to get a sequel made. According to Pop Culture, Scott worked on the project during his last days, meeting with Cruise and Paramount executives and visiting a naval air station for research.
Sadly, Scott would not live to see the runaway success of Top Gun: Maverick. After lengthy delays due to the COVID-19 pandemic, the film premiered nationwide on May 27, 2022, to critical acclaim.
Many reviews call out the incredible action sequences, while others praise the movie's heartfelt moments — a testament to the enduring legacy that Tony Scott helped create.
How to get help: In the U.S., call the National Suicide Prevention Lifeline at 1-800-273-8255. Or text HOME to 741-741 to speak with a trained crisis counselor at the free Crisis Text Line.
RELATED: Filming 'Top Gun: Maverick' Pushed Miles Teller to His Limits