A Box Office Expert Explains How 'Top Gun: Maverick's Success Impacts 'Jurassic World Dominion' and 'Lightyear'
Top Gun: Maverick needed just a few days to become a record-setting movie, giving star Tom Cruise his best opening weekend. Its minimal revenue drop-off in its second weekend makes it different from other Cruise movies (and most blockbusters in general). Maverick's success is great news for Paramount, Cruise, and everyone who worked on the movie. As Comscore box-office expert Paul Dergarabedian explains, Maverick's success could impact Universal's Jurassic World Dominion and Pixar's Lightyear — in a good way.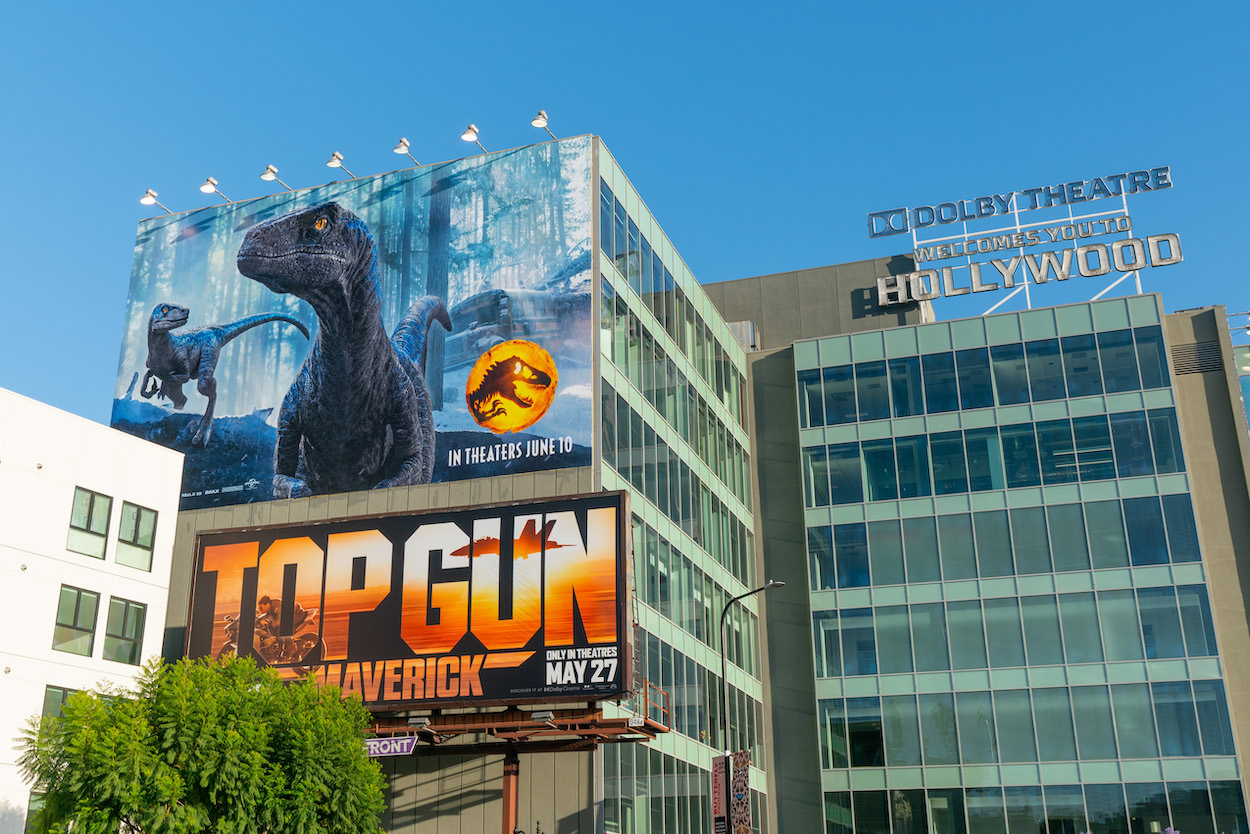 'Top Gun: Maverick' could be the best-performing Tom Cruise movie ever
Tom Cruise movies have grossed more than $4.4 billion in his career. It's an impressive stat, but there's one benchmark he hasn't reached — having a film earn $1 billion at the box office.
Top Gun: Maverick could change that and set itself apart from other Cruise movies.
Maverick earned more than $557 million worldwide in just 10 days, per Box Office Mojo. War of the Worlds and the three most recent Mission: Impossible movies are the only Cruise movies to perform better overall (not adjusting for inflation).
Maverick won't play in China or Russia, which could hinder its chances at $1 billion. Still, it's on pace to be the biggest blockbuster of Cruise's career. And its success could impact Chris Pratt's Jurassic World Dominion and Chris Evans' Lightyear.
How 'Maverick's success could impact 'Jurassic World Dominion' and 'Lightyear,' in a good way
Comscore provides media data and audience behavior insights, per the company's website, and Paul Dergarabedian is a senior media analyst. Like many industry experts, Maverick's hot start impressed him. In a look at the Memorial Day box office, he spoke about its records and the marketing buzz surrounding it.
Dergarabedian also explained how Maverick's success and "cinematic experience" could be great news for Chris Pratt's Jurassic World Dominion and Chris Evans' Lightyear.
"It's great not only for audiences, but it's great for the studios, particularly great for movie theaters, and also this gives a nice tailwind for all the big movies on the way. Films like Elvis, Lightyear, [and] Nope, among others all looking to do very well at the box office because you've got that momentum going in theaters right now." 

Box office analyst Paul Dergarabedian
Movie-goers might have needed a reminder about what makes the theater experience so unique, especially with blockbusters. Cruise and Top Gun: Maverick delivered. Movie fans seem prepared to turn out in droves again, and Jurassic World Dominion (June 10) and Lightyear (June 17) could benefit from the trend Maverick established.
RELATED: Pixar's 'Lightyear' Required a Whole New Technology to Bring it to the Big Screen
'Maverick' lawsuit might cause some turbulence for the movie
About the only thing that might be able to slow down Maverick's supersonic box office pace is real-world drama. That's exactly what happened.
The family of the writer whose magazine article informed the original Top Gun sued Paramount for copyright violation. It's an issue that could impact Maverick's box office haul (the suit seeks to halt distribution and asks for monetary compensation). Still, a legal expert believes Paramount's defense could be very strong.
Until movie fans and the box office say otherwise, Maverick remains king of the mountain.
As a Pixar movie, Lightyear is almost guaranteed to perform well. Only one Pixar theatrical release — Onward — failed to make $100 million (per Box Office Mojo). But that movie hit theaters just before the coronavirus (COVID-19) pandemic shut down theaters.
Early reviews for Jurassic World Dominion have been mixed, as Variety reports, so that could buy Maverick another week as top dog at theaters before Lightyear lands.
Time and box office receipts will tell us who won the summer blockbuster movie battle. But as Dergarabedian noted, Maverick's success could impact Jurassic World, Lightyear, and the movies to come after.
For more on the entertainment world and exclusive interviews, subscribe to Showbiz Cheat Sheet's YouTube channel.
RELATED: 'Top Gun: Maverick' Director Reveals How He Convinced a Reluctant Tom Cruise to Make the Sequel