'Top Gun: Maverick' Val Kilmer Figured Out Iceman's Return With Some Help From Tom Cruise
Tom Cruise insisted that Val Kilmer appear in 'Top Gun: Maverick,' and he even helped his co-star figure out the storyline.
Tom Cruise still plays the title character in Top Gun: Maverick, but it's not necessarily a sequel. Director Joseph Kosinski convinced a reluctant Cruise to sign on by spinning the story forward. New blood in place of nostalgia. Still, another character returns from the original Top Gun — Val Kilmer's Tom "Iceman" Kazansky. Reuniting with Cruise more than 30 years later might not have happened if not for the star insisting Kilmer appear in the movie and Kilmer figuring out how Iceman could return (with a little help from Cruise).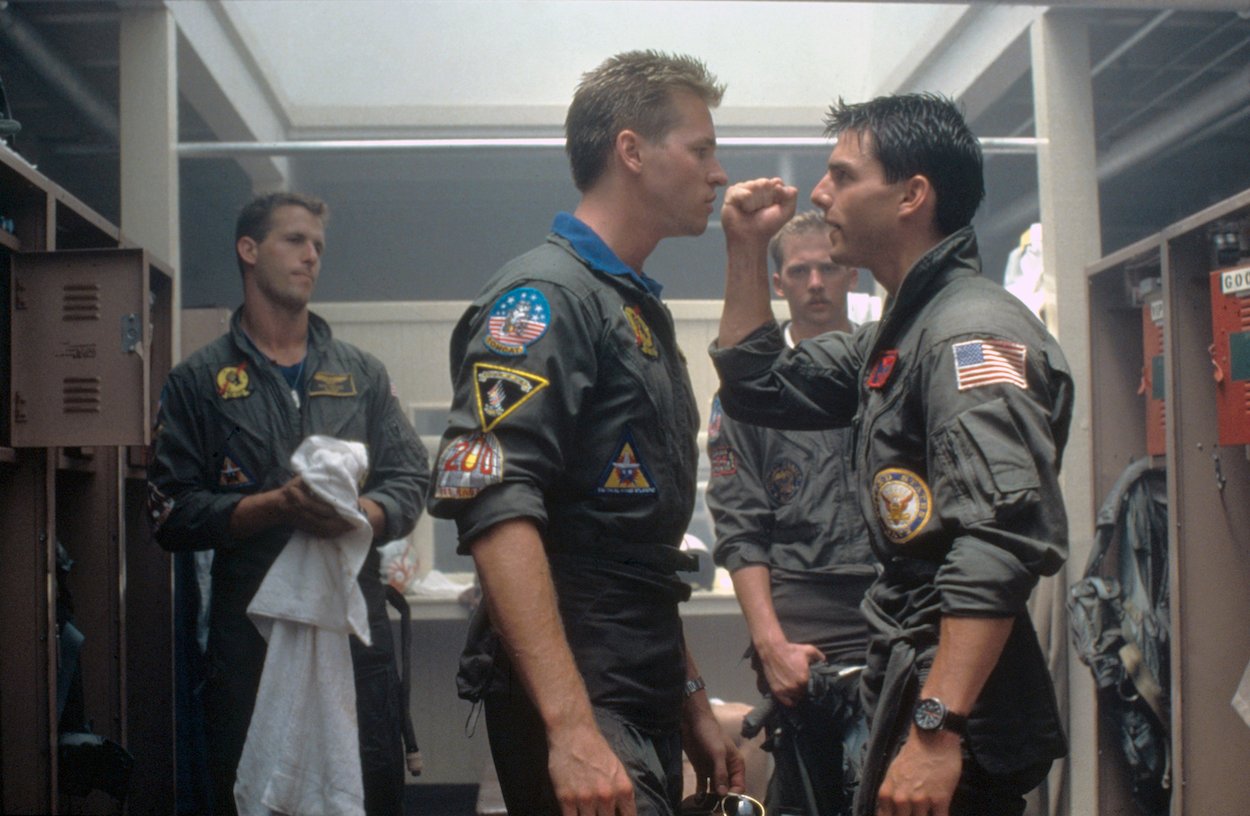 The filmmakers did all they could to get Val Kilmer's Iceman in 'Top Gun: Maverick'
In some ways, Top Gun: Maverick was more than three decades in the making. Paramount wanted a sequel to the original before it came out, but it took a generation for it to happen. Years passed before Cruise, Kosinski, producer Jerry Bruckheimer, and the creative team finally got to work, but they knew they needed Kilmer.
Iceman appears in just one pivotal scene, and it made for an emotional day of filming. Kilmer's character speaks with the help of a computer, a nod to Kilmer's real-life fight against throat cancer. To ensure Kilmer could deliver his lines on screen, the filmmakers worked with a software company to replicate his voice.
Before they could worry about his voice or setting up an intimate scene, they needed to find a way to weave Iceman into the story. Kilmer figured out a way for it to happen, and Cruise helped.
Kilmer figured out Iceman's to return in 'Top Gun: Maverick' with some help from Tom Cruise
In a video appearance on the ReelBlend Podcast (via YouTube), Kosinski discussed the script's genesis. 
First, the director got Cruise on board. Then he and the writers had to work up a story in collaboration with the star actor. Kosinski said that even though the story would avoid nostalgia, Cruise and Bruckheimer pressed for Kilmer to return. The director said Kilmer figured out how his character might fit in the story.
"Jerry and I called Val, we brought him in and talked to him about the movie, and it was Val who really cracked how he could be in it. So then we worked really hard on the scene and on that relationship."

Joseph Kosinski
Kosinski didn't elaborate on the specifics during his podcast appearance, but Kilmer did in a Los Angeles Times interview. "We [Cruise and I] talked quite a bit about what was best for the story, and I think they got it right at the end," Kilmer wrote, adding, "We are in touch and exchange Xmas gifts every year!"
If not for Cruise pressing for Kilmer's involvement, the actors' friendship, and Kilmer accepting the offer (a stark contrast to him purposefully botching his Top Gun audition), we might not have had Iceman in the movie at all.
Some characters from the original 'Top Gun' don't appear in 'Maverick'
Kilmer figured out how Iceman could appear in Top Gun: Maverick, but some other characters from the original don't appear. 
Kelly McGinnis, who played Maverick's love interest, Charlie, in the first film, doesn't appear. It's mainly in the interest of exploring a new storyline, but she likely would have declined if asked, as acting is not the obsessive priority it was in the 1980s.
Meg Ryan's character, Carole Bradshaw, also doesn't appear in Maverick aside from flashbacks and mentions. Again, that choice was mainly in the interest of telling a new story. 
Finally, Rick Rossovich's Slider, Iceman's radar intercept officer in the original, also doesn't show up in Maverick.
For more on the entertainment world and exclusive interviews, subscribe to Showbiz Cheat Sheet's YouTube channel.